The Great Outdoors
I am not sure if it would have been possible to pick a sunnier day to explore the farmland that surrounds the self catering holiday apartment at Agricola Poderino. Located just minutes outside of the active town of Grassina on the outskirts of Florence, this oasis captured my imagination immediately with its view of the colli fiorentini, the family olive trees offset by stone walls criss-crossing with fruit trees and the vast grassy fields.
Andrea, your host and the owner, greeted me in his farming fatigues to show me around his domain, taking a break from cutting the spring grass and preparing the planters with colorful blooms.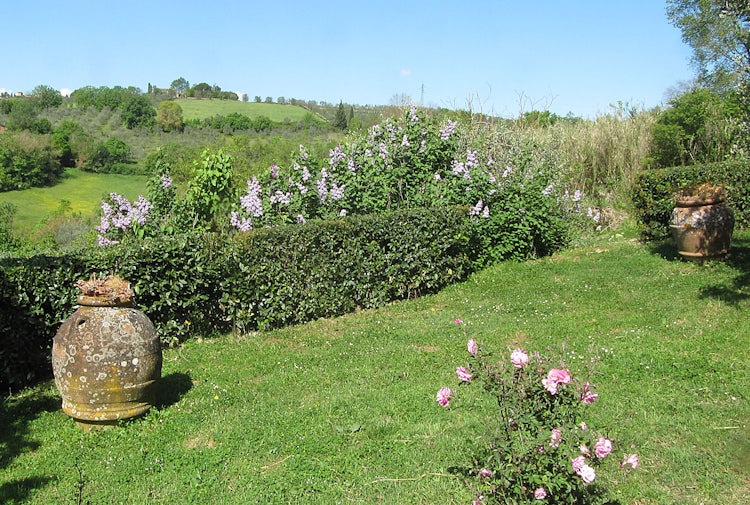 I started my visit by exploring the terrain that is situated in the gated property, and by heading down a picturesque trail that included a peek of a small lake. Presently populated by two Mallard ducks, they will soon to be joined by two more that are under Andrea's care until they are big enough to fend for themselves. Andrea's dream is to one day see a pair of swans floating on the waters, perhaps it will come true when it's your turn to stay here. The fully furnished vacation apartment promises many opportunities to commune with nature, not only appreciating the wild flora and colors but also the occasional glimpse of a fox, deer or pheasant in the fields around the house.
The family's adventure to host travellers in their one bedroom holiday apartment started innocently enough: they had a farm and wanted to share it with others. Andrea remembers visiting his family farm as a child though he grew up in Florence which is a mere 10 km away, and he remembers the love of the land his grandfather passed down to him... even though, he admits, it requires constant attention and leaves little free time.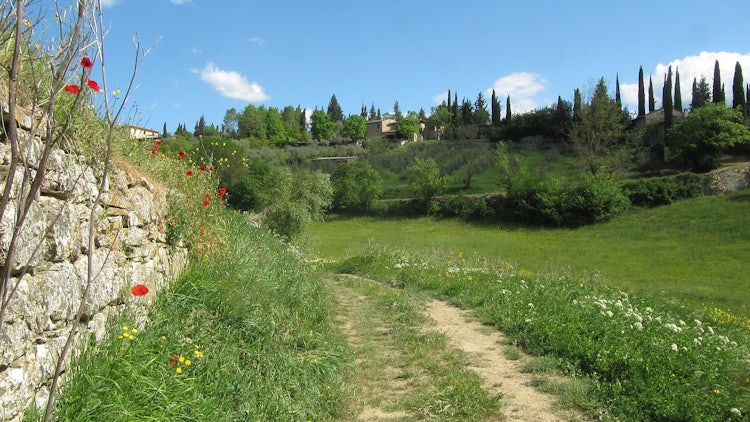 Experimenting in the Garden
Pruning out his 360 olive trees, he modestly confided that the position was not the best for growing olives and the quality was "cosi cosi" - which, as far as my experience has taught me, it actually means "just short of phenomenal." The private garden area and gazebo, dedicated solely to the apartment, have a perfect vista of this little private valley and olive grove. In the distance you can see San Gesolmé, Montauto and Mezzamonte, all charming little hamlets on the borders of Florence. Besides olives, Andrea and his wife grow a typical garden with artichokes, zucchini, tomatoes and more seasonal vegetables.
His newest experiment is located below the lake and consists of 30 giant bamboo plants. I couldn't help but ask why, in an area famous for wine, would he want to grow bamboo. His ever cheerful response: "why not?" The only condition which his father asks of him, who shares the farmhouse with the family, is that Andrea had to plant them where his father couldn't see them! Once they reach their full height of over 15 meters, I am not so sure he will be able to hide them!

A Review of Agricola Poderino
We loved: the typical Tuscan scenery, fragrances and decor
Ideal for: couples or families with a small child looking for tranquility & relax, yet close to town
Classical Tuscan Decor
My visit of the property revealed that it was thoughtfully laid out to offer a spacious living room area, eat-in kitchen and a large double bedroom. It is possible to open the sofa-bed in the living room, providing room for a small family or friends traveling together. The bathroom is intriguing, reminding me a bit of a tree house, with its various "layers": two and three steps lead you up to the door, the toilet and then the tub. The kitchen is cosy and typically Tuscan, just like what you would expect walking into his grandmother's home except here you will find a dishwasher and clothes washer!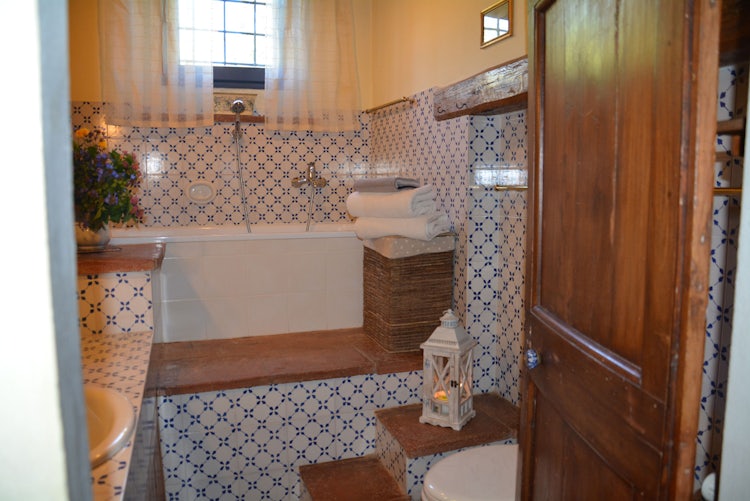 The double bedroom boasts a glass door onto the front terrace, where you can catch those early evening breezes or great views first thing in the morning. The room comes with a convenient closet area - you just need unpack and settle in, just like at home. Agricola Poderino does accept short stays of two or three days, but to get the true feel of the Tuscan countryside and make the best use of the natural tranquility, Andrea encourages a longer stay.
The Sparkling Personality of Your Host
Poderino in a Glance:
Type: self-catering holiday apartment
Location: Grassina, 10 km from Florence (25 min)
Distance: Florence (25 min) or Greve in Chianti (25 minutes)
Transport: a car is necessary
Rooms: 1 apartment
Sleeps: 4 persons
Meals: No meals provided
Andrea is a baker by trade and your host as a hobby, and after just a few minutes in his company, the mischievous sparkle about him shows right through. In a low voice which spoke of conspiracy, he explained that his wife, though always available to help the guests, prefers not to greet because her English is sparse so the full responsibility lies on him. However, he let me in on a secret - her English improves during the course of the week, so don't be shy about plying with her questions.
As he opened the main door to the apartment, I teasingly invited him to give me the full show of just how good his English was. Well the last laugh was on me, as he charmingly presented Agricola Poderino in (almost) faultless English - with a very British accent, no less! How and where? He playfully blamed it all on his English-born mother who met and fell in love with an Italian.
"I learned a bit of English as a child since I was the first born and my mum was fresh in Italy, but by the time my brother came around, my mother was speaking enough Italian that she just stopped. It's enough to get me by..."
We Are in the Countryside
Though close, truly only minutes, to the town of Grassina which has a supermarket, restaurants, pizza places, gelato (two gelato shops!) and many little boutiques, Andrea does caution that getting around is easier when you have a car. Even though there are actually frequent buses from Grassina to and from the city center of Florence, it is a bit of a uphill hike from the bus stop to Poderino. There are also buses that head regularly into Chianti stopping at both Greve in Chianti and Panzano. If you left your car in the free parking lot of Grassina (except on Friday when there is the local market), you could easily travel using the public transport.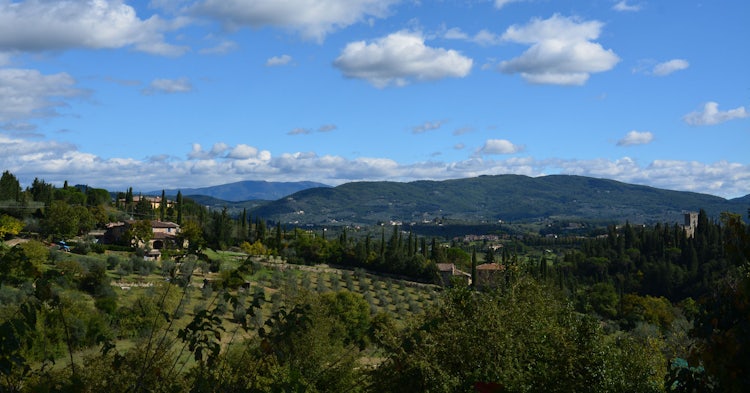 If you stay here, you can enjoy the Florentine countryside, the peace and quiet and the marvelous Tuscan views yet never be too far away from anything - especially day trips to Florence, Siena or Pisa. The vacation apartment, nestled in a panoramic corner of the family farmhouse provides a comfortable and cosy base for your holiday in Tuscany while guaranteeing easy access to major roads, small towns and adventure.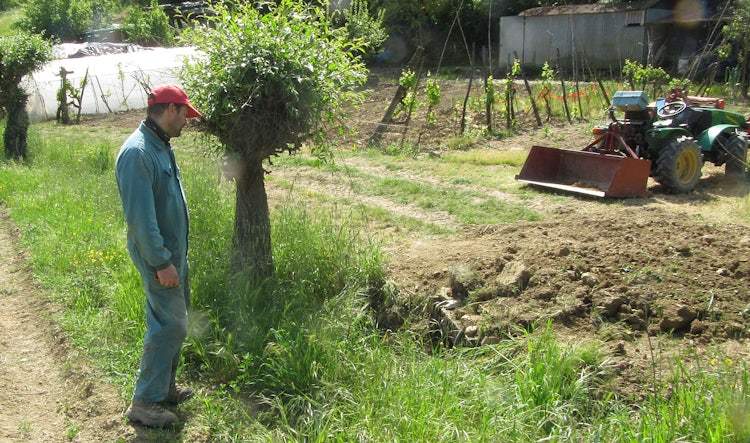 This is a Sponsored Article but reflects the honest opinion and experience of the author. More details »