Through years of experience, Pitcher & Flaccomio have developed a special knack for matching clients and accommodation. We feel we have a good idea of what you are looking for, of what "works" and what doesn't. Though we are presented new properties weekly by local owners eager to find excellent renters, our experience allows us to quickly weed out properties that do not meet our/your standards of upkeep, uniqueness and comfort. We inform our property owners on what amenities their guests expect and require. Though they rarely want to hear it, we tell owners when they must replace linens, or refrigerators, or whatever; and we insist until they do so (or drop the property from our listings). In other words, in every way possible, we stand behind the properties we represent.
Just as we have a unique rapport with each client, we have the same with each individual owner. We do not claim to have exclusivity on all the properties we represent; though we do feel that our personal relationship with the owners provides us an extra edge when negotiating the prices we publish.
Pitcher and Flaccomio offers:
ACCOMMODATION LOCATION AND TYPE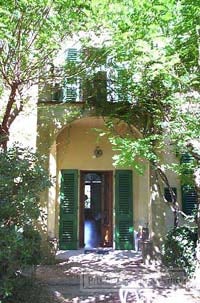 Pitcher & Flaccomio have an extensive variety of properties in Tuscany and Umbria and a selection in Positano, Venice and Rome. Properties in Florence range from studios and one to four bedroom apartments (many in historical buildings) to in-town mansions. We offer villas, farmhouses, castles and towers in the hills on the outskirts of Florence, in the Tuscan countryside and other regions. You can choose the accommodation that suits you best - some with swimming pool, sauna, tennis court, vineyard and extensive landscaped gardens. Most are available for short or long-term rent.
BEING A VISITOR
Again, our aim is for you to be comfortable during your stay in Italy. Of course it helps to be open-minded and willing to accept cultural differences. You may not find "all the comforts of home". At the same time, we think you might find some you don't have at "home". Some visitors can't understand why the majority of the grocery stores close during the afternoon. Or why matches are sold only in the tobacco stores. But most soon learn to enjoy the subtle differences in life-style and the Italian ability to relish and nurture "la dolce vita", to slow down just a mite and enjoy life's pleasures. These guests are the ones who benefit the most from visiting Florence and Tuscany; these are the ones whose lives are most enriched from the experience. We help all our guests, but those with the ability to accept - if only for a few weeks or months - the Italian approach to life, are our happiest clients.
We cannot stress enough, the great benefit of sending at least one of your family members to Tuscany prior to making your final decision. Personal inspection of each option with their individual idiosyncrasies, can make an enormous difference in the outcome of your stay. An example of what might be discovered on such a trip is that the logistics of moving a large group of people (say, a family reunion week abroad) back and forth from a remote country location might be less preferable than booking a Florence city location where everyone could gather in the evenings, but go their separate ways during the day without having to co-ordinate cars etc.
Many of our rental clients come to Florence for a year or more, so it is especially important to us that they be comfortable with their choice throughout their stay. But whether dealing with a high priced short-term rental or any long-term contract (three months or more), arranging a preliminary visit is money very well spent.
» Visit Pitcher and Flaccomio Website and see our Apartments in Florence Surroundings
FEES AND PRICING
Rental rates are generally quoted in Euros. Deposit and rental payments may be sent via post or bank transfer in Dollars or Euros.
UTILITIES, TELEPHONE AND OTHER FEES
In order to offer the best short-term rates possible, we do not charge an inflated set utility fee designed to more than cover the cost of electricity, gas, etc. Instead, these charges will be tallied from meter readings taken together at the beginning and end of your stay. In almost every case, you will have access to these meters at any time to control your utility expenses as you go. We think it is a convenient advantage to have a land phone and line in each home or apartment and we encourage our owners to maintain this amenity for our clients. Telephone costs are also based on your personal use. All costs that are not included in the rental rate e.g. the final cleaning and laundry fee, are carefully outlined in each property description. There is ALWAYS a final cleaning and laundry fee to be paid, as we believe this to be the prime requisite of our clients to have a spotless home. There are no commissions or taxes to add on.
Long-term contracts may include further taxes and fees (garbage collection, contract registration fees, agency commission, etc.).
YOUR SECURITY DEPOSIT
For our benefit and yours, it is our preference to complete all transactions by the final day of your stay. With this in mind, any extra expenses will be tallied during your check out appointment, and the balance between these costs and your deposit will be calculated and reimbursed on that day. In the unusual event that damage or billing assessment be necessary, the deposit may be held for a maximum of 90 days.
» Continue to Pitcher and Flaccomio.com
IMPORTANT INFORMATION
Please remember Florence is a living city. Certain circumstances are beyond our control. Traffic patterns may change making a quiet street busier...a neighbour can choose to renovate, again creating unexpected noise...once peaceful piazzas can be turned into summer concert halls. Landlords can also change the furnishings in the apartment without our knowledge. It is our prime concern whenever possible that upon learning of any significant change in the conditions of the property we would seek to inform a client prior to their arrival.
So that you will come prepared please note that mosquito screens are not common in Italy. Also, the apartments are not stocked with general necessities, except for enough to last the first few days. After this you will have to provide items like toilet paper, hand soap, etc.
PLEASE NOTE: According to Italian law, heating (which may be condominial or autonomous) can only be used from November 1 to April 15. It cannot be turned on earlier, nor kept on any later. Heating may be on for a maximum of 12 hours per day. Only electric heaters or wood fires are exempt from this law.
This is a Sponsored Article but reflects the honest opinion and experience of the author. More details »