A Family Run B&B
That will warm your heart
The atmosphere is vibrant at B&B La Casa dei Tintori, a 5 room B&B in what I would consider the geographical center of Florence.
Dancing with color, with Florentine personality and with professional courtesy, these centrally located vacation accommodations are cared for by your host family Riccardo and Lavinia.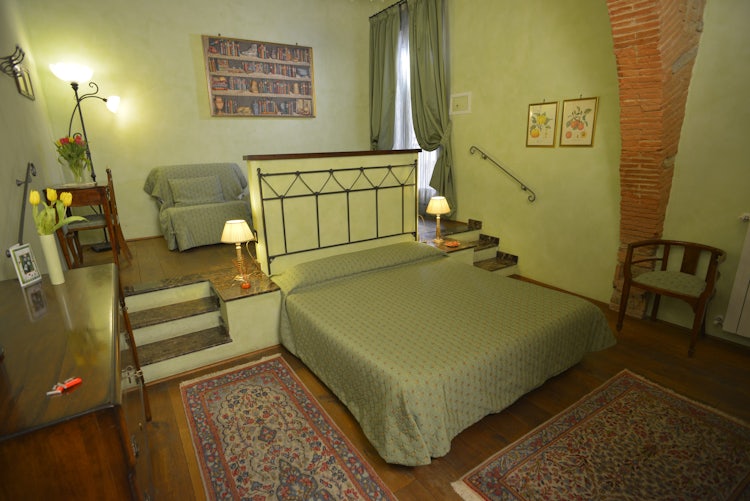 Book Direct with B&B La Casa dei Tintori
The award winning architectural design highlights the bare bones of what was once a warehouse in an area famous for dying textiles — one the historical roots of Florentine economic prosperity. The wide brick arches are characteristic of industrial architecture and run the width of the B&B. One of the features I fell in love with, was the way Lavinia's father and industrial restoration architect used his imagination to create storage alcoves in the main entrance.
Using terracotta roof tiles he managed to create the illusion of walking down a hidden "viale" or little street while being indoors. I had a sensation of stepping into a film set from the 1500's; the breakfast area nestled between the reception and the family apartment appears to be an outdoor café with a fresh cappuccino always at the ready.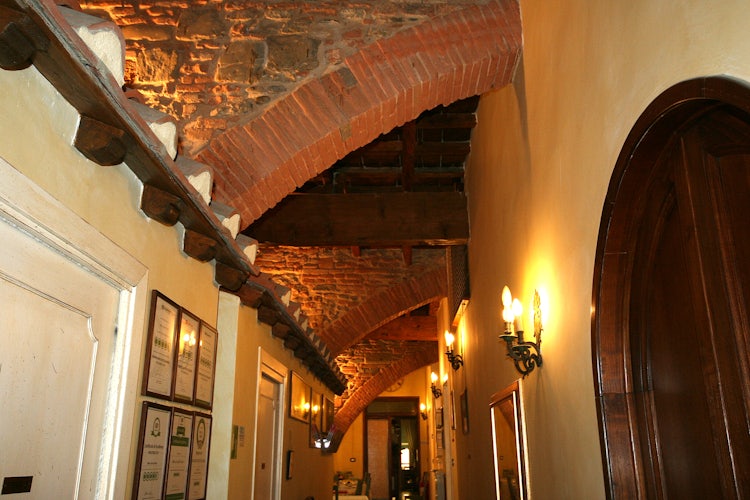 Color Coded Vacation
La Casa dei Tintori is comprised of 5 rooms and each room is named and decorated following the typical Florentine colors used by the Art of the Dyers: Indigo, Yellow, Green, Light Blue, and Red. All guest rooms have been tastefully furnished with precious fabrics and antiques maintaining the traditional Florentine style of an ancient home. The color coded theme is a playful by-product of the building's origins, since the word "tintori" comes from the Italian word for color or dye.
Special, soothing and cosy, La Casa dei Tintori emanates the 'perfect right' combination of intimacy and professional precision. Starting with the decor; familiar and comfortable, the ambiance is complemented with furnishings ranging from vintage to antique to internationally interesting. The 5 bedrooms, all with en suite bathrooms, are organised to maximise space while offering up-to-date, modern accessories beginning with WiFi, a safe for personal belongings and AC.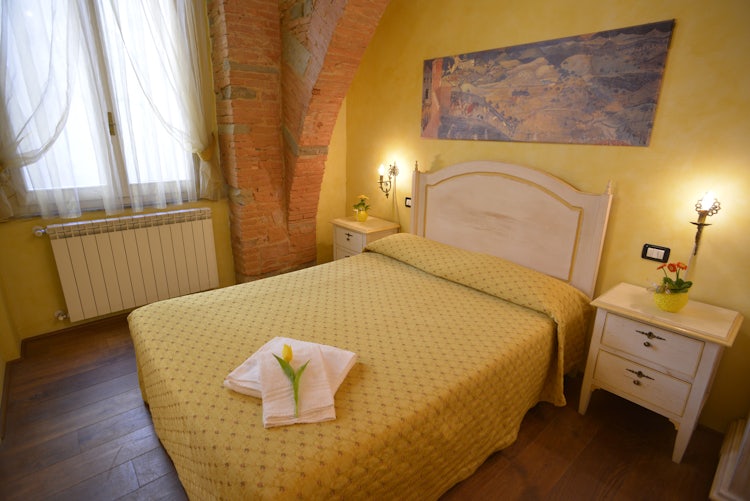 I particularly appreciated that all of the rooms will accommodate singles exploring Tuscany on their own — and they offer special pricing on their site that won't take you out of your budget. There is also a spacious suite for up to four persons with a double bed and two single sofa beds; family and friends will find this a viable option at La Casa dei Tintori for keeping everyone in one room - and cutting travel costs.
A Review of B&B La Casa dei Tintori
We loved: the friendly reception area with its historic touches and welcoming ambiance
Ideal for: couples and singles. The atmosphere is friendly yet not invasive - giving you plenty of space to relax in a cosy setting
All rooms feature a double bed, except for the light blue room which is perfect for students, singles or friends travelling together who prefer to use single beds. The double bedroom B&B suites and the twin bedroom all open up to the corridor (viale) as if you lived in a quaint little corner of Florence. But wait...that's exactly where you are!
This corner of Florence between Palazzo Vecchio, the Duomo, the Arno River and Santa Croce church is what I would consider the geographic heart of the city centre, with a 10 (max 15) minute walk in any direction and you are knocking at the door of one of the many beautiful monuments or museums of the city. Yet it is nestled on a little road that doesn't draw too much attention while still being close to bus stops, cafes, wine shops and theatres.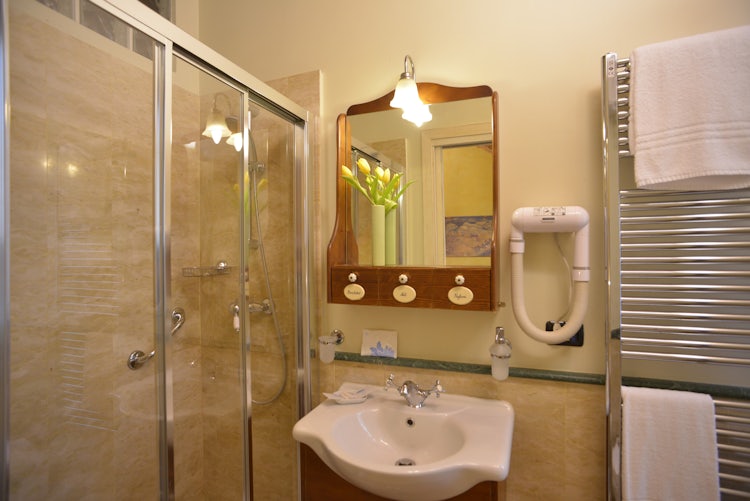 Love is in the Air
Your host and hostess have a love story that will evoke a smile, if not a few memories of your own. Sweethearts from hospitality school, they finished their studies ready to take over the well-established family run B&B.
We spent most of our summer breaks here, we knew the place inside out. And though my parents ran a successful business we were ready to take it give it our best to make it even better by bring it up to today's needs
Space was limited, so their dreams to grow are on hold until they come up with a creative alternative. But that's not their only goal. In fact, after having worked internationally to fulfill their school requirements, there were a few tweaks that they knew could be implemented that would embrace the familiar family style ambiance and a modern, professional management. These subtle changes don't change the heart and soul of La Casa dei Tintori; instead, they transmit Riccardo and Lavinia's enthusiasm, energy and respect for a varied and personal holiday experience.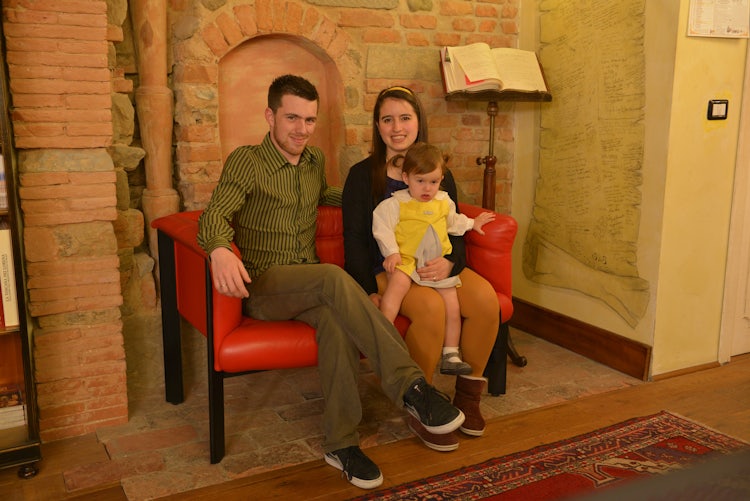 Guests are still part of the family environment with the occasional B-day celebration and repeat visitors see how the new generation is growing when they show up for breakfast. Yet at the same time, the extra concierge service that is now in place reflects their desire to provide quality services, tours and experience in their hometown - something just a bit more personal for each request.
Taking it to the Next Level
B&B La Casa dei Tintori in a Glance:
Type:5 rooms
Location: Santa Croce, 100 meters (5 min)
Distance: Duomo (20 min) & Piazzale Michelangelo (30 min)
Transport: a car is not necessary, public transport and national trains nearby
Sleeps: 13
Type of board: breakfast
Their widespread training in other countries gave them exposure to international venues, to avant garde design for client comfort and to innovative and creative services, showing them ways to invite guests to get "up close and personal" with Tuscany.
Florence is famous worldwide for its ample art collections, fabulous monuments and intriguing history yet for those who know and love this city, there is so much more than her appearance to make you fall in love with her.
The city is thriving with new opportunities, secrets to uncover and exciting possibilities to create memorable souvenirs - and they know just where to go for that special experience.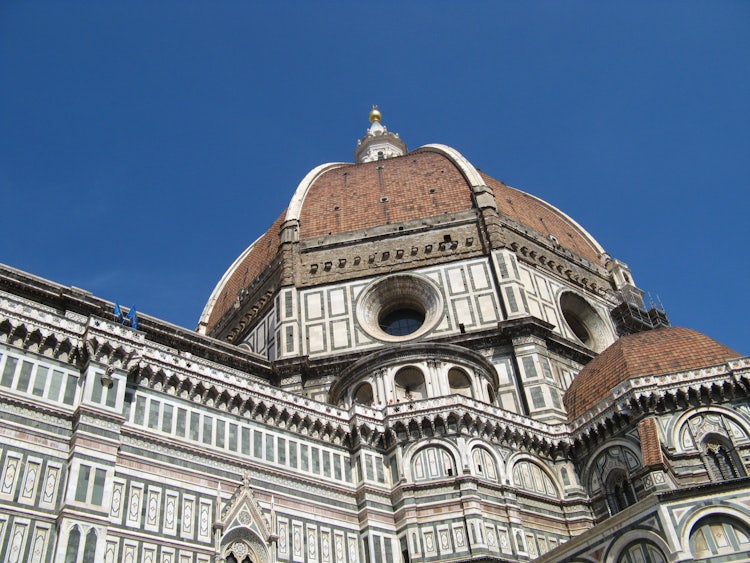 Moving beyond a visit to the Uffizi Gallery or a wine tour in Chianti, Riccardo and Lavinia rely on their wide range of acquaintances to put together tantalising appointments with the local culture. Meet art restoration experts, gold jewellery designers or the chef who deftly creates traditional recipes with genuine ingredients to contemporary flavors.
Anyone can book a tour. We prefer to think of our concierge service, as a personalised touch of Florence mixing our guest's curiosity with a true dash of "Fiorentina" humor, spirit and pizzazz. We look for the best and keep them in our little black book of names for when our guests make a special request.
A Wholesome Start to the Day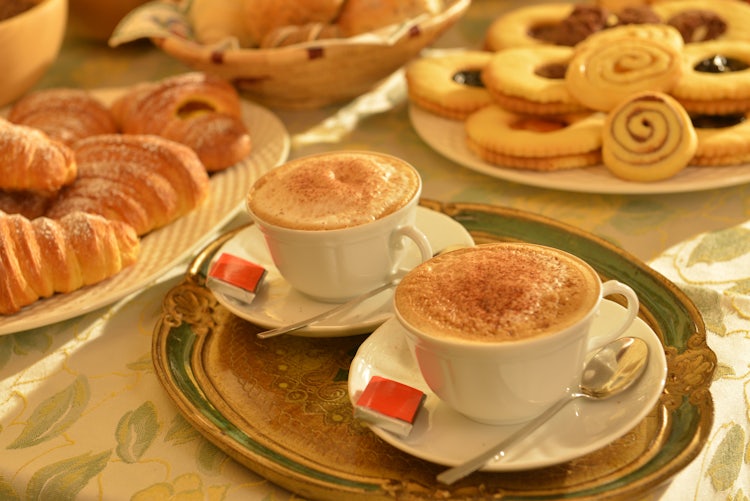 La Casa dei Tintori takes the "breakfast" in B&B very seriously, sourcing a local "forno" for fresh baked goodies every day. But not just a daily delivery, they have found a bakery right next door that is one of the few to produce a wide selection of gluten free products. So not only will you find a frothy cappuccino, a steaming cup of tea, fresh fruit and goodies - but if you require special dietary planning, they got you covered.
And Riccardo made a point of explaining, that though they also carry some standard gluten free items, that they are one of the few in all of Florence that can provide fresh baked pastries and cookies - all gluten free - as well as the classical gluten specialties for which Florence is well known.
What if you don't have a sweet tooth at breakfast? Let them know your preferences and you will find an alternative at the table.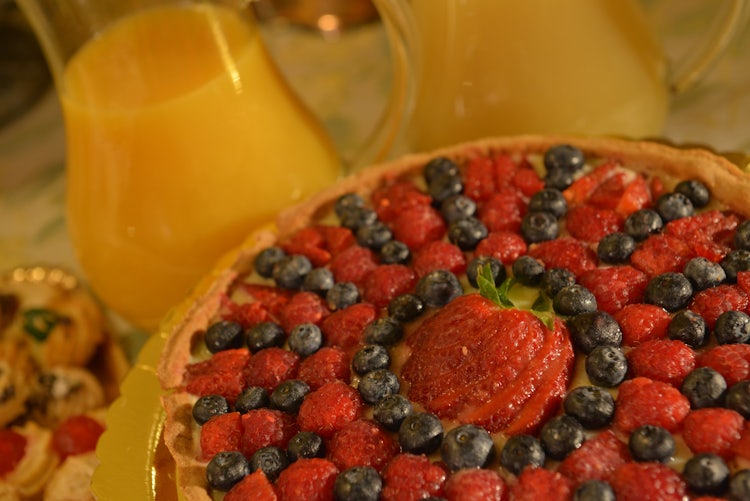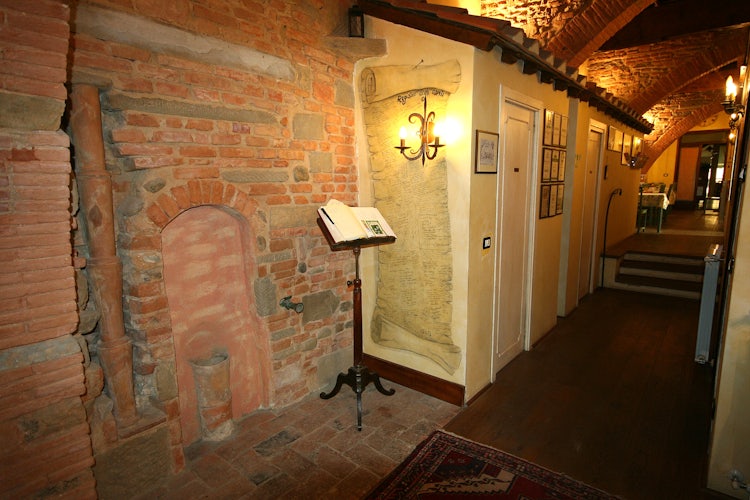 What are the guests saying?
A special touch is the comment wall, where guests have left their own personal imprint, to be discovered by future generations as testimony to the family's dedication to great service — much like the remains of the antique drainage system from the past dyers who once occupied the building. But it's not just the guests that have great things to say about La Casa dei Tintori! International acclaimed associations have recognized their own personal brand of excellence, especially "Impact Zero", a direct result of their detailed oriented restoration re-utilizing as much of the original material as possible.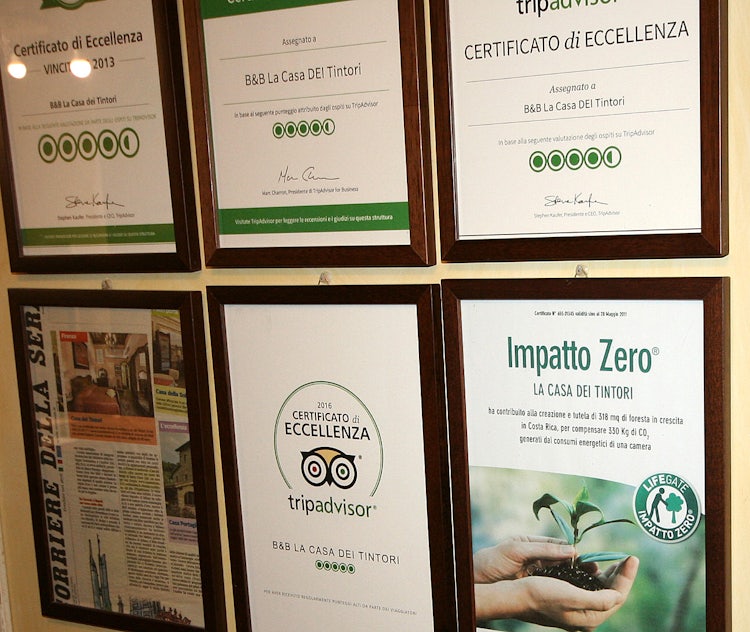 Personalize your Holiday Experience
Color, dynamic, homey and convenient; your time spent at La Casa Tintori will offer a comfortable accommodation in the true Florentine flavor. The family run B&B provides elegant rooms with character side by side with modern technology and services. Riccardo and Lavinia look forward to showing you Florence in a cosy yet professional way - helping you create memories that could last a lifetime….but it is always best to make plans to come back!
Reserve Now at B&B La Casa dei Tintori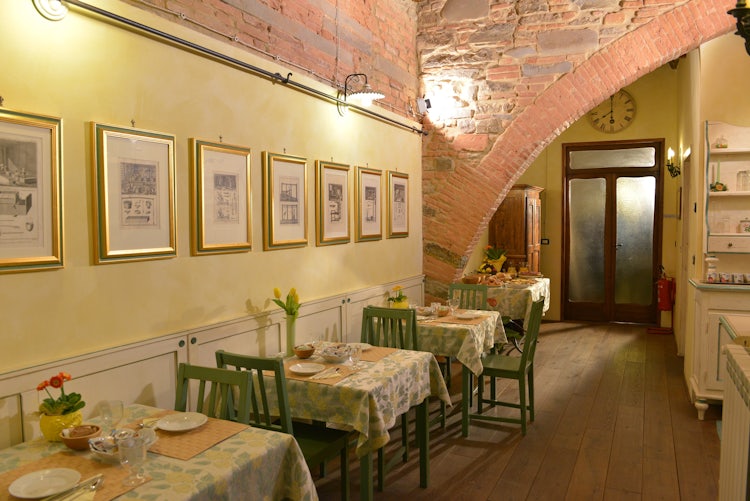 This is a Sponsored Article but reflects the honest opinion and experience of the author. More details »