Boutique B&Bs in Historical Florence
At Home at the Antiche Dimore Fiorentine Boutique B&Bs
Within a quiet residential neighborhood just a few blocks from Piazza San Marco in the historical center in Florence, lie three small, elegant bed and breakfasts that welcome guests into a Florentine home while offering all the services of a boutique hotel.
The name Antiche Dimore Fiorentine groups the three bed and breakfasts – Johanna, Antica Dimora Johlea, and Antica Dimora Firenze – as all three belong to the Vitta family. The first one, Johanna, opened up in 1994 by chance as Lea and Johann found themselves with a vacant family apartment. Travel experiences influence all of us, and it was no different for Lea whose travels in England and Scotland inspired her to start one of the first B&Bs in all of Florence. Twenty years later, the success of that first B&B is evident: Lea and the rest of the family decided to dedicate themselves fully to the art of hospitality, and the number of happy, satisfied guests through the years support their philosophy.
The Florentine "Historical Residences"
I met with Lea, Luca & Piero to visit the three bed and breakfasts to better understand their history and get a taste of the atmosphere found within and in this area of Florence's historical center. While the first B&B started in a family home, the decision to purchase other homes in the same area was guided by the love of the neighborhood: it is so central, you are just 10 minutes from the Duomo and from many restaurants and shops, but at the same time in a residential area that is quiet both day and night despite its vicinity to the viali or boulevards that surround the center.
Following the tradition of a B&B with a Florentine twist, the residences welcome visitors into apartments within stately palaces, where you feel you enter into a home. The entry hall, living and dining areas, and the small number of rooms in each guarantee that you have a comfortable place in which to relax at the end of a full day of sightseeing away from any crowds. Soft background music, books and magazines on the tables and the friendly staff available to help with any of your needs offer the perfect setting for unwinding for a bit before you head back out to a local restaurant recommended by the B&B staff.
Aside from being a street away from each other in the San Marco neighborhood, the residences also share Lea and Johann's personal style: all have been designed and decorated by them, every single room, painting and bed covering has been personally selected by them and is thus unique. The rooms are colorful, each one done in a different tone. The residences have been decorated as Lea and Johanna have done their own home, so staying here really is like staying within their own Florentine home and quite different than staying at a hotel. For example, all of the bed textiles are by Milan-based home furnishings designer Lisa Corti and are all handmade and hand-stamped in India, with either precious linen or silk curtains surrounding the poster beds and hanging at the windows. Lea fell in love with Lisa Corti's designs and decided to have them both at home and at all of the residences to share her love for them.
Why stay here?
Love: the elegant, residential atmosphere, the small size and personal attention you receive from the moment you walk in.
Ideal for: a romantic vacation and for couples of all ages, anyone who loves to stay at local homes where they receive a more personalized welcome and attention
I suggest you walk around and admire the paintings and other frames on the walls just as I did. In the Antica Dimora Johlea, you'll find framed 18th century game boards with their original pawns discovered by Lea in an antique shop in Florence. There are works by Johann himself throughout the residences as well. Note the details within each room if you decide to stay at any of the B&Bs, as they will enrich your experience of staying here. Everything has a story, just as items in your own home do. If you're curious, just ask to find out more (ask about the clocks, for example)!
Another key component of feeling at home: getting the keys to the building, to the residence and to your room. You can feel completely at ease about coming and going following your own schedule as you settle in into your temporary home while in Florence.
While the three residences are similar, they are also different. I'd like to share some of my impressions from my visit to each hoping this will help you choose which one best fits your style for your stay in Florence!
---
Residenza Johanna
I'll start with Johanna as it was the first one Lea opened, the one where she welcomed guests personally every day. Meeting guests and sharing with them their visit of the city is something she confides she sorely misses... but since she can't personally run all three now, she roams between all of them!
Today, Luca welcomes you to Johanna and to Florence. Luca is warm and full of enthusiasm, I could tell he loves his job. I asked him what he loves most about it, and he answered that as a Florentine, he enjoys the interaction with visitors from all over the world, many of them seeing Florence for the first time. He lives close by and spends most of his day at Johanna, making sure to be on hand for any requests and questions. He wants to make sure all guests here discover the magic of Florence, that they fall in love with the city and depart with the intention of returning soon!
So if you have any question about what to do with your day, if something in your room doesn't work as it should or if you want a different room (not all rooms here have poster beds so if you really want one...), just ask! Luca knows Florence very well so don't hesitate and ask and wants you to be happy while at Johanna and in Florence; he will recommend great restaurants, the main as well lesser-known sights to see and will do what he can to ensure you're happy at Johanna.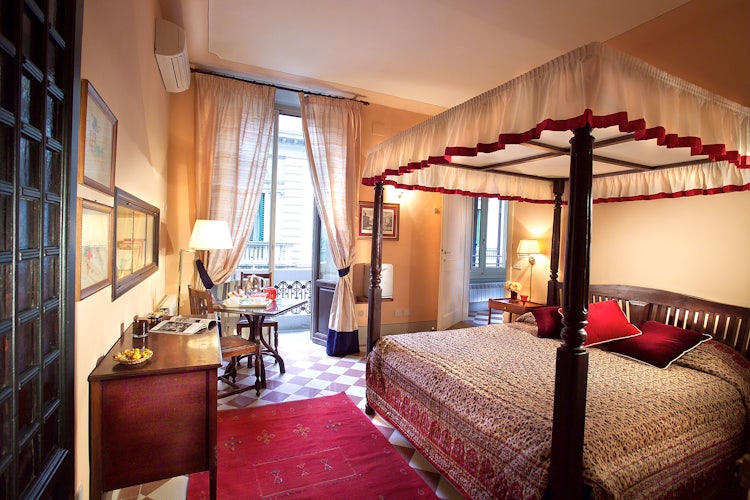 The residence is the largest of the three. The bed and breakfast spread to the neighboring apartment and was renovated a few years ago to create an en-suite bathroom in each of the 10 rooms, which have remained spacious. Two long and wide hallways lead into all of the bedrooms. In my opinion, the only drawback I could see was that if you want to "hang out" outside of your room and meet other guests, the common space is limited to these halls and the breakfast room - you'll have to make sure to meet your neighbors at breakfast!
---
Antica Dimora Johlea
What does Johlea mean?
It is a name made up of the two names of the owners, husband and wife team Johann and Lea. The first part of his name - Joh - and her name - Lea - put together.
This residence, Antica Dimora Johlea, was opened next, and of the three is the most luxurious. Tapestries on the poster beds and windows are of shimmering silk in all 6 rooms. There are a few which have a small loft, as the ceilings are quite high. The bed and breakfast spreads over two floors at the top of the palace, so what makes this residence quite special is its access to its own rooftop terrace – and the great view of all of Florence you'll have from there! You'll have to visit to enjoy it ;-).
In addition to the terrace, it has a small dining room as well as living room which invites guests to sit and chat or just relax. A corner bar invites you to do so with a glass of wine or brandy in hand (an honesty bar, where you leave a note saying what you drank). There are also snacks and coffee and tea available during the day, at no extra cost to guests, along the hallway (this is the same at all three of the residences).
As the reception is open throughout the entire day, the faces that greet you do change: Sandra, Michela, Gordana, Giovanna and Piero are all on hand to welcome you and help out with any queries you might have. All are part of the family as most have been here since this bed and breakfast opened 15 years ago.
Learn more about Antica Dimora Johlea
---
Antica Dimora Firenze
Antica Dimora Firenze is the most recent of the residences, although it already has over 10 years under its belt. I believe this is the one that feels the most cozy of the three, feeling more compact and familiar. It is likely because, as you enter, you immediately find the reception desk to your right, while to your left is a spacious living/dining room. A buffet breakfast is set up on a sideboard and a large dining table serves all guests. Here, I can see this being B&Bs social area, a space where you can enjoy breakfast with the rest of your temporary family as well as relaxing in the short intervals you concede yourself before heading back out to explore more of Florence.
While Giovanna and Buchi continue to welcome guests to the B&B and to Florence during my brief visit, answering questions about Florence, I get a chance to meet Peter who's having breakfast with his young daughter. I find out that Peter travels all over Europe on business and was in Florence this past summer at Antica Dimora Firenze. His short trip turned into a much longer trip, as he enjoyed the residence and Florence so much! He kept extending his time in the city in whichever residence had open rooms, with the help of Giovanna and the rest of the staff in helping him move around.
Peter confides he has returned again and this time with his family, saying he "can't imagine staying anywhere else" in Florence. What did he love most? He says the feel of family found at the residences, the sense of comfort and welcome he has received which makes him feel he can truly relax here. In my brief visit, I have sensed the same and thus share his words to transmit what you'll find at the Antiche Dimore Fiorentine. Once you enter one of these residences, you will no longer feel like a passing traveler arriving into an unknown city but as if you're arriving to visit family friends in their home.
---
A family dedicated to hospitality
In these 20 years, Lea and Johann have had more opportunities to share their family property with guests: guests can enjoy a more independent stay in Florence at their two apartments, Casa del Mercato and Casa Tornabuoni, located in the Santa Croce area and the other on Florence's luxury shopping district along Via Tornabuoni. Anyone wishing to stay in the countryside, can also enjoy a stay at the wonderful Chianti family home Villa Il Poggiale, which is a combination of a vacation home and small boutique bed and breakfast (we stayed there a few months ago, read my review here). Whether you stay in Florence or in Chianti, you can ask Luca, Giovanna, Monica or Irene for help in planning your vacation as they can book tours, cooking classes, and more for you.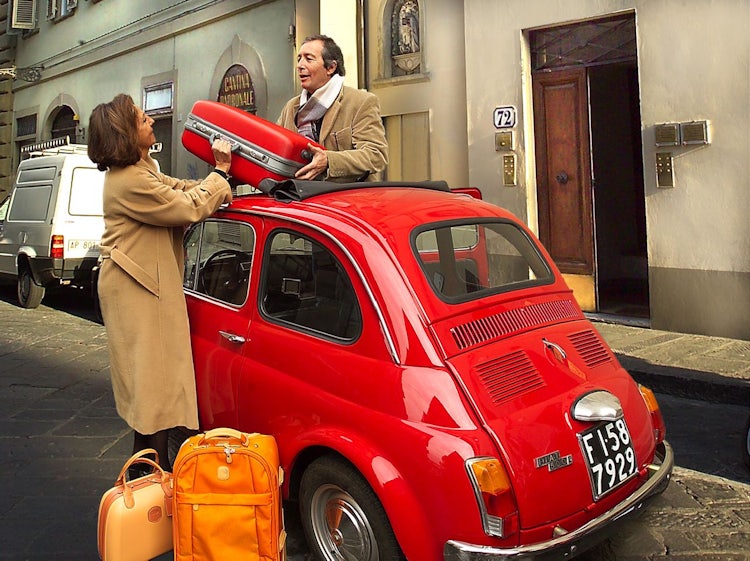 This is a Sponsored Article but reflects the honest opinion and experience of the author. More details »