Today, I headed to the Santa Croce district in Florence to visit B&B, Le Stanze di Santa Croce. Located on Via della Pinzochere 6, Mariangela, the owner, is a stone's throw away to the right side of the Santa Croce church right in the historical center.
I walk into a foyer and up a short flight of stairs and realize I've arrived into the heart of the B&B. There's a small but cozy drawing room: one side full of books, the other has a desk and computer and a large map on the wall.
Further in, the kitchen and breakfast room which is in an enclosed terrace, making it bright and airy. I soon learn that the roof can be opened so on nice, sunny days one can enjoy breakfast with a bit of sun and fresh air.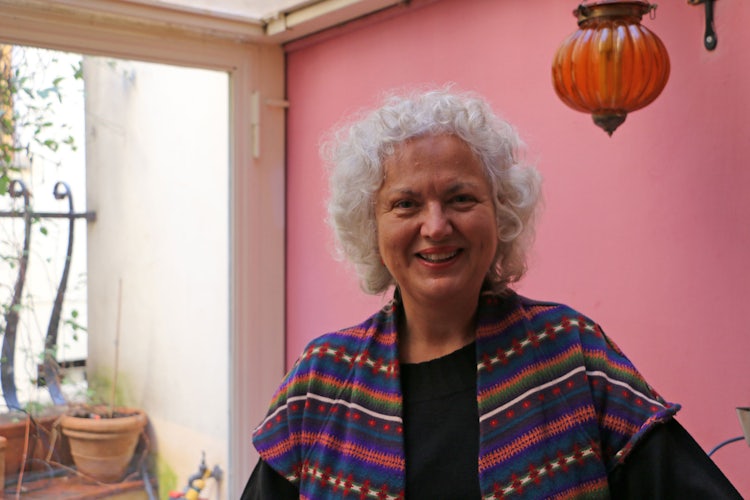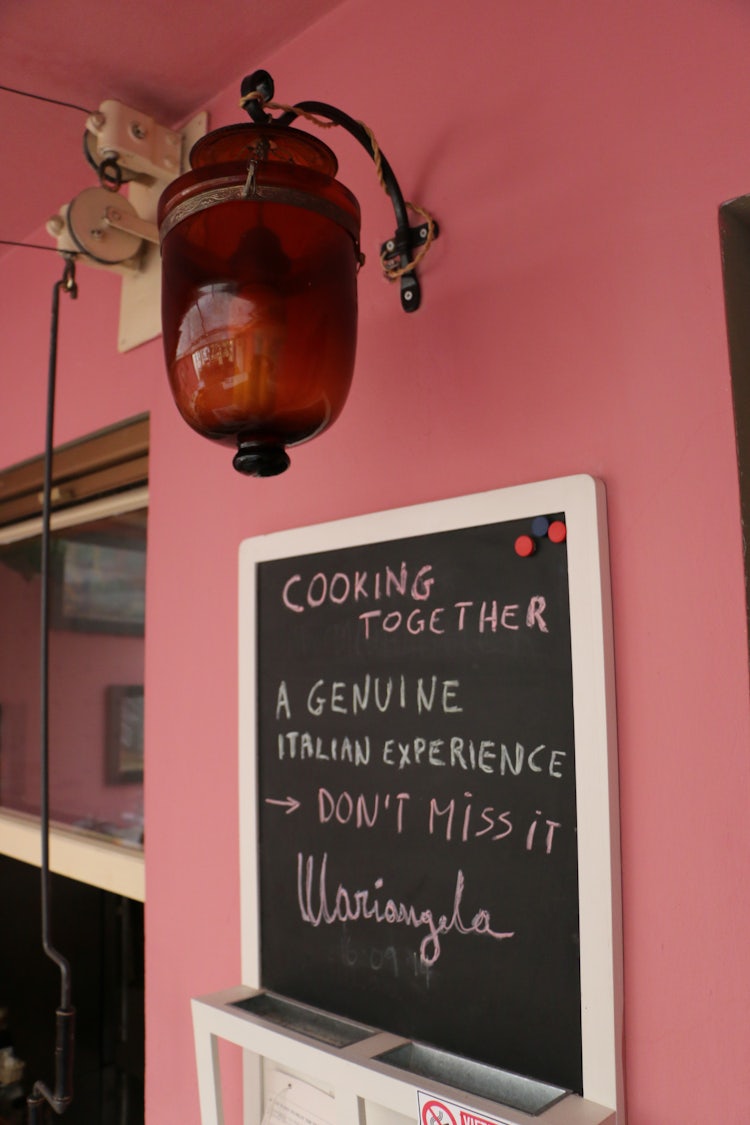 Franca helps Mariangela in the kitchen, setting up the breakfast and preparing coffee or tea for guests.
Mariangela makes homemade jams and cakes for guests to enjoy, alternating between savory and sweet offerings so that guests staying at Mariangela's home don't have the same every day.
How did the B&B get started?
I started the B&B just 13 years ago.
I was in a job I didn't really like at all, felt quite restricted and realized I was unhappy.
I needed a change and my inspiration came from what I love best: food, cooking and traveling. I figured the hospitality sector fit the bill on all accounts, and I've been very happy since I now have the possibility to model my B&B to my likes and tastes.
I've offered cooking lessons to my guests from the very beginning, including the visit to the local open air market in Sant'Ambrogio to pick out ingredients and really love how both have come together.
How has your love of traveling influenced your B&B?
A Review of Le Stanze di Santa Croce
We loved: for discerning travelers who want to experience feeling like a local, shopping at the local market and cooking like an Italian
Ideal for: anyone seeking a quiet, small B&B to stay in
I seek to offer the type of experience I myself look for when traveling abroad.
Traveling and a vacation can actually be very tiring! I want my guests to have a place to get back to that feels comfortable to them.
A place where they can relax and have the comfort of home, even if not really the same (they are in a different country, after all!).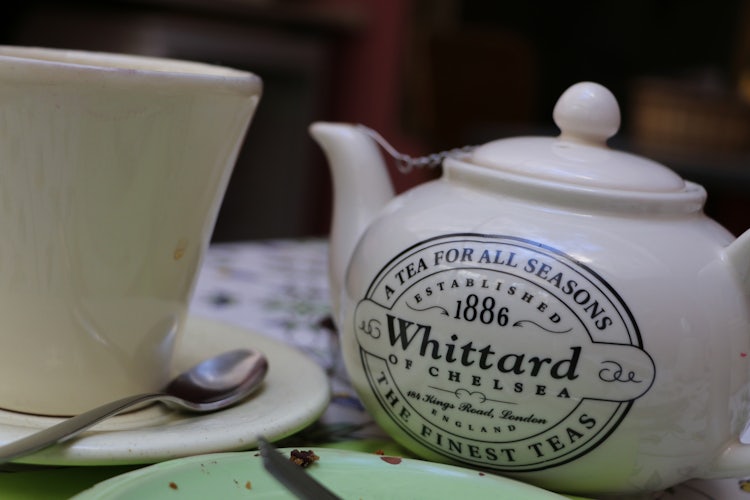 I am here every morning for breakfast - which I believe is such an important part of their experience of staying here - as it gives me a chance to chat and get to know them a little better, as well as answer their questions about Florence and help the planning of their days, if they need it.
The rooms and the whole B&B in fact reflect who I am and what I love. There is color within each room, an eclectic mix of mementos from my travels and works of art that I particularly love, such as that by Albrecht Dürer. Guests will find prints of his work across the house, from the entry hall to the rooms. The lamps also all come from my travels. So traveling has a concrete influence on the B&B and, as a consequence, on my guests' experience.
What do you like the most about being a host?
The contact I have with people from all over the world. It is magnificent and a wonderful experience to meet people from various backgrounds with different lives, but most of all, the pleasure of having that "human touch" and contact and see how I can directly positively influence their way of living and experiencing Florence.
What inspires you to keep on doing what you do?
Le Stanze di Santa Croce in a Glance:
Type: 4 B&B rooms
Location: SMN Train station Florence, 1.8 km (20 min walking)
Distance: Santa Croce (1 min), Piazza della Signoria (5 min), Palazzo Pitti (20 min) & Piazzale Michelangelo (25 min)
Transport: a car is not necessary
Sleeps: 8
Type of board: Breakfast is included. Cooking classes & market visits for guests upon request
The warmth and contact with other human beings. Offering high quality service as well as food at breakfast, and in the cooking classes I offer. To make that experience be something special to remember about your time in Florence. I have many guests who return to Florence and to Le Stanze di Santa Croce, and it gives me great pleasure to welcome them back!
"I also particularly enjoy the cooking classes, as it gives me the chance to spend more time with my guests. The cooking classes all take place in the morning so that we can eat at lunch what we make. This is because I include a visit to the local Sant'Ambrogio outdoor market into the classes which is only open in the mornings."
At breakfast, we discuss what they'd like to make, I can offer suggestions as well as hear whether they have special requests, and then we head out to buy the ingredients we need! The market offers fresh, quality ingredients - but what makes me the happiest is to show that cooking these dishes can be easy and pleasurable. So many of my guests often comment that it seems difficult, but if you buy fresh, quality ingredients you can make a delicious pasta sauce in the time the water boils and the pasta cooks!
Will you share with us your favorite restaurant in Florence?
This one is hard as there are several: I often go to l'Antico Noe under the Arco di San Pierino. Quality food, not at the cheapest of prices but I see the owner shopping at the local market so I know he buys quality ingredients. I also really enjoy eating at Dim Sum on Via dei Neri. It is a Chinese restaurant which makes wonderful noodles and dumplings - they make them right in front of you! I love to travel and taste a wide variety of cuisines, luckily Florence has a lot of new places to try out that don't just always go with "traditional" offerings so it is refreshing to try new ones out.
I also really enjoy Ora d'Aria for a special treat or occasion. It is a star Michelin place so not cheap but it has great food.
For my guests who want to try traditional Tuscan and Florentine food, I love and always recommend the Trattoria i Fagioli. It is nearby and small, not so full of tourists so my guests get to experience great food away from the crowds.
After my meeting with Mariangela, and enjoying her delicious cake and tea, I could tell you this: what makes Le Stanze di Santa Croce really unique? It is Mariangela herself. She's a warm, solar person who exudes confidence and tranquility, an inner peace. Talking to her was a pleasure. She loves color and it is reflected in the house, from the common areas to the four bedrooms of the small B&B.
Reserve Now at Le Stanze di Santa Croce
There are plans to retouch the facade of the building this winter, and if possible, to transform the building by changing the plain, off-white color into a more colorful hue. She has submitted her requests to the city, I hope she's allowed to do it!
So what are you waiting for, if you think Le Stanze di Santa Croce would be perfect for you, make sure to contact Mariangela now and book your stay at her B&B!
This is a Sponsored Article but reflects the honest opinion and experience of the author. More details »