After seeing the Duomo from all sides and visiting the inside of the cathedral, all you need to do to complete the experience is climb to the top of the cupola!
Built by Filippo Brunelleschi who won the competition for its commission in 1418, the dome is egg-shaped and was made without scaffolding. The raising of this dome, the largest in the world in its time, was no easy architectural feat. At the base of the dome, just above the drum, Baccio d'Agnolo began adding a balcony in 1507. One of the eight sides was finished by 1515, when someone asked Michelangelo - whose artistic opinion was by this time taken as cardinal law - what he thought of it. The master reportedly scoffed, "It looks like a cricket cage." Work was immediately halted, and to this day the other seven sides remain rough brick!
The only way to see the inside of the dome up close and enjoy the extraordinary view of Florence it offers is to climb its 463 steps (there is no elevator): the route takes you by the interior of the dome where you can admire Giorgio Vasari's frescoes of the Last Judgment (1572-9) up close.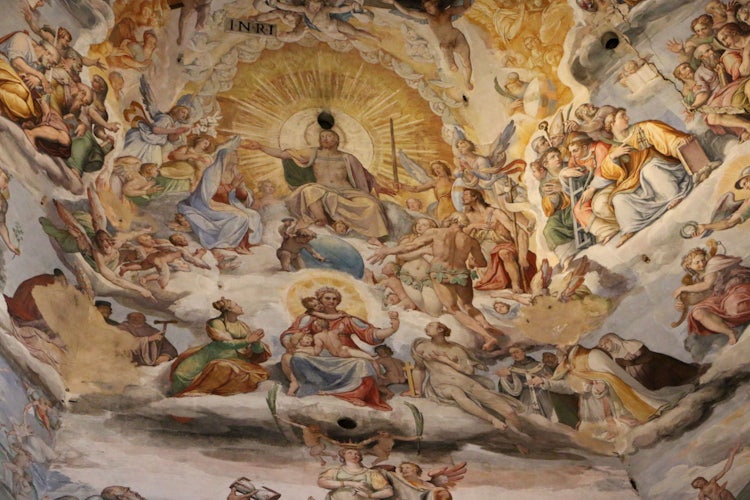 While they were designed by Vasari, they were actually mostly painted by his less-talented student Frederico Zuccari and finished by 1579. The frescoes were subjected to a thorough cleaning completed in 1996, which many people saw as a waste of restoration funds when so many more important works throughout the city were waiting to be salvaged. The scrubbing did, however, bring out Zuccari's innovative color palette.
Continue upwards through the two shells of the cupola and out onto the lantern, from which you can enjoy impressive views of the city.
Around the Piazza del Duomo, we also recommend you visit the Baptistery and the Museo dell'Opera del Duomo, where you can see up close many of the original statues and decorative elements from the cathedral as well as Ghiberti's original Baptistery doors (the ones outside are copies). Make sure to visit the inside of the cathedral if you haven't done so yet. If you want to see another view of Florence, you can also climb up to the top of Giotto's bell tower.