An Intriguing Monument
Orsanmichele gets its name from the fact that when it was first built (about 750) as the oratory of St. Michael, it was surrounded by the vegetable garden (orto) of a Benedictine monastery. The present building was constructed in 1336 as a market and grain store; by 1380 the first floor had become a church.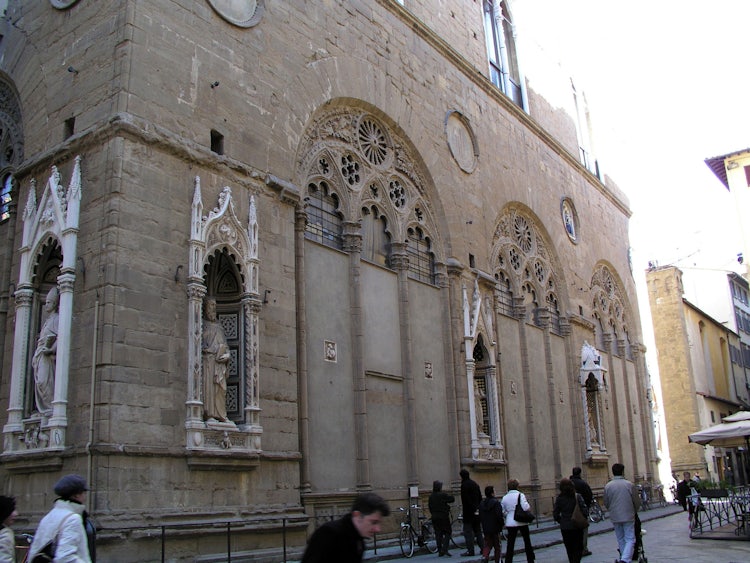 In 1339 it was decided that each of the major guilds should provide a statue of their respective patron saint to decorate the exterior. By happy coincidence, nothing was completed until the Renaissance was in full swing in the 15th century, so the commissions were executed by artists of the calibre of Verrocchio, Ghiberti, Donatello, and Luca della Robbia. Most of the niches for the saints are now empty or filled with copies. In the Museo di Orsanmichele, in the upper two stories of this building, you can see many of the sculptures.
The interior of Orsanmichele is atmospherically gloomy. On the walls there are patchy traces of frescoes; these, like the statues outside, depict the patron saints of the various guilds. The central feature, however, if the tabernacle (1348-59) by Orcagna, which frames the exquisite Madonna and Child (1347) by Bernardo Daddi. To appreciate the architecture of Orsanmichele, visit the museum: here you can admire the superb vaulting and brickwork and get a true impression of the immense size of the building. The views are also superb.

View more pics of the Church of Orsanmichele! »