Christmas Mass
Christmas Eve Mass at 10:30
Midnight Mass at midnight
On Christmas Day SS. is open at 8:30, 10, 11:30 and 5:30pm
Vespers solemn is at 6:30 pm
All the celebrations are in Gregorian chant
Built between the 11th and 13th century, the exterior of the Church of San Miniato is decorated with green and white marble in geometric patterns similar to the facades of Santa Croce and Santa Maria Novella. A mosaic from the 12th century decorates the facade over a central window.
With your back to the front of the church one can enjoy an impressive view of Florence even higher up than the beautiful Piazzale Michelangelo. From this lofty height, one can see from the Duomo and Palazzo Vecchio, to the last standing parts of the medieval walls that once surrounded Florence.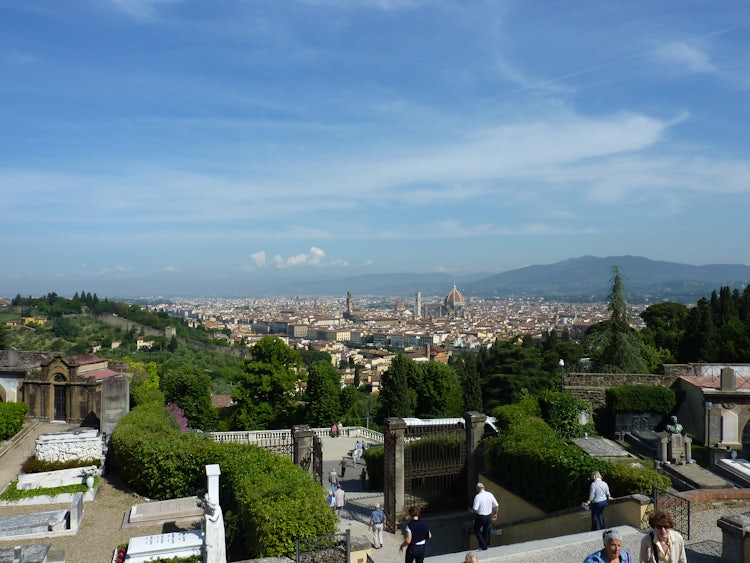 Going into the church, one finds that the interior is Romanesque, with three naves and an elevated presbytery and a crypt. Pay particular attention to the marble pavement in the central aisle dating back to the 13th century. At the end is the beautiful Cappella del Crocefisso by Michelozzo (1448), and behind it is the crypt, decorated with frescoes by Taddeo Gaddi. Above the crypt, the elevated presbytery is enclosed by a marble column fence and contains an impressive 14th century wood chorus.
The monumental cemetery in front and back of the church contains the tombs of illustrious men, such as Carlo Lorenzini (Collodi), author of Pinocchio.
How to Arrive
Since the church of San Miniato is located just outside the city walls it takes a bit more planning to arrive. It is easily accessible by foot, car, bike (for those who like to climb) and by bus. If you like the idea of a panoramic hike, taking in the green hills that surround Florence and the spectacular views of the skyline then your best option is to walk up to Piazzale Michelangelo. You can follow several paths from either the Piazzetta of San Miniato or the path behind the Torre di San Nicolo. Once you are at the panoramic terrace, climb the remaining steps to the top of Via delle Porte Sante to arrive at the door of the church.
If you have a car, just follow the signs for Piazzale Michelangiolo and you will find parking either at the terrace or in front of the church - be forewarned it is paid parking from 8 am - 8 pm. Bikers (and walkers) can follow the same path as the cars, there is a well kept sidewalk.
You can also catch the ATAF orange city bus number 12 or 13 to get to the Piazzale and the walk it to the top of the church.

View more photos of the Church of San Miniato »