Address

Via de Servi 66R
50122 Florence

Admission

Adults €7,00
Students and over 65 €5,00
Groups (min 15 persons) €4,00
Free entrance for children under 6 & handicapped
Opening times

November-March: everyday 10am to 6pm; April-October: everyday 10am to 7pm
Closed December 24 and 25

Contacts

Phone: +39 055 282966
Leonardo da Vinci is without a doubt one of the most famous Tuscan and Italian historical figures of all time. Having lived between 1452 and 1519, he continues to be the symbol of the Renaissance and its rebirth, with his attention dedicated to the arts including painting, sculpture, architecture, music, design and choreography for plays (which he loved). Leonardo was a diligent scholar of anatomy and relentless inventor and designer... in general, curious about everything!
Leonardo da Vinci was a true genius, one of the few whose work and skill was appreciated during his own lifetime and not only after his death. In fact, he died in France precisely because his knowledge and fame was known, and King Francis I of France requested him go work at his court.
Leonardo da Vinci, inventor and designer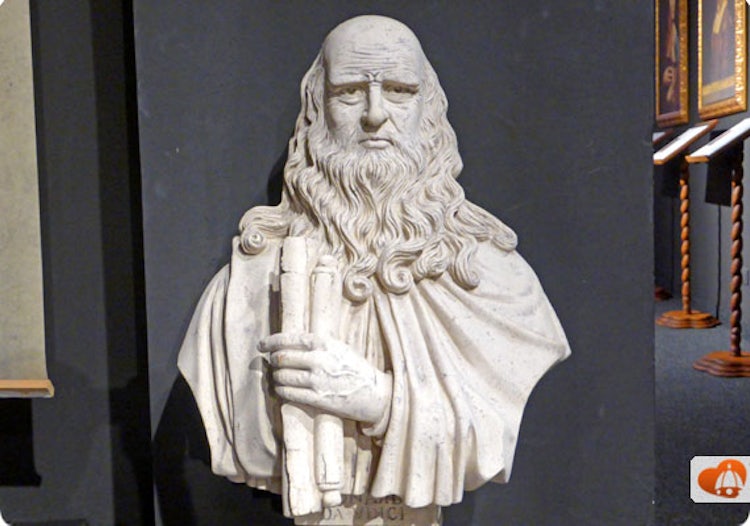 Many works by Leonardo da Vinci still exist today, but many others have been lost through the centuries. Many of his most famous works are also not in Italy (just think of the famous Monna Lisa conserved at the Louvre in Paris), although one of the most famous in Italy which can be still be visited is his Last Supper affresco found in the convent of Santa Maria delle Grazie in Milan.
In his lifetime, Leonardo completed a large number of scientific manuscripts (well over 4000 pages!) where he kept his notes of his studies and made a lot of sketches on a wide range of interests and preoccupations. These pages were later collected into notebooks or codexes, and among these, the most important and interesting is the one on the Flight of Birds (conserved in Turin) and the Codex Atlanticus (twelve volumes of notebooks kept at the Biblioteca Ambrosiana in Milan).
Thanks to these codexes, it has been possible to reconstruct some of Leonardo's designs in various fields, from military to civil engineering and to those related to the study of flight.
In Florence, you can admire some of Leonardo's interesting studies in the form of the reconstructions of these "machines" at the Leonardo da Vinci Museum. The small private museum is on via de' Servi 66R, the street that connects Piazza del Duomo with Piazza S.S. Annunziata so very central. We went to visit it, and despite knowing a bit about Leonardo da Vinci, were still surprised at finding ourselves in front of these machines brought to life from his notebooks, particularly as there are several extraordinary and curious machines given the time in which they were imagined over 500 years ago.
If you're planning a vacation to Florence, cradle of the Renaissance, we recommend adding the Leonardo da Vinci Museum into your itinerary! Here's our review of what the museum contains and what we liked about it.
Leonardo's Machines in Florence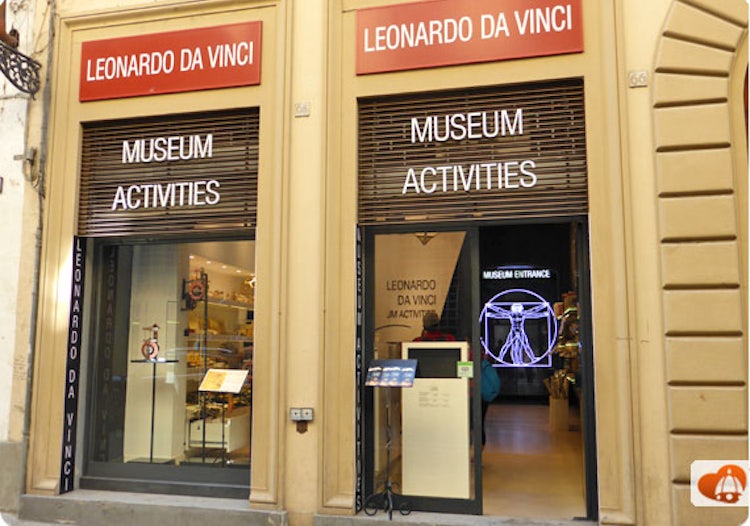 The Leonardo da Vinci Museum is a block away from Piazza Duomo, on the very central via de'Servi. The museum will take you back to Leonardo's fascinating and complex world, the one where he was able to imagine and draw machines for many different purposes found in his notebooks. For us, it was a very interesting trip back into history and into the mind of this great genius!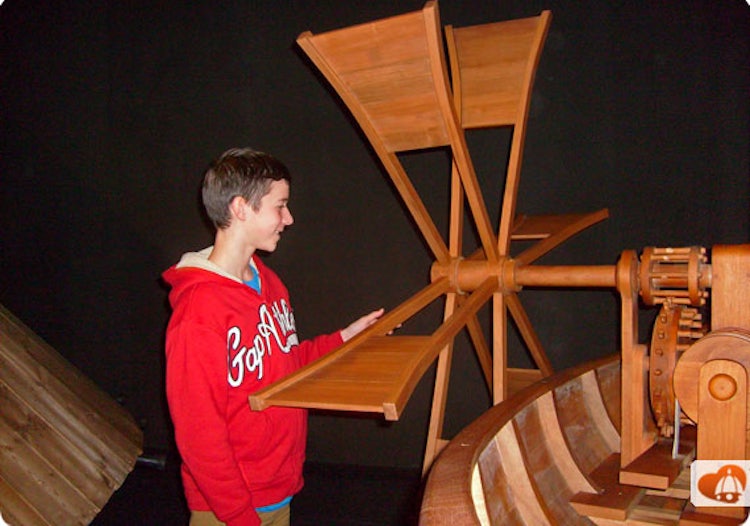 The machines you'll find at the museum have been built to natural size and are functional, all with a description in various languages (English, Italian, Russian, Spanish, French and German) explaining what they were to be used for. Some of the machines are hands-on interactive displays which means you can handle them and figure out how they work, by moving or pushing levers... in essence, getting to walk in the shoes of the great Leonardo da Vinci. A few are not to be touched (signs indicate that) as they might not have moving parts but you can still get up close and check them out.
The machines are not divided by type, but you can easily identify their intended use, whether for war, everyday use or for flight.
The machines of war
Leonardo dedicated a lot of his time to the study of weapons and bellicose machines. At the museum, for example, you can see the bombard, an artillery cannon that Leonardo designed to easily rotate on an axis, and the large armored car from drawings in the Arundel Codex, which could rotate 360° and was protected with metal sheets (not included on this model as it would be too heavy).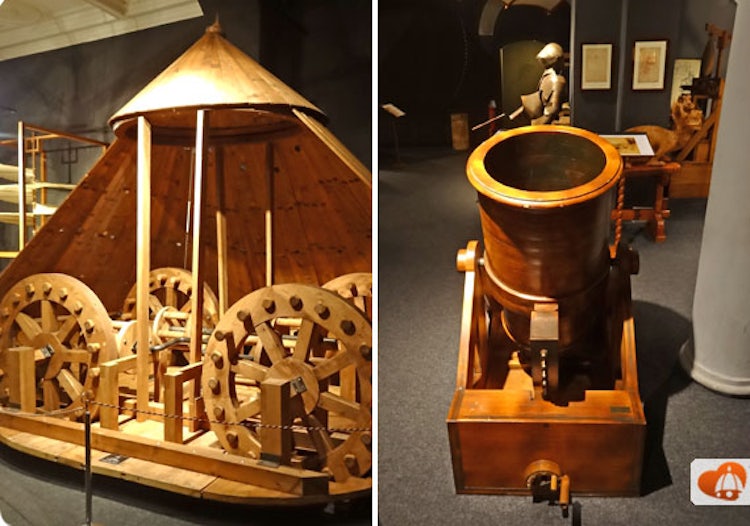 The civil engineering machines
The museum also has several examples of civil engineering machines that reveal the inventiveness of Leonardo's mind in the areas of mechanics as well as hydraulics.
You can try to maneuver the revolving crane or the Archimedean screw, which had the function of pumping water and thus could be used to transport water to towns, drain swamps or create fountains. Very functional uses!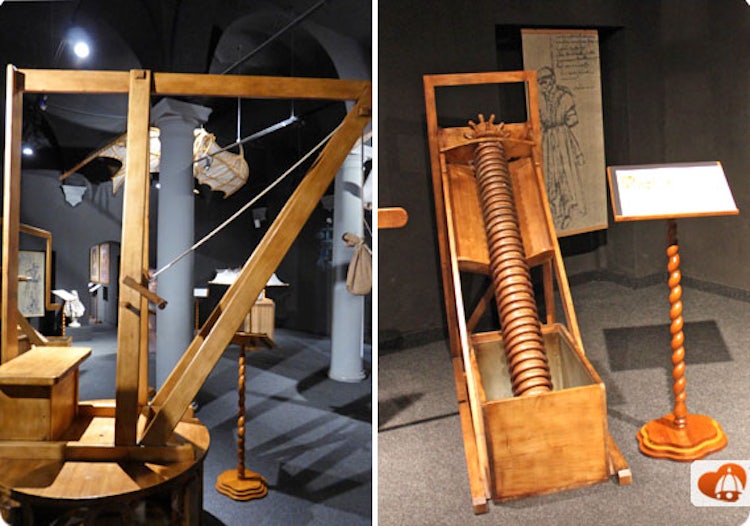 The machines of flight
Leonardo da Vinci was fascinated by the phenomenon of flight and, in the early 1500s, dedicated a lot of his time to the study of the flight of birds. His studies reveal his dream of creating a flying machine that would allow man to take flight. Drawings and notes on this subject are collected on the Codex on the Flight of Birds.
Among the most interesting designs that you can see at the Leonardo da Vinci museum in this area are the "ornithopter", similar to a glider but with a sort of bicycle (which he did not invent) which would maneuver the complex system of wing motion, the parachute (in wood so not workable - imagine if he had had the right materials back then!) and the ornithopter with partially fixed wings (both of these ornithopters are in the photo below).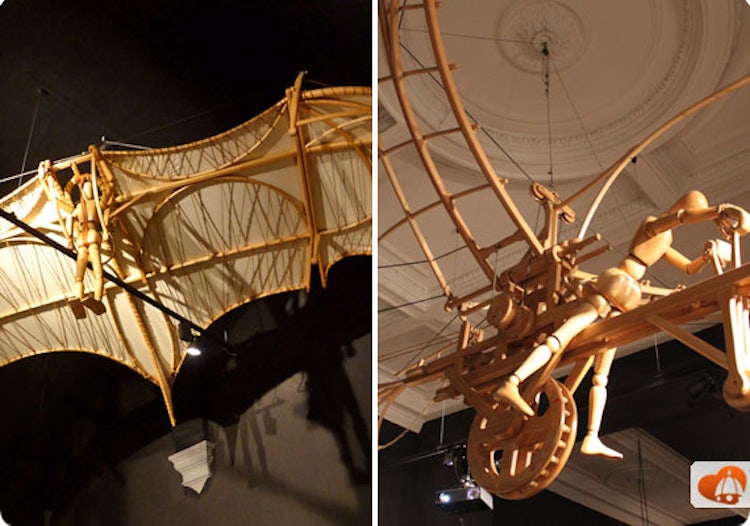 Practical information on the museum
The museum is open every day, except for December 24th and 25th. The visit to the museum can be completed on your own, as all of the machines are clearly described in the multilingual panels. However, if you'd like to delve deeper into the workings of the machines and of the creativeness behind them, you should consider booking a guided visit (you need to book at least a few days ahead of time, to make sure there is availability).
The museum is quite small but we still recommend you to take your time when visiting it, reading all of the descriptions of the machines to understand their purpose and mechanism. Take time to try out the interactive machines, which can be fun for children and adults alike! To really enjoy the museum, we recommend allowing yourself 2 hours for the visit (and some time in the bookshop).
During the year, the Leonardo da Vinci Museum organizes special guided visits (with Leonardo himself leading the group) in Italian, English and French and special workshops for families with kids (in Italian). For more information on these and on the museum, you can complete the form on the site or call the museum at +39 055 282966.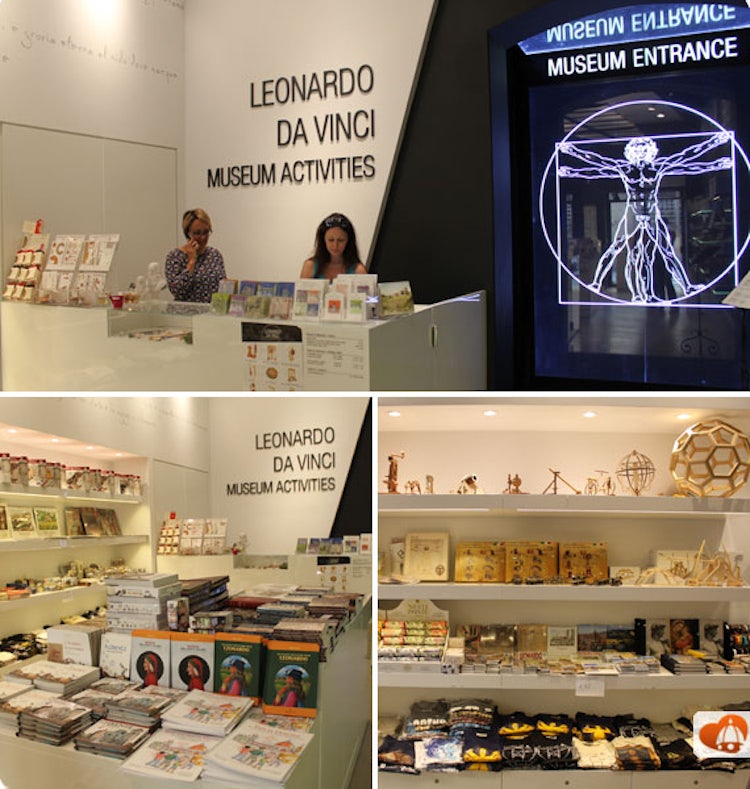 The entrance into the museum is through the bookshop, where you can find a rich collection of books and guides on Leonardo da Vinci and much more, including many great ideas for gifts and souvenirs from the museum such as small reproductions to build yourself of Leonardo's machines. You're sure to find something original and unique that would make a great gift for a friend or for your kids or family members. If you're undecided on what to get, ask either Alessandra or Isabella who are in charge of the museum and bookshop and were very kind and friendly on our visit.
If the Monna Lisa comes to mind when you think of Leonardo da Vinci, then after your visit to this museum that will no longer be the case. We recommend you delve into the inventive and inquisitive mind that envisioned and studied nature, physics and engineering to create some impressive machines centuries ago by visiting the Leonardo da Vinci Museum in Florence. We enjoyed our visit, learned a lot more on Leonardo and brought home some souvenirs to play with ;-).