Staying on the hills of Florence
A bed and breakfast where you'll feel at home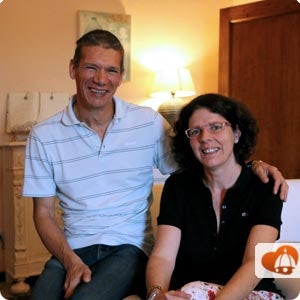 Tiziana and Ruggero started hosting strangers in their home "by accident". Living in the countryside outside of Florence in a large house with extra rooms to spare, they figured why not put them to good use while sharing their corner of Tuscany with others? This was back in 2007. They loved hosting and meeting guests from all over the world so much that in 2010 they turned this accidental dip into the world of hospitality into a full-time job by making their move into Florence and opening their bed and breakfast Il Palagetto Guest House just outside the old city walls.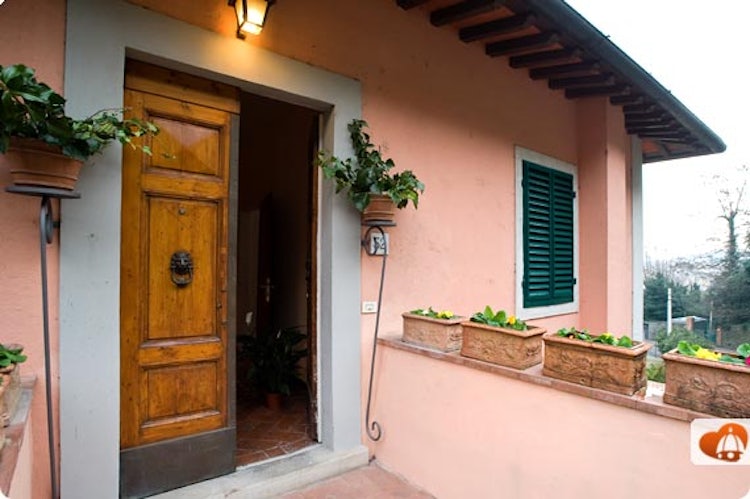 Il Palagetto Guest House is a small home-away-from-home for all those that step foot inside. Nestled on the side of the hill of Monte Oliveto on the southern edge of Florence, it it offers the perfect compromise between a quiet and peaceful stay in a residential neighborhood while being a short distance from all of the main sights, just about a 20 minute walk away. Since it is right outside the old walls and thus the ZTL area (limited traffic area), anyone who arrives to Florence with a car will find this bed and breakfast perfect since it offers private parking (albeit at extra cost) right below the house.
I recently visited the B&B making my way through the Oltrarno, which is what the historical area of Florence on the left bank of the Arno river is called. While the Oltrarno is bustling with activity, full of shops and restaurants, pubs and gelato shops (take Via Pisana toward Ponte Vecchio), the B&B is just across the street "outside" of this area and about 50 meters up the hill. This short distance already provides the needed isolation from all street traffic, making it ideal for anyone who wants to enjoy quiet in the city, especially after a long day of sightseeing.
Why stay here?
I loved: the beautifully, furnished bedrooms and luminous breakfast/living room, perfect for sharing breakfasts with other guests.
Ideal for: couples, small families or groups of friends traveling together.
Perfect for: anyone wishing to enjoy great hospitality and a great, quiet area close to all of the sights.
The B&B is small, with only 5 rooms (3 of which share a bathroom), and this is part of its appeal. Guests are warmly greeted by Ruggero or Tiziana (or both, as I was) and quickly made to feel welcome in this Florentine home as you're handed the keys to the house to come and go as you please. Each of the 5 rooms is uniquely decorated and furnished (but could not see them as most were occupied), each with its own character: named after a flower, each one has its own color as well as being furnished with antiques, with pieces all lovingly searched for and restored by Tiziana, who is also an interior designer.
The house – which at one time was a restoration laboratory for important works of art – and each of the rooms all contain splendid wooden sculptures by Luca Mommarelli, a local artisan in the Mugello valley to the north of Florence. Make a special note of them and the heads and ask Tiziana or Ruggero about them, since they are truly unique works of art.
Great hospitality here actually begins from the first email you send to Tiziana and Ruggero. They are on hand to help you plan your stay in Florence even before you arrive, but also once you're here in Florence: they will help you book museums, tours or restaurants, just make sure to ask! Ruggero is an agronomist but also a wine expert so he can definitely offer the best suggestions for great places to enjoy Italian wines. Tiziana, in addition to providing tips on "off-the-beaten" path places to visit in Florence, also loves to cook so it is she that provides the homemade cakes for breakfast. Both love going out to dine, so will recommend restaurants they themselves love and enjoy.
While I arrive after breakfast is over, I can hear the hard work they put into its preparation every day, from the homemade cakes Tiziana makes to the selection of the freshest ingredients and local products they put on the table, including fresh, seasonal fruit. Sweet and savory, guests enjoy a wide selection in their buffet breakfast every single day. Ruggero prepares coffee just as you like it – whether it is black or with lots of milk (caffe latte), an espresso or cappuccino – while Tiziana will prepare freshly cooked or scrambled eggs for guests who ask.
I also want to point out that I've conciously been using the full name "Il Palagetto Guest House" through this article: since Ruggero and Tiziana opened their B&B in 2010, two newer establishments in and near Florence started using the same name of "Il Palagetto". Il Palagetto is the name that this house has always been known by since it was first built, they decided it was beautiful and there was no need to change it once they opened their doors to guests.
While I live in Florence so might not ever get the chance to enjoy Ruggero and Tiziana's bed and breakfast firsthand, I enjoyed spending part of my morning with them in their lovely home and seeing the love and care they put into welcoming guests from all over the world to Florence. The location is perfect (particularly for those who arrive with a car, as there is private parking and they are outside the ZTL limited traffic area in Florence) for a quiet, peaceful stay while being really close to all of the sights. The Bed and Breakfast Il Palagetto Guest House is the right combination of "off-the-beaten" and "well-worn" track to make your stay in Florence very special and enjoyable. Check out their site to see photos of all of the beautiful rooms and to book your stay with Ruggero and Tiziana!
Photo credits: Francesca Pagliai and Lourdes Flores
Disclaimer: While I was invited to visit Il Palagetto by the owners, this review expresses my personal and honest opinion about the services they provide.
This is a Sponsored Article but reflects the honest opinion and experience of the author. More details »