[We are currently working on updating this article]
Christmas and the Holidays Light up Florence
If you've fallen in love with the beautiful Cradle of Renaissance, but you've never visited during Christmas before… I think you'll go crazy and will literally be enchanted by its magic and suggestive atmosphere during this month! Expect to experience emotions like the Stendhal syndrome (and which city could better evoke this feeling than Florence?!), even if you're not visiting a single masterpiece, but a majestic conjunction of art and architectural works of art. Colored lights, decorations, music and its unique atmosphere always make Florence more magical during this time of the year.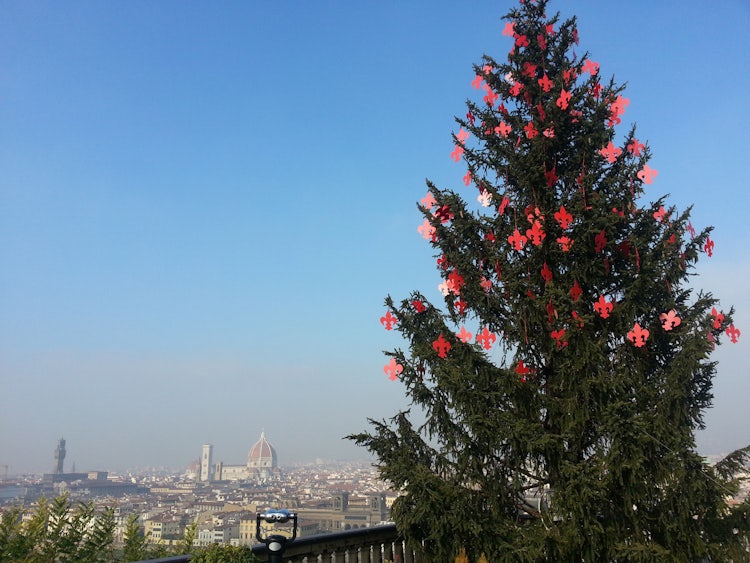 If strolling along its lanes with Christmas-lights isn't enough of a good excuse to come and visit the city, below you'll find a list of events taking place in December that will drive you straight to booking your flight towards the Cradle of Renaissance and booking your hotel!
This month is so special that we have added a few extra calendars that concentrate on all the Christmas markets and the traditional Christmas Nativity Scenes or Presepe found throughout the region of Tuscany.
Another city center that has their own page dedicated to Christmas events is Siena.
Now is also the time to start making plans for your end of the year celebration! Read here for activities happening in Florence and all around Tuscany. As we update these holiday and December articles, we do so with the hope that these holidays will proceed in a relatively normal manner and we will be able to celebrate beyond our homes. Let's hope so!
Keep in mind that while events are planned for this season, they still remain variable to how the pandemic evolves. At the moment, we are just hoping we won't get closed in at home like we were for the holidays in 2020.... so this will page will be updated throughout the month if new things come up. If you have any questions regarding your itinerary, you can feel free to post on our forum!
If you're planning to be in other parts of Tuscany, make sure to also take a look at the December events in Tuscany page.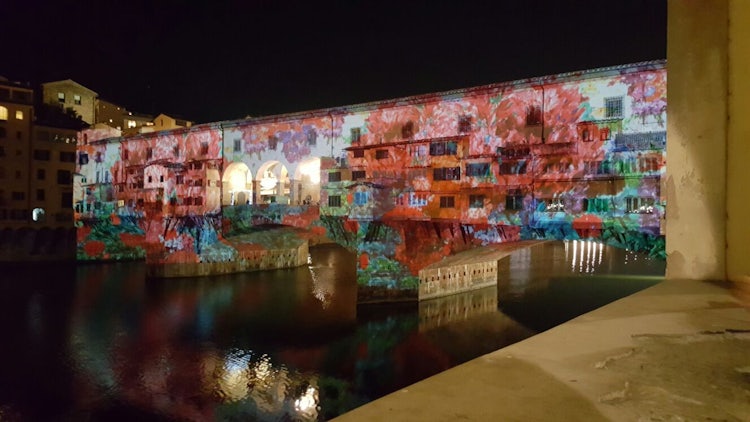 FEAST OF THE IMMACULATE CONCEPTION, CHRISTMAS & SANTO STEFANO | across Italy | Dec. 8, 25 & 26th
Very much celebrated throughout the entire country, these days coincide with major Christian holidays celebrating the Immaculate Conception, the birth of Jesus and St. Stephen. Make a long weekend out of the Christmas holidays if you can, as there will be lots of Italians flooding the cities if we aren't closed in. Shops and stores will be open on the 24th of December but be aware that many will close early. Restaurants are open on the 8th, 24th, 25th and 26th; to make sure you have a spot, go ahead and book your table.
Public transport works on the "festivo" or holiday schedule. Check hours in advance for museums, monuments, and churches.
CHRISTMAS VINTAGE CHRISTMAS | The Student Hotel | December 5, 12.30-8.30pm
Pimp my Vintage and The Student Hotel invite you to their Christmas Vintage Market on Sunday, December 5th: discover unique garments and objects thanks to the selection of vintage and craft stands, but also new brands, jewelry and works by young designers. There is ample space for vintage items that offers a rich selection of unique pieces, from the elegance of the 1950s to the street wear of the 1990s, with selected stands of clothes, vinyls, bags, posters, jewelry, art and much more. Another section is dedicated to high quality handicraft products, unique handmade pieces, with an eye to the environment: recycled and reuse techniques and materials, to experience the Christmas season in an original and conscious way.
A rich selection of food and drinks to accompany you during the day, including a special brunch menu (from 12 to 4pm) at the Bistrot with "The Student Hotel". It will be a chance to enjoy a convivial moment with your friends, share the relaxing atmosphere and sit comfortably to eat and chat without worrying about time passing. An occasion to buy gifts for others as well as to find something for yourself. The Student Hotel is on Viale Spartaco Lavagnini 70 - 72 in Florence, free admission, you will need to have a Green Pass or have a swab within 48 hours to enter.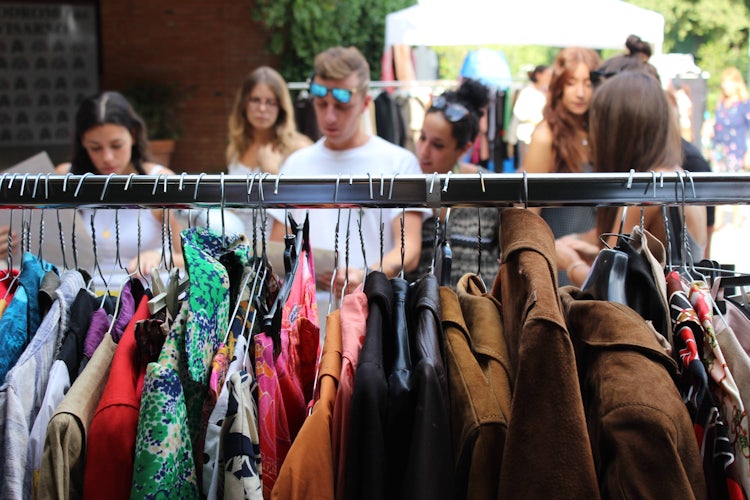 CONCERTS AT THE LAST SUPPER | Chiesa di Ognissanti | December 8
Live music within a magical context for the last concert of the year within the "Concerts at the Last Supper" series offered by the Ensemble L'Homme Armé. On the 8th of December, the ensemble reproposes in memory of Johanna Knauf a popular program given in the past, with many singers and musicians that worked with and studied under her. Free entrance. Details on the program on the official website.
NATIVITY | Front steps of the Duomo | December 8 - January 6
The statues of the Virgin Mary, St. Joseph and the Christ Child are unique handmade statues created by the artisan Luigi Mariani in a historic kiln in Impruneta belonging to the M.i.t.a.l. – Angiolo Mariani e Figli company, which has generously donated them to the Opera di Santa Maria del Fiore. The statues depicting the Holy Family are accompanied by those of an ox and a donkey. The work reflects the ancient Florentine tradition of terracotta sculpture which, in artistic terms, was born in Florence in the early 15th century when the technique was revived by Donatello and Brunelleschi.
F-LIGHT FESTIVAL: REFLECTIONS | all over downtown Florence | December 8 - January 9, 2022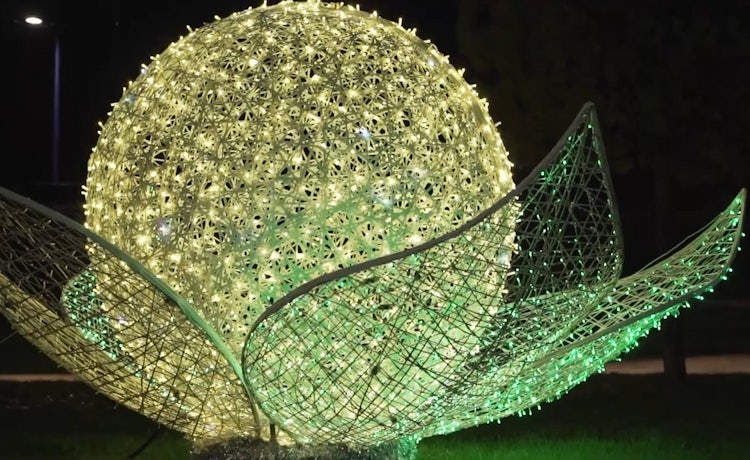 A combination of events across downtown Florence that create a luminous tale this year with the theme "Where we Are, Where we Go". Spectacular light displays, itineraries within the heart of the city and music and festivities. It all starts with the lighting of the Christmas tree in front of the Duomo and continues through the holiday season with many events! Check out the official site for a calendar of events.
FIERUCOLA DELL'IMMACOLATA | Piazza S.S. Annunziata | December 8, from 9am to 7pm
Annual market in Piazza della Santissima Annunziata with the special edition of La Fierucola dell'Immacolata that has always hosted organizations working in the non-profit sector. Lots of space to creativity, from rural handicrafts and family businesses with attention to the most innovative products in Tuscany and beyond. Under the loggia you can find workshops for both kids and adults to learn how to create simple toys as well as how to weave cloth.
NATELEPERFILE | Palazzo Corsini | 9-12 dicembre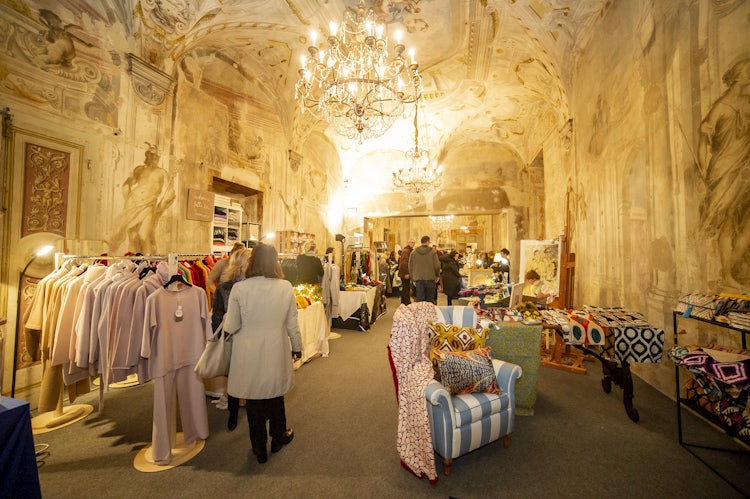 Now in its 18th edition, the #Nataleperfile charity Christmas market is hosted in Palazzo Corsini on the Lungarno. Entrance is from Lungarno Corsini, 8 from Thursday, December 9 through Sunday, December 12, from 11am to 7pm, with free admission and in compliance with anti-Covid measures (it is necessary to show Green Pass at the entrance).
The exhibition stands offer a variety of original ideas for your Christmas gifts. In addition to the stands, there are products donated by many sponsoring companies, a "Vintage Room", with clothes and accessories for both women and men, donated by private individuals, rigorously sanitized and an "Enogastronomic Corner", with quality products donated by local companies.
To make everything even more special, the presence of the Company of Santa Claus, a Florentine association that supports FILE's projects dedicated to children, will cheer the families present with Christmas carols in the Grotta del Ninfeo in the afternoon of Sunday the 12th. For a refreshing break, the "File Cafè" managed by Terra Rossa will be open throughout the market hours. For more information, go to the official website.
GRAN BAZAR XMAS MARKET | The Student Hotel | December 11 and 12, from 11am to 9pm
Another occasion to head to The Student Hotel for a selection of vintage, handmade, design, collectibles and more to find that special gift! Free entrance.
PHOTOS WITH SANTA | Hard Rock Cafe | December 19, from 5 to 7pm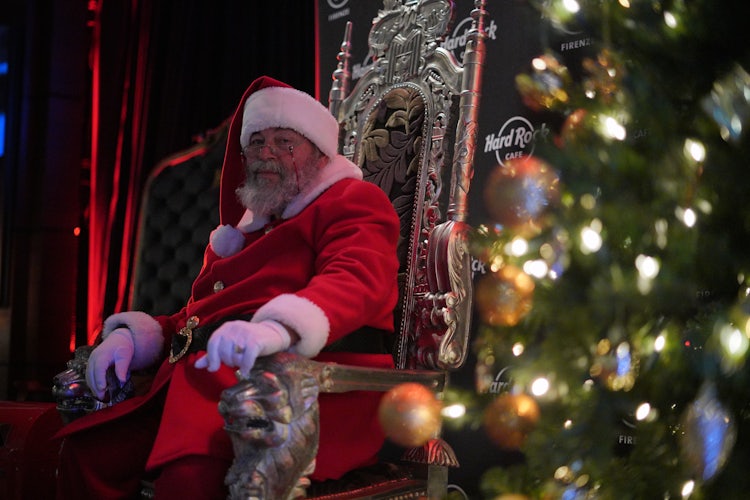 You can stop at the Hard Rock Cafe in Piazza della Repubblica for a delicious lunch or dinner on this Sunday or head there to also simply take a photo with the best looking Santa Claus in town! From 5 to 7pm.
For the holidays you will find a special holiday menu with two or three courses, the choice is yours, in addition to the options offered a la carte.
INDIPENDENZA ANTIQUARIA | Piazza Savonarola | December 18 and 19, from 9am to 7pm
Don't miss this additional opportunity to find something truly unique and special. The antiques market takes place every third Saturday and Sunday of the month (except for July and August). The fair, originally held in the gardens of the Fortezza da Basso, in recent years had to change its location and first moved to the gardens of Piazza Indipendenza, thus updating its name to "Indipendenza Antiquaria". Today, the fair is temporarily moved to Piazza Savonarola. The over 100 specialized operators in the sector, who come from various parts of Italy, have attracted customers from Florence and beyond over the course of its 18 years, making the antiques fairs one of the most important antiques fairs in the area. You can find furniture, coins, books, prints, paintings, sculptures, modern antiques, porcelain, precious vintage accessories and many precious unique pieces as well as collectibles but you need to go with patience and a keen eye to hunt for that special item. It makes for an interesting day, we hope you enjoy!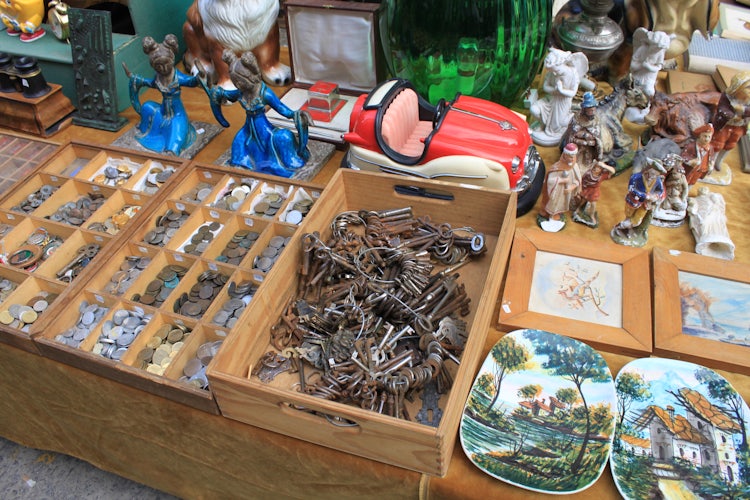 FIERUCOLINA DI NATALE | Piazza del Carmine | December 19, from 9am to 7pm
The holiday edition of the Fierucolina hosts stands that offer farm products that make great gift baskets as well as games and toys perfect for kids. Free workshops planned for children, as well as guided visits within the Brancacci chapel.
CHRISTMAS CONCERT | Teatro Verdi | December 24, 5pm
On December 24th, at 5pm, enjoy the traditional Christmas Concert by ORT, the Orchestra Regionale Toscana, at Teatro Verdi. This year, the concert will include music by Rossini, Mendelssohn and Say. Famous conductor, Nil Venditti, and Alina Ibragimova, at the violin. More details here.
NEW YEAR'S EVE | Hard Rock Cafe Firenze | December 31, starting at 8.30pm
On December 31st say goodbye to the current year and great the new one at the Cafe in Piazza della Repubblica, where a gala dinner with a special menu awaits to mark a memorable night. Starting at 8:30pm, the New Year's Eve dinner is in full Hard Rock style with a concert by the Killer Queen - Official Italian Queen performers since 1995 - with two shows "A day at the races" and "A night at the opera". More info and bookings here.
OUTSIDE FLORENCE
RALLY DELLA FETTUNTA | Tavernelle Val di Pesa, Chianti | December 4 and 5
Enjoy watching a traditional car race along the panoramic and enchanting roads of Chianti, among vineyards, stunning views, tall whispering cypress trees, and the magnificent olive groves! The race covers the area of Tavarnelle Val di Pesa between the provinces of Florence and Siena. Fettunta is that delicious grilled bread served with a bit of extra virgin olive oil, garlic, salt and pepper, the perfect way to taste the season's new oil olive. Read more details on their official website.

CANTINE APERTE A NATALE | across Tuscany | December 4 - 12
Every year, the month of December is synonymous, for many, with the long-awaited event organized by the Wine Tourism Movement of the Tuscany Region: Cantine Aperte a Natale. Back from 4 to 12 December, a unique opportunity to choose the wines to match the menus for the Christmas period thanks to the precious suggestions of the producer himself, but also to spend an afternoon or a few days in the cellar, or above all, this for families , to introduce the little ones to the magical world of wine thanks to many initiatives organized for children. For dates, places and times, in-depth information on the various events organized and the wineries involved, consult the official website.
CHRISTMAS IN VAGLIA | in Vaglia and surroundings | December 8 - 19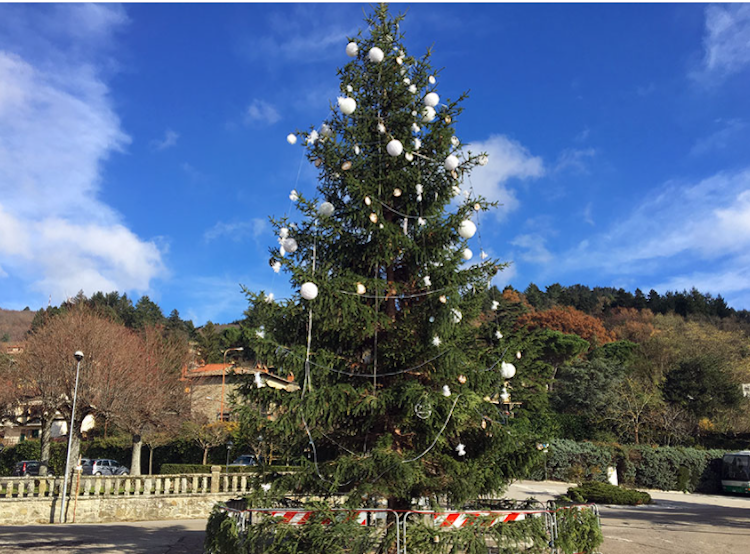 Not only the traditional Christmas markets and the bonfire at the end of the year, this year in Vaglia you can play and win with the contest "Christmas, We decorate". There will also be music, games for children, solidarity and a torchlight procession in nature. It starts with the market on December 8 in Caselline, then on the 10th in Pratolino, then on Saturday the 18th in Vaglia to finish up on the 19th December with the market in Bivigliano.
Solidarity for the families that suffered damage by the hailstorm of this past September 26th takes place on Saturday, December 11. At the Villa di Bivigliano, at 9.15 pm, the concert of the gospel musical group The Pilgrims is planned, the proceeds and offers all present being donated to citizens damaged by the hailstorm. The main characters on Sunday, December 12 will be children, with the "Christmas of Children" event, at the Circolo Arci di Pratolino at 4pm with the artist "Il Bollaio Matto" and the folk band from Vicchio. On Saturday, December 18 at 9.15 pm there will be a torchlight procession in Montesenario with a musical accompaniment of flutes. Upon arrival at the convent, participants will find mulled wine and hot chocolate waiting for them. For those who want to stay on, always at the convent at 10.30pm a concert by the Demidoff Ensemble, a musical group that combines classical tradition and jazz culture, is scheduled.
Finally, for the last night of the year, the "Burn the year" is a bonfire with an evening of fun, music, chestnuts and mulled wine starting at 11.30 pm in Vaglia, in the area of ​​Via Tabaccaia.
COLLEZIONISTI IN PIAZZA | Scarperia | December 5 and 19
The first Sunday of every month heralds this event in Scarperia. Just imagine a stroll through this picturesque town center to find a wide range of goodies including vintage, antiques, clothing, and more. Stands set up from 8:30am to 7:30pm.
APRILANTE | Panzano in Chianti | December 5
We know they call the fair "April"ante, but it actually takes place year round! The monthly market is held in the streets of this charming hilltop town in Chianti where you will find handcrafts, vintage and delicious typical foods... all in the countryside between Florence and Siena.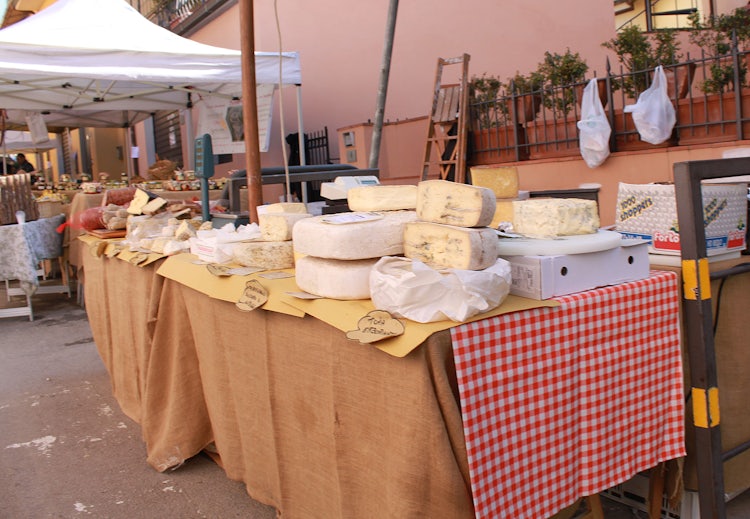 IL PAGLIAIO | Greve in Chianti | December 26
Piazza Matteotti is filled with locals who feature goods from their gardens, their kitchens, and their workshops. Often you will find not only great bargains but music and opportunities to do some taste testing. Check their Facebook page for updates (often times quite last minute). Held on the 4th Sunday of every month.
LAST UPDATE: December 17, 2021
We make every effort to offer correct and up to date information, but please double check on the official websites we link to before finalizing your visit to ensure there haven't been any changes!
Did you find an error? Let us know so we can correct it, thank you!
---