If you've fallen in love with the beautiful Cradle of Renaissance, but you've never visited during Christmas before… I think you'll go crazy and will literally be enchanted by its magic and suggestive atmosphere during this month! Expect to experience emotions like the Stendhal syndrome (and which city could better evoke this feeling than Florence?!), even if you're not visiting a single masterpiece, but a majestic conjunction of art and architectural works of art. Colored lights, decorations, music and its unique atmosphere always make Florence more magical during this time of the year.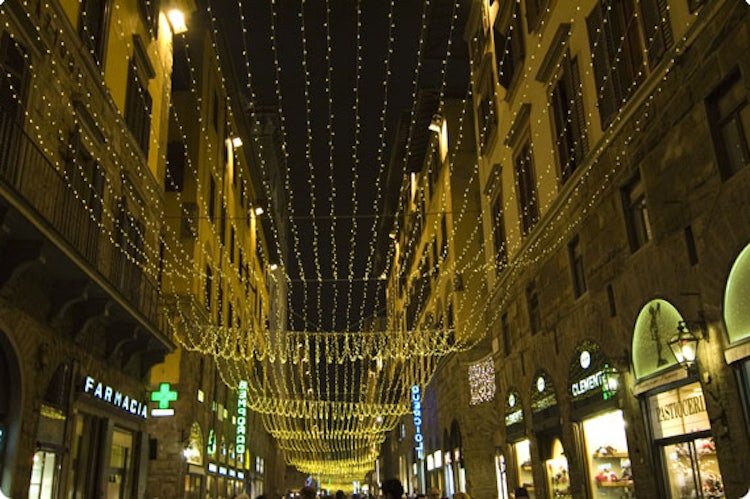 If strolling along its lanes with Christmas-lights isn't enough of a good excuse to come and visit the city, below you'll find a list of events taking place in December that will drive you straight to booking your flight towards the Cradle of Renaissance and booking your hotel!
Culture, Food & Surroundings
The top of this list is focused on several cultural events that we recommend taking note: the extraordinary night openings every Saturday until December 19 (fee for entrance is required) of the Uffizi, Accademy Gallery and Bargello Museums provides an unmissable occasion to enjoy visiting these wonderful museums at times when they are less crowded. Opening hours: Uffizi and Accademy Gallery from 8.15am to 11pm without interruption (the Uffizi will be closed on the night of December 12), Bargello National Museum from 8.15am to 5pm and from 7pm to 11pm on Saturdays.
Extraordinary Openings of the Florentine Museums during Christmas times
All museums of Florence will be closed on December 25 and January 1, 2016. The Uffizi Gallery, the Palatina and the Modern Art Galleries inside Palazzo Pitti and the Accademy Gallery will be closing an hour earlier on December 24 and 31. The Uffizi and the Accademy Gallery will be extraordinarily open until 11pm on Saturday December 19. Guided visits to the Aosta Duchess Apartments will be suspended from December 26 to January 6, while the Boboli Garden, the Porcelain and Silver Museums and the Costume Gallery wil be closed on Monday December 28 and January 4. All museums will be regularly open on the Epiphany Day, January 6.
The event that most of us eagerly await for, organized by the Wine Tourism Movement, will be taking place on December 5 and 6 throughout the region: Open Wine Cellar at Christmas will be dedicated this year to both children and adults with the theme "Christmas in Wine cellars". The manifestation will be extraordinarily open on December 4 with a special night event held in the quaint village of Certaldo Alto: a fundraising dinner whose earnings will be given to sick children (more details on the official website).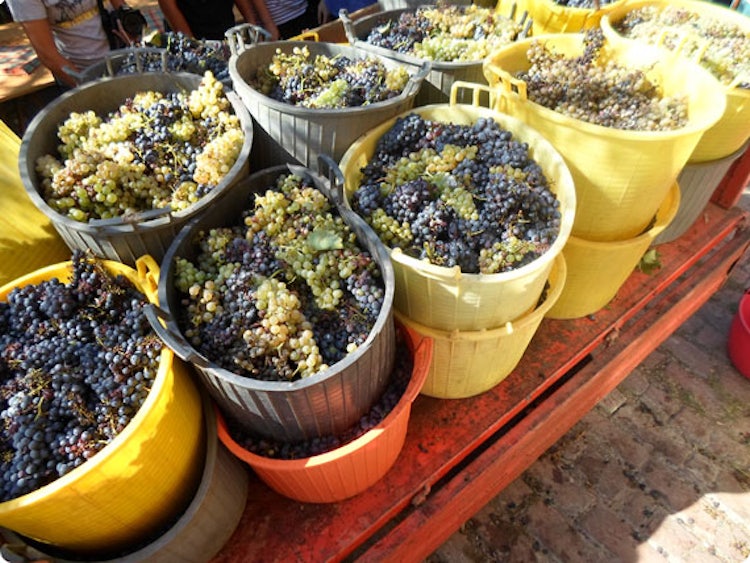 Tuscan specialties usually can't be served without wine, that's why, along with the Wine Tourism Movement, on December 12 and 13 a Market and Fair of typical wine-and-food products called Gourmet will be held in Montelupo Fiorentino, showing the best of local food products and handicrafts.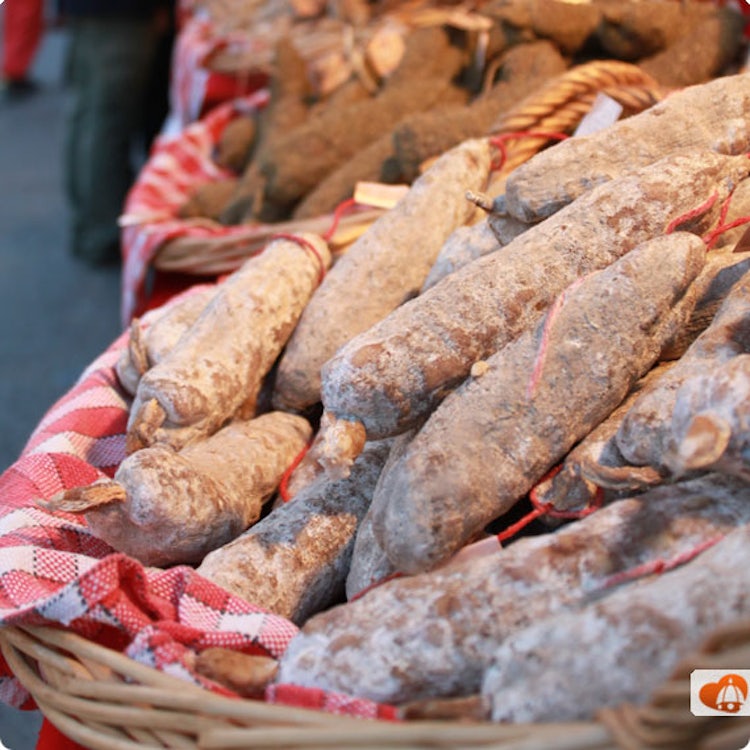 The Ancient Tastes Festival - La Sagra degli Antichi Sapori - will be held in Lastra a Signa and is a celebration of the most well-known local dishes, from entrées to desserts: an occasion for tasting delicious recipes prepared according to ancient traditions with the perfectly fitting touch of modern cuisine (from December 6 to 8).
Then enjoy watching a traditional car race along the panoramic and enchanting roads of Chianti, among vineyards, stunning views, olives and tall whispering cypress trees on December 5 and 6 in Tavarnelle Val di Pesa and Barberino Val d'Elsa: the Rally della Fettunta! Fettunta is that delicious grilled bread served with a bit of extra virgin olive oil, garlic, salt and pepper, the perfect way for tasting the season's new oil olive - read more about it here.
And now, it's Christmas!
Stepping back into the city, at the Fortezza da Basso in Florence you will find the Natale in Fortezza fair where creativity and originality meet. Perfect for anyone who still needs ideas for Christmas gifts (dates are still to be confirmed, last year the manifestation took place from December 11 to 14).
Santa Croce Square, instead, will be hosting the most important Christmas market in the city of Renaissance which locals eagerly await: the Weinachtsmarket (a Christmas market, as the German name goes), where Florentine and German cultures perfectly blend together, giving life to a festival of international tastes (from December 2 to 20).
Heading once again to the province to discover Christmas events, we find Natale in Corso - Christmas in progress! - in Barberino del Mugello from December 6 to 20, a festival dedicated to celebrate the magical atmospher of this period with markets, entertainment for children and adults, music, street artists and lots of fun, while in Campi Bisenzio - at the park and historical palaces of Villa Strozzi - there will be Santa's Magic Park every weekend until the 24th of December from 3pm to 7pm - take a look at the online calendar for more details on the opening days - with artistic workshops and much, much more. From November 25 to December 27, Scandicci will be hosting a series of Christmas events - including markets, handicrafts fairs and festival; check this website more info about dates, hours and scheduled activities. Palazzuolo sul Senio will host Mercatini di Natale - Magie dell'Avvento (Christmas Markets: the Magic of the Advent) with music, food and handicrafts stands and more on December 6, 8, 13, 20... a joyful way to enjoy the time before Christmas Day!
The courtyard in Piazza della Vergine in Fucecchio will be home to one of the largest and most beautiful Santa Villages in the whole region: Natalia, now in its 5th edition. This Santa Park is so amazing it seems almost real: there's a patisserie where people may enjoy handmade cakes prepared by grandmothers-elves for breakfast, there are artistic and creative workshops where children - with the help of fun elves - may assemble little souvenir-toys, food and Christmas stands with everything you can think of, a nativity scene and, naturally, a smiling Santa, ready to welcome all kids interested in meeting him. The most important event of this manifestation is the wonderful parade with more than 100 people in Christmas costumes and five fantastic floats that wind their way through the town's streets; it will take place only on the 8th, 13th and 20th of December (the park, instead, will be at visitors' disposal on the 8th-12th-13th-19st-20th of December and on the 6th of January).
Music, the essence of Christmas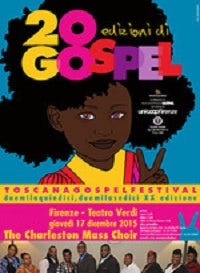 Personally, I can't imagine Christmas without music: it has always contributed to create the magical backdrop without which Christmas would not be the same! The Teatro Verdi in Florence will be home to one of the most touching musical concerts ever on the 17th of December: the Gospel Music Concerts by the Charlestone Mass Choir. The joyous enthusiasm and the sacred passion of gospel music will bring everywhere its almost profane spirituality and carry people in a sort of emotional tide where time seems to stand still. More info about the concert and the hour on the Theatre website, where you may also buy the tickets online. In early December, the Verdi Theatre will be hosting many other shows, musicals and ballets; here is the calendar, whose highlighted events are the show "Jesus Christ Superstar" from December 4 to 6 and the famous ballet The Nutcracker on December 7.
Obviously, these won't be the unique concerts in Florence during the month of December: you'll be spoilt for choice among classical, jazz, blues, folk and even rock music concerts taking place everywhere around the province, especially on New Year's Eve. Check this page for more classical music concerts, New Year's Eve musical events and more.
The Artistic Creativity of the Nativity Scenes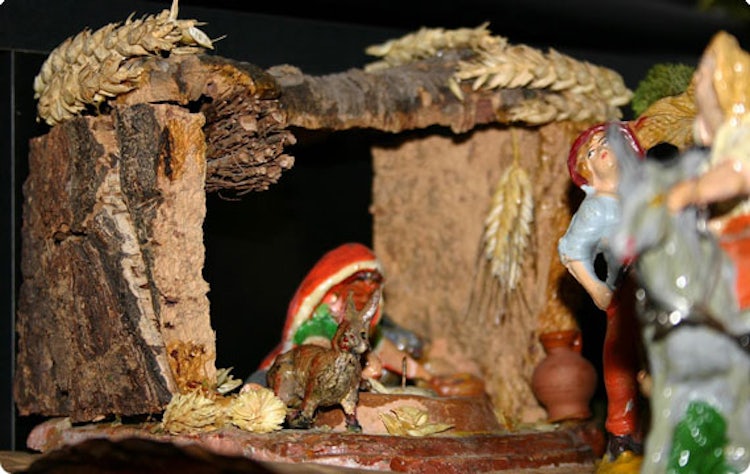 All those people that eagerly await Christmas time to visit some of the most enchanting handcrafted nativity scenes - and take the opportunity to explore small towns and quaint villages - may begin to plan their trips around Florence!
At the top of this selection of the most interesting nativities in the province, there's San Godenzo with its 100 nativity scenes, set up by the inhabitants with only their creativity as assistant and located - or even better, hidden - all around the town. Trying to discover all the nativities will be like a treasure hunt! Terraces, balconies, tiny streets and small squares: remember to look everywhere, your treasure could be where you would never imagine it to be (dates are still to be confirmed for this edition, last year it kicked off on December 7 and ran through January 6).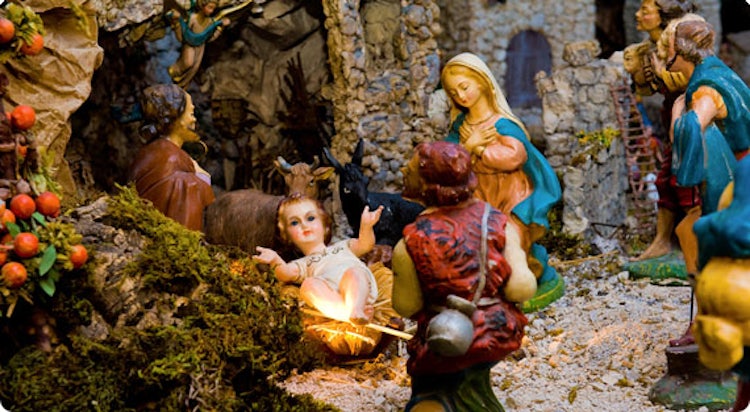 As if 100 nativities are enough, Palazzuolo sul Senio wants even more: 1000 Presepi per Palazzuolo is the name of this peculiar exhibition, during which tourists will be invited to discover over 100 nativities following a cultural itinerary that winds its way through the quaint streets of the village (8th of December - 6th of January). A similar event will take place in Castelfiorentino: La Via dei Presepi is an itinerary to the exploration of the local town and its traditions that has given life to more than 50 nativities all around the town. You'll also have a detailed map at your disposal to orient yourself through the many artistic creations and the tiny streets of the uphill historic center, illuminated until the end of the manifestation (January 9). The itinerary will be open Monday - Friday from 3pm to 7.30pm, Saturday and Sunday from 10am to 1pm and from 3pm to 7.30pm.
San Miniato is a triumph of tastes and traditions throughout this last part of the year: while the famous Truffle International Festival takes place throughout November, the small fraction of Cigoli houses one of the most touching artistic nativity ever. This 15th edition - Da Betlemme a Gerusalemme, 2000 anni fa (From Bethlehem to Jerusalem, 2000 years ago) - will be held from December 7 to January 10. It always attracts visitors from everywhere for its complexity and detailed representation of the nativity scene, where the traditional philosophy blends with high-tech devices to create special effects in one of the largest nativities in Tuscany.
Finally, there also the live nativity scene set up in Londa on the 20th of December (make sure to double check the dates since it has to be confirmed) which deserves at the very least a quick visit. Together with the live nativity, Londa participates in the national nativity scenes contest "Attenzione, presepi in corso" (Attention, nativities in progress), real works of art along the town streets on December 20, 24 and January 6.
In Certaldo, from December 6 to 8 the Presepe della Limonaia will be set up inside the lemon greenhouse close to Palazzo Giannossi: a 50 square meters well-illuminated surface will host the one-meter high wooden and ceramic statues representing the nativity scene, all created by some of the greatest artists in Italy.
On this site you'll find a brief list of some of the nativity scenes you may visit all over the region, take a look if you''re interested in such a kind of itinerary.
For specific details on what is open right around Christmas day such as museums and more in Florence, read this article.
For more more events in Tuscany during the month of December, read this article.