Two of the most eagerly awaited events of the Florentine calendar have just inaugurated the summer season: the celebrations for the patron saint, St. John, and the final game of Calcio Storico Fiorentino, revealing in advance a rich calendar of exciting and interesting events, from art to culture, from music to tradition. Florence and its province won't pack their bags for the summer. On the contrary: they are all getting ready to welcome all of those who decide to spend their vacation in the Cradle of Renaissance and comfort all of those Florentines who are not away for a holiday.
Below is a short roundup of the main events taking place in Florence and surrounding towns throughout the month of July: are you still sure you want to go elsewhere? The choice is only up to you!
Summer at the Bargello: culture doesn't go on holiday ever!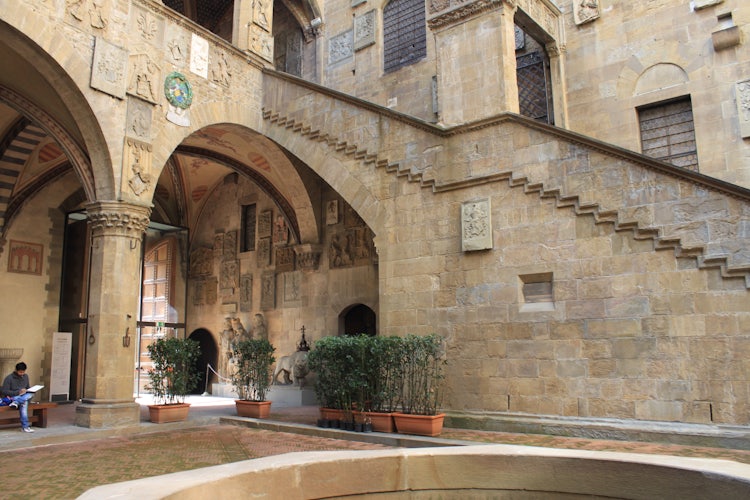 Do you feel like enjoying some cultural, theatre, dance and music events, surrounded by a setting of rare beauty? Florence is the right place for you! Throughout the months of June and July, the Bargello National Museum and the Cappelle Medicee will be offering special guided tours and itineraries to the discovery of some of the off-the-beaten-path art collections and aspects of both these exciting places of art. These exclusive tours will be taking place every Thursday, Friday and Saturday at 3 pm in English and at 4 pm in Italian, thanks to the support of professional guides, except on July's Fridays when they will be postponed by 3 hours at the Cappelle Medicee only (6 pm guided visits in English, 7 pm in Italian, since the Museum will be extraordinarily open until 8 pm till the end of July). Moreover, at the Bargello Museum, every Thursday of the month of July, children will have the unique chance to take part in special activities and games dedicated to art and music (in Italian only).
No extra fee required, you'll just need to buy your museum ticket and go the the meeting point close to the ticket office, but reservation is preferred.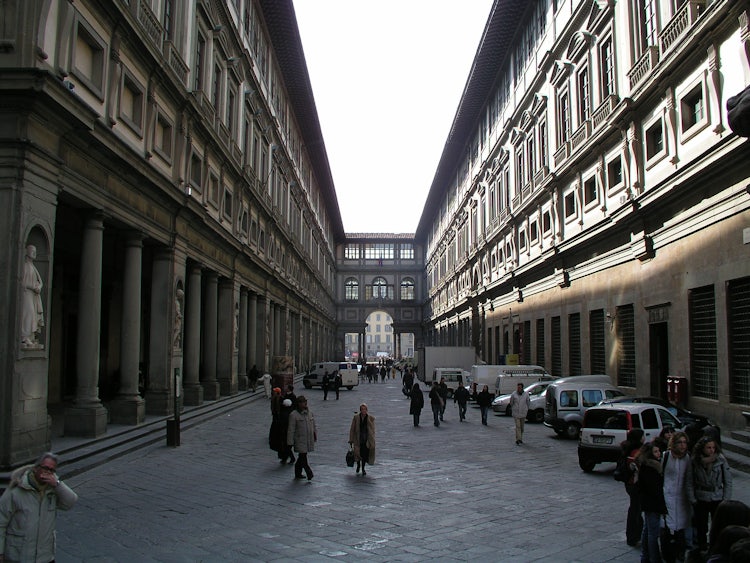 Do you have a full schedule during the day, that you missed out on a museum visit? The initiative Uffizi Live will give you the chance to spend a few hours surrounded by the magical atmosphere of the Uffizi Gallery, where centuries of art and history will completely capture your mind: the museum, in fact, will remain open to the public every Tuesday from 7 to 10 pm, until September 27. with a rich calendar of initiatives, live music and dance performances completely free (included in the museum ticket entrance). Check out the calendar for July on Uffizi.org.
Music Sips will be enchanting everyone interested in enjoying good music, surrounded by a backdrop of rare beauty: once again, in the marvellous context of the Villa Bardini Gardens classic music concerts - in collaboration with the Luigi Cherubini Conservatory - will be held every Tuesday of the month of July and till the end of August at 6 pm.
Until July 9, every night will be the right one to take part in the cultural and free initiative "Apriti Cinema" (literally, Open Cinema): a cinema night under the star in Piazza Santissima Annunziata with many film shows dedicated to several subjects.
In occasion of the 400th anniversay of Shakespeare's death, the Foundation "Theatre of Tuscany" dedicates a series of exhibitions and shows under the name "Shakespeare Shaker" throught the month of July, held in several theatres between Florence and Scandicci. More info and the detailed program on the official website of the Pergola Theatre in Florence, where the first show was held in June.
Music in Piazza della Signoria - The Festival of Young Orchestras organizes free music concerts under the Loggia dei Lanzi until July 23rd, at least 2-3 concerts every week. Check out the program on this page.
Certaldo: International Street Theater Festival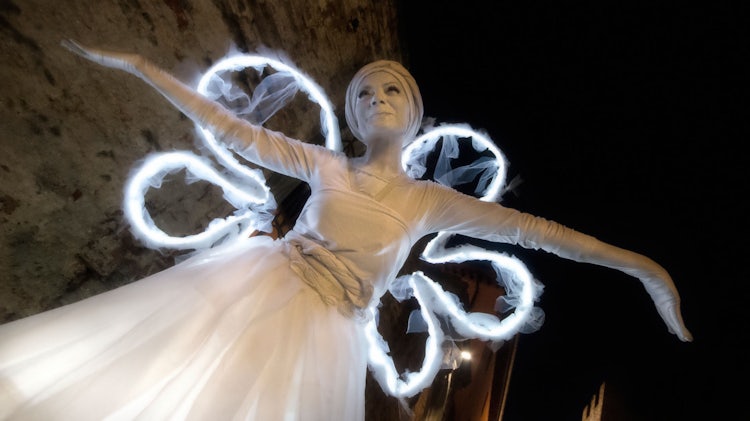 Certaldo Alto, situated atop a hill not far from Florence, is home to one of the most beautiful and enchanting street art festivals every summer and which I personally have seen: Mercantia.
Thousands of people crowd the tiny streets of the village, like a massive flood of entranced persons staring at all these marvellous and coloured street artists that, while standing out from the visitors for their amazingly creative costumes, usually perform in magnificent shows, either among the public or within hidden courtyards or secret gardens. Hundreds of stands offering every kind of items are on hand, as well as music, dance and theatre performances: you will find it hard to decide which show to assist and which street to go through, completely immersed in a fantasy world that, like a fairy tale, will make you daydream inside the walls of this special location. To learn more about Mercantia, take a look at our article, where you may experience some of the magic of this event (dates for this year are July 13-17).
Jam sessions and Tuscan specialties
From art to music: San Piero a Sieve will be home to Ingorgo Sonoro on July 9, a whole night dedicated to music and its various genres, during which many musicians and DJs will entertain visitors all night long.
It is also your last chance to participate at the event aimed to celebrate the Chianti region and its traditional specialties: the Bruscello in San Donato in Poggio is going to end, in fact, on early July (dates are still to be confirmed, so stay tuned!).
Every Saturday of July, Scandicci and the rolling hills that surround this pictoresque town will be the protagonists of Itinera, an initiative dedicated to the discovery of the territory and its culinary specialties, held till November 5. The rich program and relative costs is available here.
A jump back in Medieval times, among jesters and falconers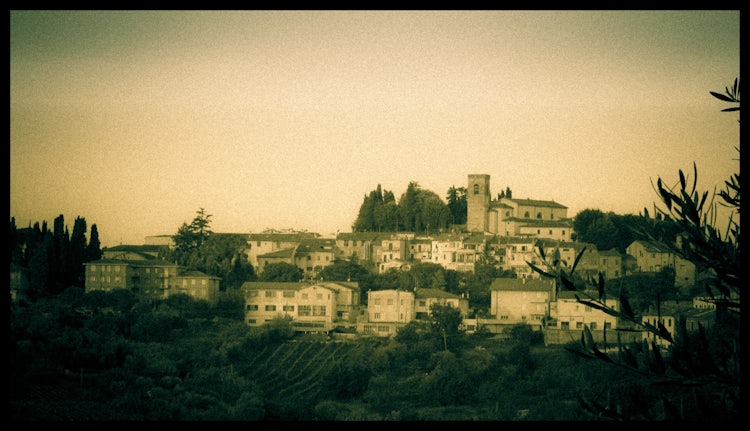 On July 2 and 3, Cerreto Guidi's center will be turned into a sort of medieval village with La notte di Isabella, an historical reenactment of Isabella di Medici's death, which happened in Cerreto in 1576. People dressed up in costumes, drummers, falconers and artists will crowd the entire village, completely immersed in a timeless atmosphere where you'll find yourself open-mouthed, gazing everywhere! You'll also have the chance to visit the Medicean Villa, the Pieve di San Leonardo and the SS Trinità Oratory specially open on that night, guided by experts dressed like famous historical characters. Wine cellars and restaurants - like inns and taverns of that time - will welcome visitors and offer their delicious specialties, while music and shows will entertain kids and grown-ups alike.
If you feel like touring from a medieval festival to another, July is the right month to visit Tuscany! Palazzuolo sul Senio, like Cerreto, is getting ready to welcome Il Volo della Fenice: the Middle Ages at the Ubaldini's time (the family that reigned over all the area during that time). Three days (July 22-24) dedicated to celebrate the Middle Ages through tournaments, shows, historical reenactments with people in costumes and not only: everyone wanting to completely plunge himself in the surreal atmosphere of the manifestation, will have the chance to rent a costume by the association Oste Ghibellina, the same that every year arranges the festival. For another medieval festival but closer to Siena, read the information on the Monteriggioni Medieval festival here.
On July 2 and 3, Palazzuolo will be housing the Sagra del Tortello (a sort of ravioli-like fresh handmade pasta, usually filled with meat or ricotta cheese).
Art and its many facets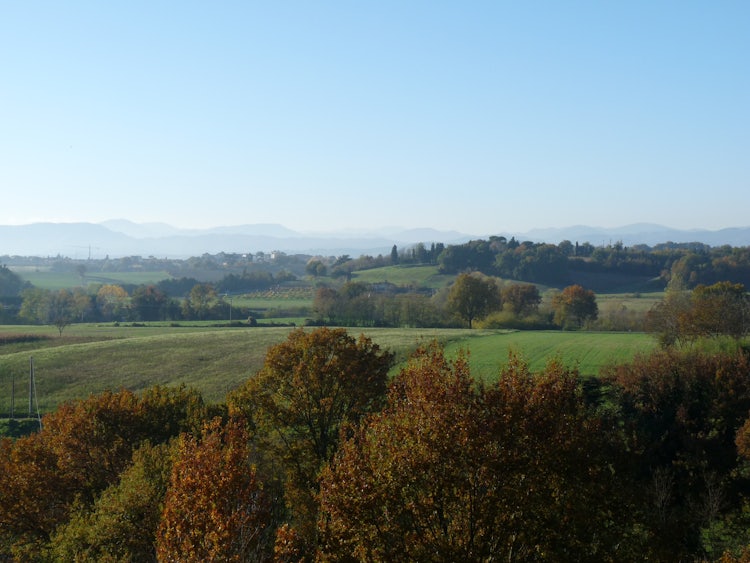 From July 8 to 9 Borgo San Lorenzo will be literally turned into a cultural and artistic stage with Stradarte: roads and squares will be closed to traffic and opened to visitors who will have the chance to freely wander around artistic sculptures, dance, music and theatre shows; for the occasion, the library and the Palazzo Comunale will be open to public.
Scarperia's July in Music is a series of concerts dedicated to everyone willing to spend a few nights under the stars, to the sound of music, surrounded by a setting of rare beauty: the Vicari Palace and Square. Entrance is often free or 10 euro. The complete program and upcoming dates is available here.
Finally, from July 31 to August 10, Marradi - once again, in the Mugello valley - will be home to Graticola d'Oro, a competition among the districts of this location with float parades, water games, dance and music contests. Here you may find dates and relative programs.
That said, there's nothing left to me but wish you a lot of fun in Florence this July!