Florence can get pretty warm during the summer as it sits on a flat valley along the Arno River. Hills surround the city and usually one heads that way to get some refreshment from the warm weather... or toward the Tuscan sea coast to enjoy a day in the sun and in the refreshing sea.
If you can't get away, we can offer the next best thing: the top pools just outside the city center that allow entrance by the day (no need for membership fees) to cool off during the warm summer months!
Le Pavoniere at Le Cascine Park

The pool called Le Pavoniere is right smack in the middle of the largest park of the city, the Cascine Park, which runs along the Arno river to the west of the city center. It looks like a swimming pool within a hotel rather than a city one since the location is enriched by an ancient villa, a poolside bar, restaurant and pizzeria. There is also a smaller pool perfect for children. In the evenings, once the pool closes, the restaurant/bar hosts many evening events with music.
An entire day costs 8 euro during the weekdays and 10 euros on the weekends (€6/8 for kids 4-12 and the over 65). Kids under 3 are always free. If you wish to rent a sunbed, it costs €4 and if you want to swim laps, you can do so on week days between 6:45-8:15pm for just €3.
If you're thinking of heading back often, you can buy multiple passes for weekday visits - not for weekends.
The pool is open from 10am to 6:30pm from Monday to Friday and from 9:30am to 7pm on Saturday, Sunday and Festivities. You need to use a swim cap while in the pools!!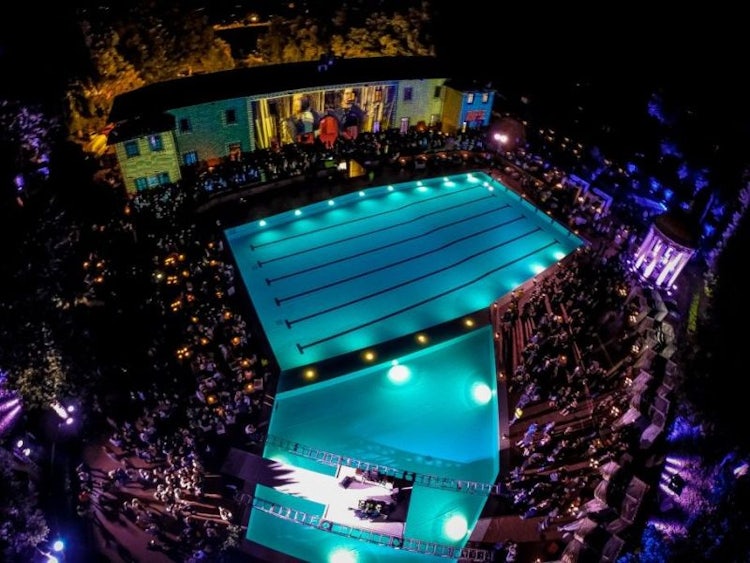 How to get there: from Santa Maria Novella Station, take the tram in the direction to "Villa Costanza" and get off at stop "Cascine", or take the bus n°17 in direction "Verga 02" and get off at stop "Kennedy".
Via della Catena 2, Cascine Park, Florence, 392 17 24 859 - Check the official site
Costoli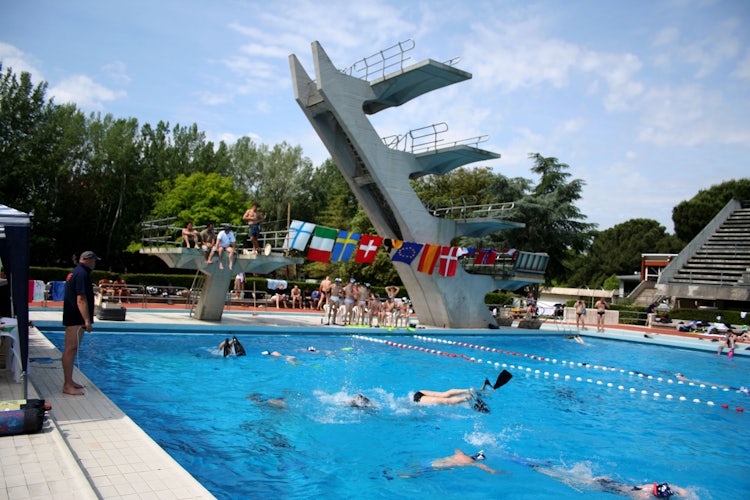 The Piscina Comunale Costoli is the biggest and best equipped pool center in Florence. It has two outdoor pools, an Olympic sized one as well as a smaller one perfect for children as well as adults (the large one has a diving platform too). The complex is located near the Artemio Franchi Stadium and next to the Mandela Forum, and is surrounded by a large lawn with lots of trees where you can lay down in the shade or grab some sunshine if you want to perfect your tan. You'll find space even during the most crowded hours of the day!
Within the complex, you'll also find a bar where you can buy panini, snacks, ice cream and much more. If you can plan ahead, we actually recommend packing a picnic to enjoy in the shaded park area and staying the entire day.
Entrance costs € 8 for adults and € 5.50 reduced on weekdays, € 9 on the weekend for adults and €6 reduced (kids 6-14 years old and over 65), €5 if you enter after 3pm. You can also buy a pass for 10 entries for just € 60 (valid weekdays only). Free entrance for kids under 6 years if accompanied by paying adult (max 2 kids per adult). There are family rates, including for 1 or 2 adults, and you can rent the sun loungers; locker use costs €0,50.
The pool is open Tuesday through Sunday from 10am to 6pm (except on Thursdays and Saturdays when it is open until 8pm) while on Monday it opens at 2 pm and closes at 6 pm.

How to get there: from the main station Santa Maria Novella, take bus n° 17 in the direction "Verga 02", and get off at stop "Mille 09". Other buses that stop nearby: 10 and 20.
Viale Pasquale Paoli, Florence, 055/6236027 - Will remain open until September 2, 2018. Check the page on the City website for more details on rates.
Bellariva / Nannini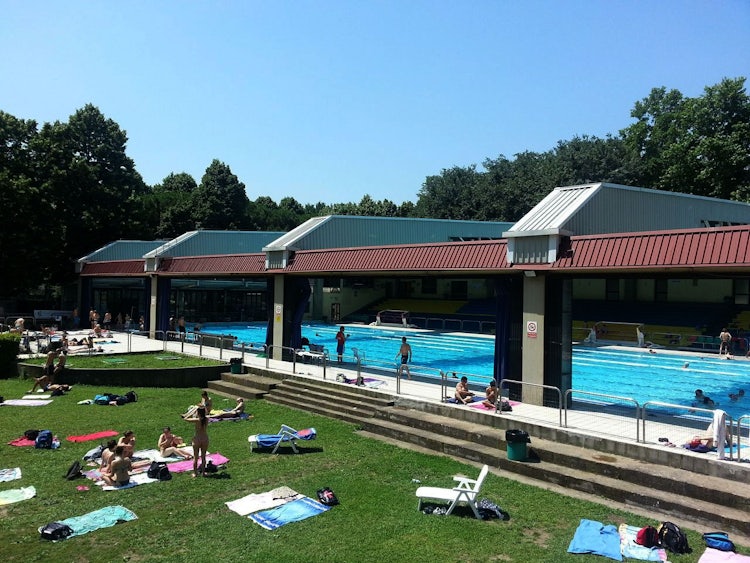 The Bellariva pool, whose official name is Goffredo Nannini Communal Pool (useful to know since this is what is written outside over the entrance gate), is set along the "Lungarno" of Florence east of the city center (thus opposite end to the Cascine park), and offers a suggestive location as well as a large lawn perfect for those who are seeking some shade in addition to refreshment from the warm summer sun! There is an Olympic size pool here as well as a children's sized pool, very popular during the summer! Within the pool complex, you will find a restaurant where to eat freshly prepared dishes.
Entrance costs € 7 from Monday to Friday, €8 on weekend and € 5 and €6 reduced (kids 6-14). Free entry for kids up to 6 years old. The pool is open from Monday through Friday from 10 am to 6 pm, on Saturday from 10:00 am to 7 pm and Sunday from 9:00 am to 7 pm. On Tuesdays and Thursdays, it is also open from 8:30 pm to 10:30 pm.
How to get there: from Santa Maria Novella Station, take the bus n°14 in the direction "Ripa" and get off at stop "Aretina 02".
Lungarno Aldo Moro 6, Florence, 055/626 6007 - Follow them on Facebook
NOTE: Keep in mind that all of these pools are open to the public during the summer, generally starting in late May or early June. During the rest of the year, the pools are open only to those enrolled in classes or paying membership fees to use the pools for lap swimming. The information provided above is for the SUMMER period, with all of the pools generally staying open to the public up until either the start or the middle of September.
Let's move on to some private pools with slightly higher fees but also several more services.
Firenze Camping in Town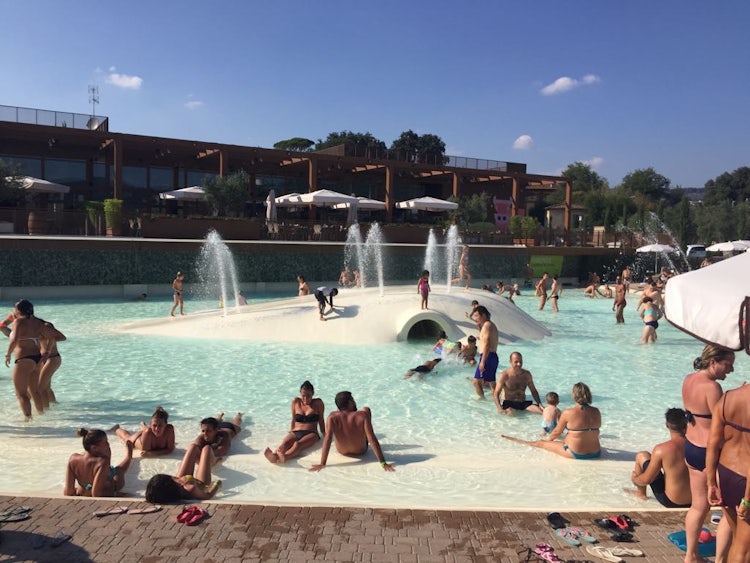 Opened in July 2017 at the campsite Firenze "Camping in Town", just a bit beyond Bellariva along the Arno river as you start to exit the city, is the "Watermania" area. Paying for day access to the campsite, kids can play in the low wading pool with soft padding that has an island in the middle, a waterfall and other games while parents watch as they sunbathe by the pool (or along the border). There is also a pool for adults, about chest-high for adults where a lot of the older kids also play (pictured two photos down).
As mentioned, all around the pools are sun umbrellas and lounge chairs, all included in the daily fee. A great bonus is the restaurant/pizzeria La Fabbrica on site (the metal structure you see behind the pool here) that offers pizza, grilled plates, vegetable side dishes and excellent Italian beer. Communal seating, sofas and pool tables make it an enjoyable setting at all times of the day. How much is daily access? Up until June 30, it's € 9,50 per adult and €6,50 for kids from 6-14; starting July 1st, rates go up because high season kicks in: €16,50 adults, €9,50 kids.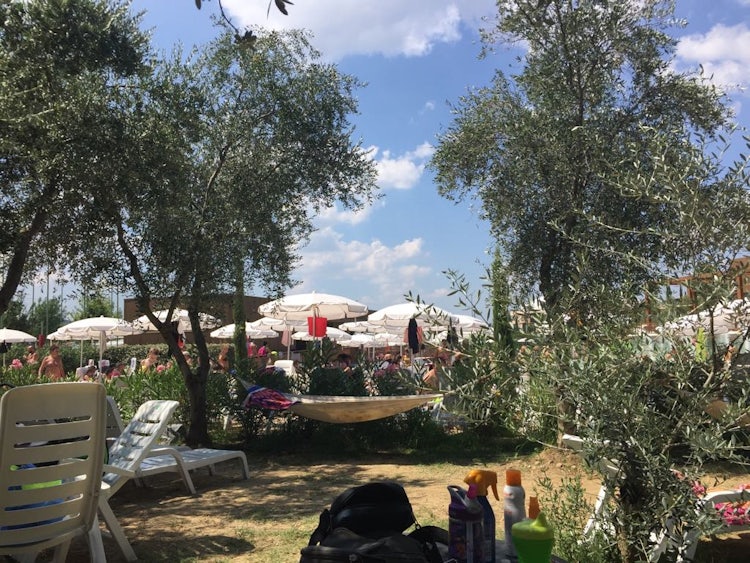 When we went (August 2018), the sun umbrellas were ALL taken by 10am so we paid less with no sun umbrella included, €13,50 per adult. There is an olive orchard with many chairs as well as hammocks in an area behind the pool called the "relax area" where we were able to find chairs and a table as a base, with some shade. In summer, this pool is BUSY! Lots of people take picnics and we found the restaurant to be practically empty. A large veggie filled panino called "panuozzo" was €8, a burger with fries €13. Open from 9am to 8pm.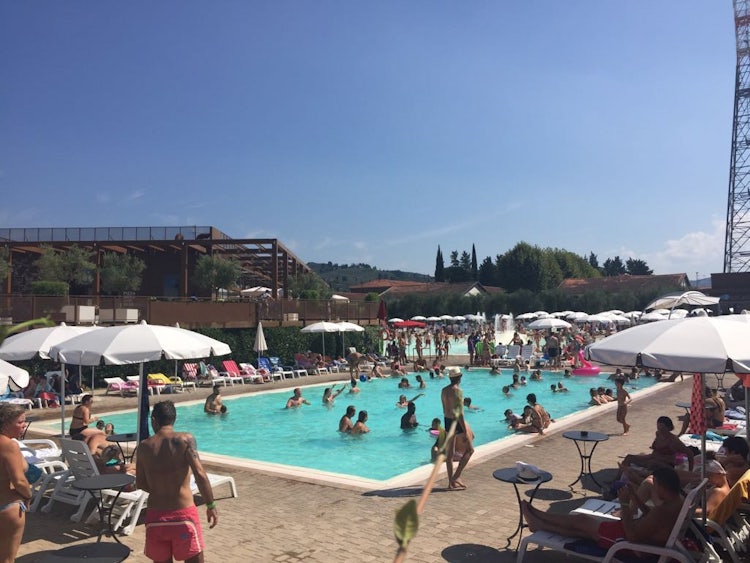 How to get there: from Santa Maria Novella station, take ATAF bus n°14 in the direction "Ripa" and get off at the very last stop on Via della Ripa, then walk back along that same street to the stoplight on Via Aretina, turn left and walk about 4 blocks. Turn right on Via della Nave a Rovezzano and head straight. If you catch a bus 14A that goes to Il Girone (goes a bit further), still get off at the Ripa stop and walk as indicated above.
There is internal parking if you have a car, at an extra €3.
Where: Via Generale C.A. della Chiesa, 1/3 - 055 4698300 - check out the official webpage
Virgin Active Rovezzano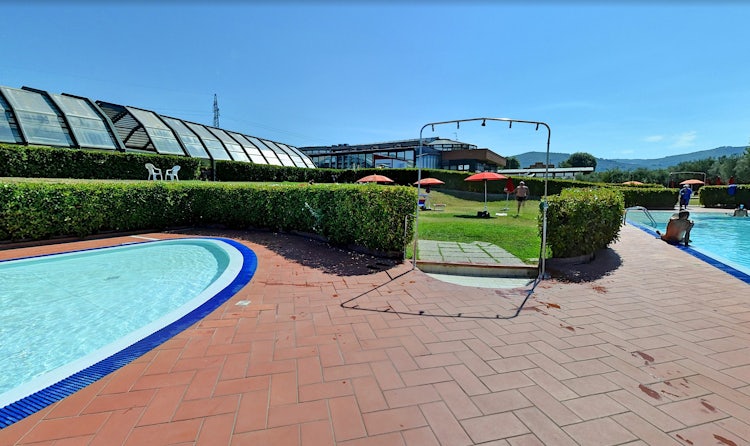 Just a few hundred meters before the campsite above, is the fitness center Virgin Active. It is a large gym for working out, with everything you could want or need to exercise your body, from treadmills to pools - and a spa center! As for the pools, it has a main, covered pool and a small, square kid pool, plus two more pools in a large garden area to the back of the club. The main pool actually has a glass roof that can open up when the season permits it, so you can swim laps there under the sun while the rest of the family enjoys the sun and play outside in the garden.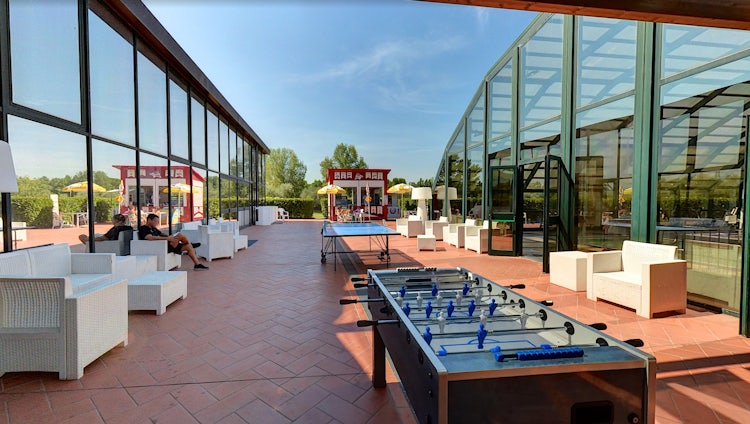 Day access for €25 gets you access to everything at the club so I suggest spending some time indoors at the saunas and whirlpools, too! ;) There are sun loungers, a foosball table, table tennis, a restaurant/bar and family locker rooms. They also offer baby-sitting services, if you're interested contact them ahead of time to plan your day better.
Open weekdays from 7am to 11pm, weekends from 9am to 7pm.
How to get there: follow instructions for the campsite above taking bus #14 and get off at the Ripa (last) stop but instead of taking a left on Via Aretina, continue on to the next stoplight ahead, you'll have reached the start of the club. Cross the street and head left for a few meters to reach the entrance.
Where: Via Generale C.A. della Chiesa, 11 - Check out more details on the club here.
KLAB Marignolle
All of the above are in the same general area of Florence, in the east/southeast part. If you're staying in the Oltrarno area, then it would be better to head to KLAB Marignolle. It is in the countryside, on top of the hills between Scandicci and Galluzzo so you'll be heading a bit of out the city center to enjoy their 3 large outdoor swimming pools. Day access here gets you entrance to the garden with the pools, a maxi jacuzzi, a lounge bar, sun umbrellas and chairs and a children's play area as well as any water fitness classes planned during the day. If you want to go more than once, we recommend their "Summer Formula" to get better deals on their multiple day entries.
How to get there: the easiest is to take a taxi, but you can also take bus # 42 or #6 to get close enough, with a 10-15 min walk the rest of the way.
Where: Via del Ferrone, 5 - 055 7184300 - Official site
Hidron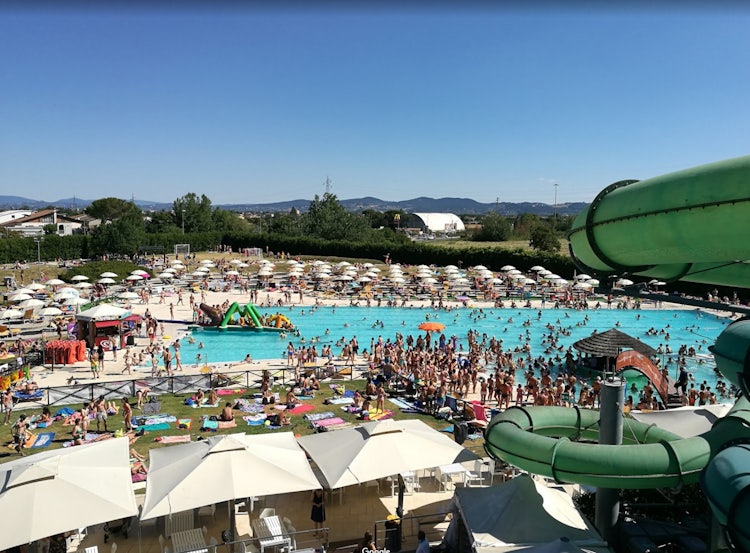 If you're feeling a bit more adventurous to go to a place where chaos reigns and children have a blast (parents, too, of course), then head to Campi Bisenzio, a small town on the outskirts of Florence to Hidron.
This is a water park, with large slides and inflatables on the water. There is also a 50 meter Olympic size pool, hot tubs and waterfalls as well as a fitness center, a beauty spa and dining in the form of a restaurant and bar. Every Sunday, there is Hidron Village: the place transports you to a seaside resort with games, music and more for the entire family while staying close to Florence.
This place also has indoor pools and slides with waterfalls, so even when the weather is not great, the whole family can still enjoy the water.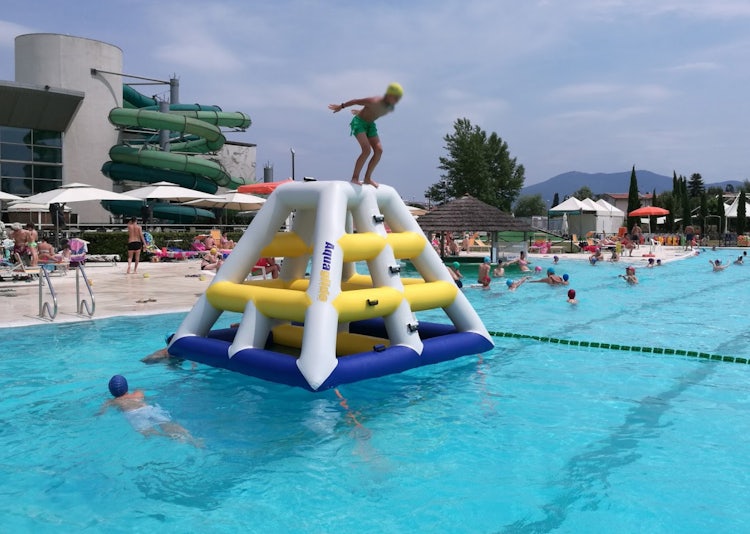 If you have no children, I suggest to avoid this place and head to nearby Asmana Wellness World, which I introduce below ;-).
Outdoor pools open from 10am to 9pm on weekdays and from 8:30am on Saturdays and 9am on Sundays, closing at 7:30pm on both Saturday and Sunday.
Access to the outdoor pools with locker room use is €15 for adults for the entire day (but can also be for 2.5 hours or 4 hours for €10 or €13, respectively), kids aged 4-11 pay €10,50 for the entire day (and €8,50 or €9 for less hours). There are packages for families, of course, that go from €36 to €44. Sun umbrellas and lounge chairs are rented separately, but you can also choose one of the packages that includes everything, from the spa area to a bathrobe and large towel.
How to get there: you can drive, but if you don't have a car, take ATAF bus #30 from Santa Maria Novella train station. The stop is on via Barberinese, in front of the Esselunga supermarket.
Via di Gramignano - Campi Bisenzio - Check the official site for more details
Time to relax at Asmana Wellness World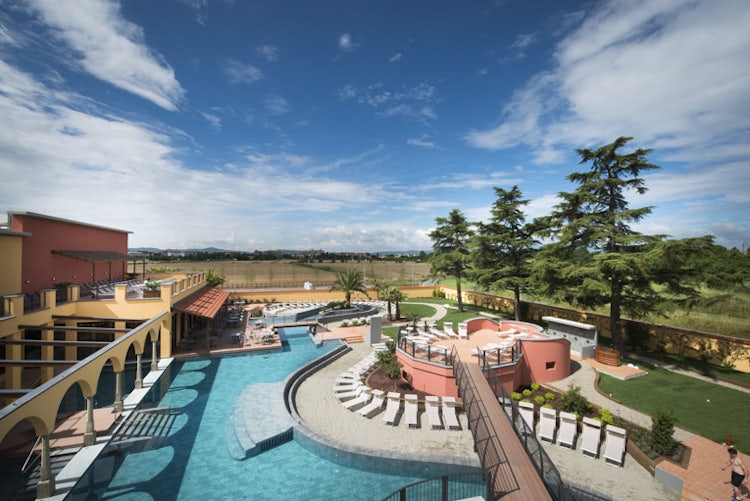 If you have no children or want some time off from your children, then the best place I can recommend for cooling off and also relaxing and pampering yourself during your vacation in Florence, then head to Asmana Wellness World! This is a totally different experience I highly recommend you to enjoy - make the time to dedicate it to yourself! Asmana is a Spa/wellness center where you can experience multi-sensory activities, find outdoor pools, from a whirlpool to a salt one, a Hammam and saunas, relaxation rooms and beauty treatments, among other services.
During the summer, Asmana organizes evening events, which include dinner at their on-site restaurant. In particular, every Friday from 7.30 to 9.30 pm there's the Asmana aperitivo, a happy hour along the pool bar. In addition to the pool bar, you'll find the restaurant and a bistrot where you can enjoy a light meal, cocktail, smoothie or herbal tea. Read my article to see more details!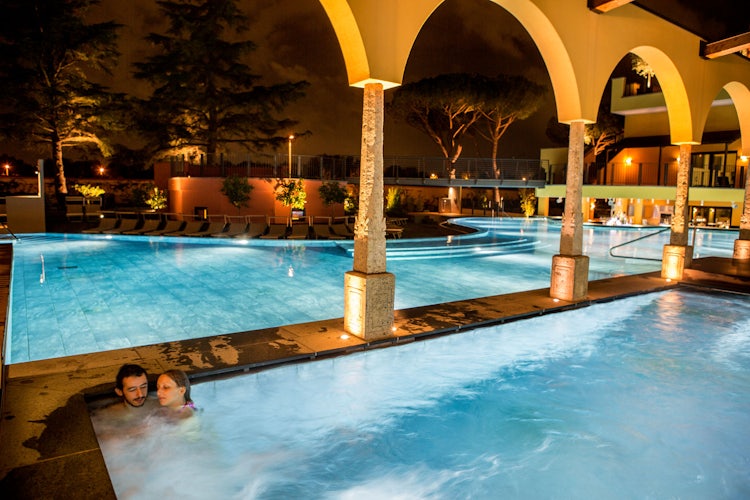 Entrance costs depend on the time you want to spend at the wellness center: 2 hours are €20, 4 hours €25, a full day €33. Once inside, you can enjoy everything included (bathrobes and towels can be rented, beauty treatments and food are extra). Every evening, if you enter after 7pm, you enjoy the 4 hours at just €20! The center is open from Monday to Thursday from 10am to midnight, on Fridays from 10 am to 1am, on Saturdays from 9am to 1am and finally on Sundays from 9am to midnight.
No children under 18 are allowed at Asmana to ensure you really relax! If you are looking to spend a day enjoying the open air, with your family and kids, choose one of the many options listed above.
How to get there: from Santa Maria Novella Station, take the ATAF bus #30A/30C and get off at stop "Limite", then walk down Viale Allende for about 10 minutes to reach Asmana.
Viale Allende 10 - Campi Bisenzio - 055 77 67 71 - Check out the official site for more details.
Where are you planning to head to this summer?