Understanding the importance of the Medici Family to Florence
When in Florence, you'll be surrounded with magnificent works of art, masterpieces of architecture and just extraordinary beauty. Who created such magnificence and beauty? The artists! But why? Most of them weren't just to "be creative", they were paid commissions to create them! A visit to Florence means taking all of these works in, the beauty, the history of it all and the art that touches us deep inside... and you will soon realize that Florence is not just an open-air museum, it is very much alive and still inspiring creativity even today!
Known as the "Cradle of the Renaissance" with great artists such as Leonardo, Michelangelo, Donatello, Brunelleschi and many more, Florence would not be today what it is without one particular family: the Medici. The Medici family ruled Florence for hundreds of years, their lives and heritage are interwoven with all that you see in Florence today.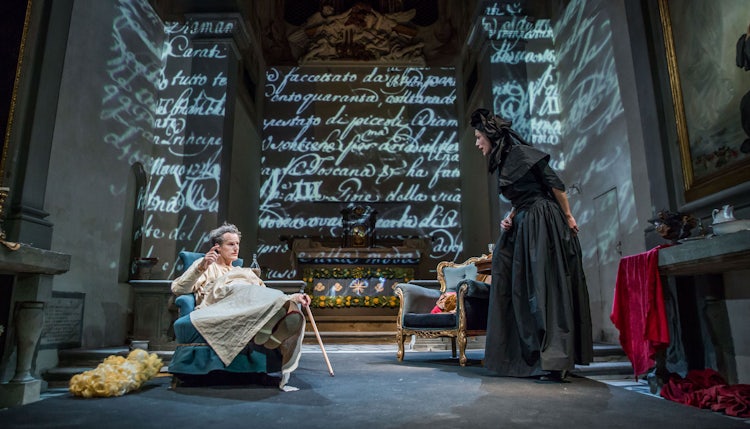 Book your ticket with a 10% discount
Just use coupon code VF16 before checkout!
Had you even heard of the Medici family before coming to Florence or starting your search for things to see in Florence? How much do you know about the Medici family so far? If you're interested in putting Florence's history into a bit of perspective but not that interested in reading or studying about it, then I recommend you put an hour aside when you're in Florence to go see the Medici Dynasty Show! A new piece of "museum theater", the Medici Dynasty Show bridges the past to our present and to our future. It is simply a great way to learn more about the Medici family's contribution to Florence, a way to better understand all that you see around you as you visit the city.
Housed within the ancient former Convent of Sant' Onofrio delle Monache di Foligno and in the small Baroque church to be more exact, the Medici Dynasty Show is an hour long production that combines great theatrical performances with music and humor (and modern technology) to bring to life the last two Medici heirs (and siblings) and their reflections on their family's sponsorship of the the arts and culture over the span of the then past 300 years. Their impact has lasted much longer, up until today and will continue into the future.
The time: 18th century Florence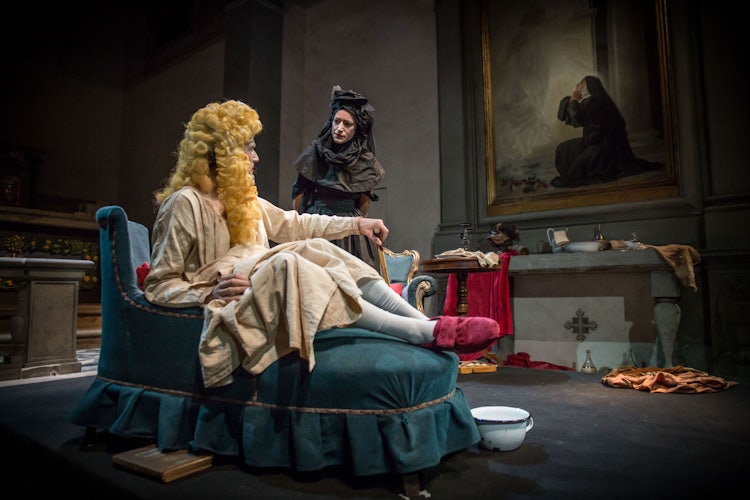 Travel back in time to the year 1737 to Palazzo Pitti and the opulence of the Medici court. Gian Gastone and his sister Anna Maria Luisa (played by the exceptional Tim Daish and Carolina Gamini) who don't really care much for each other. Nonetheless, Gian Gastone is not doing well and his death is imminent. Anna Maria seeks him out to discuss what can be done to make sure that the Medici's personal collections are not taken or sold once the family dies out with them, as neither have children. It is already well known that Anna Luisa cannot rule over Tuscany, as royal courts across Europe will not permit a woman to succeed once all male heirs are dead. It has been decided that the Lorraines from Austria are to take over.
I won't tell you the specifics if you don't know the history of the family... because the performance by these two actors will bring to life the turmoil, love and situation of these two Medici heirs that had great expectactions and weights placed on their shoulders given their ancestors. For this reason, you really need to go see the show! I'll just say that what comes out of this meeting is an agreement to create the "Patto di Famiglia" or the "Family Pact". This pact willed all of the personal collections of the Medici family to the Tuscan state and provided that nothing should ever be moved from Florence once Anna Maria died. You will learn how the various Medici family members influenced and sponsored the great artists during the Renaissance and the works they created which are a huge part of what Florence has been and continues to be today. The actors, the music and special effects will fascinate the entire family (the show is short enough to remain attractive for kids).
Gian Gastone dies just a few weeks later, and Anna Maria Luisa inherits everything from her brother. Within a few months, the Family Pact actually becomes a reality! If we can enjoy the masterpieces by Botticelli at the Uffizi Gallery, the Donatello and Titian paintings at the Pitti Palace and the beauty and wealth from the Medici villas today, it is all due to Anna Maria Luisa de' Medici who went through with the plan. And without the Medici family's patronage, artists such as Michelangelo might not have ever created his David or Botticelli his Venus.
A family legacy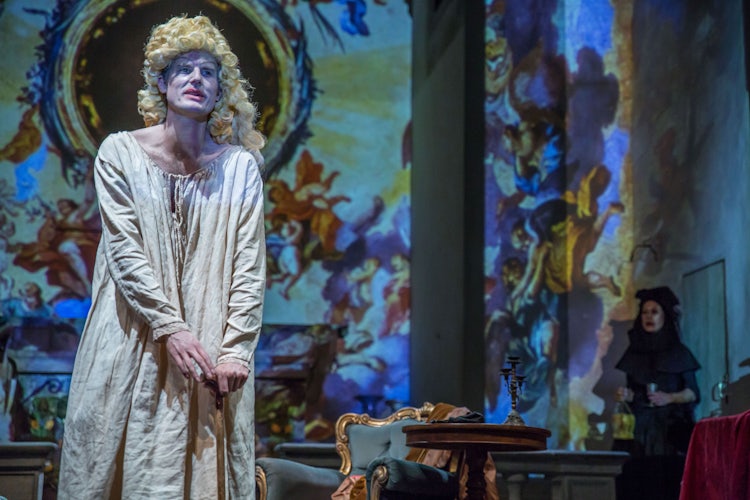 The Medici Dynasty Show honors the memory and legacy of the Medici family, however, the best part of the show is the emotions you will feel as you are drawn into the family affairs of the last two heirs. It certainly had this effect on me when I went to see it last September and again this past week as it reopens the season for 2016. The superb performances by Daish and Gamini transmit the love as well as contempt they have for each other and their actions, the weight of responsibility of having to act one way and not another, the despair and disappointment for not having created more heirs. You also see the pride in what their forebears have created and accomplished before them and that they WANT to leave to Florence and its people, including future visitors.
I left the theater with a feeling of having these historical figures come to life in front of me, their humanity and its many frailties and weaknesses as well as strengths expressed through playwright's Marisa Garreffa's excellent adaption of the original script by Carolina Gamini, Gherardo Rosati Vitali and Giuseppe Arone. The society of 18th century noble Europe as well as their own roles within it limited them as individuals, limiting their expressions of sexuality and limited their roles because of gender. Despite all of this, Anna Luisa was able to find empowerment by establishing the Family Pact. Many issues that, if we think about it, really continue to exist in our present society.
The show also serves to reminds us how, through the Medici legacy, countless other artists, including humanists, writers, painters, sculptors, architects and more through the centuries since then have been influenced by the creativity they helped nourish during their reign. Our present is very well tied to our history, no doubt about that!
By bringing together art, theater and history, the Medici Dynasty Show is the best way to complete your visit to Florence! You can check out the booking options for tickets on the official website (get 10% off with our coupon code VF16) or buy your tickets online through Viator ahead of time.
Modern Jewelry with a Hint of the Past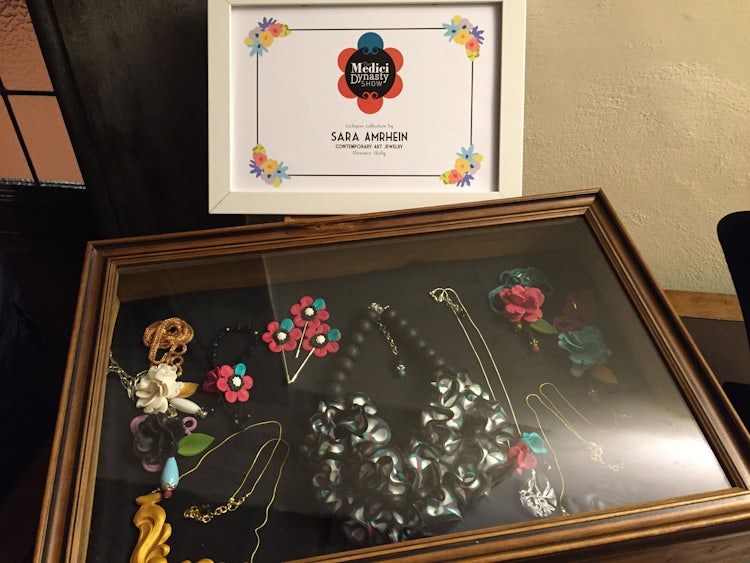 This year, contemporary local artist Sara Amrhein has created a special, limited-edition collection inspired by the Medici Dynasty show. The statement pieces are a wonderful way to head back home with a one-of-a-kind piece of art, handmade by Sara herself in her Florentine studio. These pieces can only be purchased at the Medici show but if you have the chance, I recommend you take a walk to the Sant'Ambrogio neighborhood and look for her colorful window shop/studio on Via del Mezzo, 6. You can also check out her work online at http://www.sara-amrhein.com/. I see it as another example of how Florence and the Medici continue to influence artists today!
Ready to head back to the Pitti Palace, home of the Medici's, in 19th century Florence? Go see the Medici Dynasty Show!
The Medici Dynasty Show
1 hour long show in English
7pm shows every Wednesday, Thursday and Saturday starting April 10th, 2018. For complete calendar info, check www.medicidynasty.com
Location: Church of the Fuligno Convent (Via Faenza, 48)
Fuligno is an ex-monastery from the 15th century and within is the Baroque-style church that dates back to the 1600s in which the show is performed. Don't forget to check out the frescoes around the convent, masterpieces by Bicci di Lorenzo between 1420 and 1430. Other areas of the convent have works by Neri di Bicci and the Perugino workshop.
Tickets: Full € 30 - Students (to age 25) € 20 - Children under 12 have free entrance
Family pack: € 72 (group of four or less including one child under 12), € 85 (group of four including two students)
Groups of 8 people or more booking at the same time € 26
Use our special discount code to get 10% OFF: just enter VF16 as a coupon code in the cart before checkout!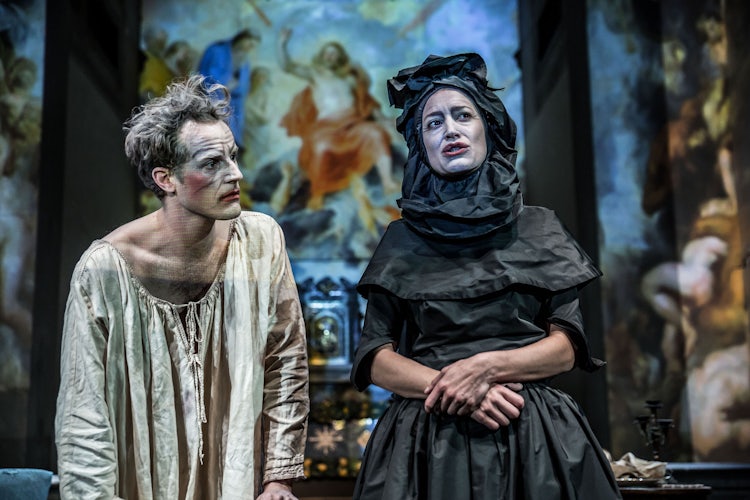 This is a Sponsored Article but reflects the honest opinion and experience of the author. More details »