A gem to behold!
Many are unaware of the role Florence played in developing the theme of the Last Supper in paintings (cenacolo in Italian)  – and even fewer are aware of where to find these masterpieces that decorate the churches and convents within the city.
After more than a year closed off from the public, the "Cenacolo del Fuligno" is re-opening for a limited time and it is an opportunity to grab with both hands.
With all the fanfare we made about the restoration of Plautilla Nelli and her the 7 meter long, 2 meter high painting of the last supper, we just couldn't let this re-opening slip through the cracks.
From June 21 to September, every Wednesday from 8.15 to 13.50, the last supper will reopen to the public (Via Faenza 42, Florence). Thanks to the collaboration of the volunteers of the Friends of the Museums who will accompany the staff of the Museo Polo della Toscana, the visit will be free of charge.
Many think only Leonardo da Vinci made this scene famous, however, what they don't realize is that he was most probably inspired by the numerous paintings he was exposed to while in Florence. In fact, just by looking at the number of cenacoli paintings found in this area, it is clear that the production of these paintings/frescoes were above all a Florentine phenomenon involving many of the great names that worked in the area.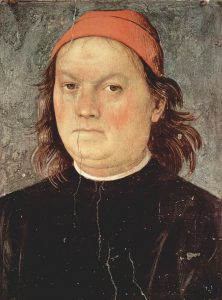 A tour of 8 of the more important Last Suppers in Florence includes the "Cenacolo del Fuligno" by Perugino in 1495.  Originally attributed to Raffaello, this false identification is easy to understand when you take into consideration that Perugino, originating from Umbria, was the mentor and master that Raffaello studied under to learn and refine his skills.
Read here about the other 8 masterpieces that you can add to your itinerary, with detailed articles describing the special attributes of these incredible and often forgotten, works of art.
The 8 Last Suppers in Florence You Should Visit

Santa Croce:

Taddeo Gaddi (1336-1366 circa)

Santo Spirito:

Orcagna (1365)

Sant'Apollonia:

Andrea del Castagno (1445-50)

Ognissanti:

Domenico Ghirlandaio (1480-1482)

Fuligno:

Pietro Perugino (1495)

San Salvi:

Andrea del Sarto (1519-27)

Convitto della Calza

by Franciabigio (1514)

Santa Maria Novella: by Plautilla Nelli (1570's) first women artist to depict the last supper — opening in 2018, currently under restoration