In Italy, it is quite popular to meet your friends before dinner for an "aperitivo", which can be as simple as a cocktail, beer or a glass of wine generally served with finger food.
In Florence, however, there are several places that went a bit further than offering just finger food to go along with your drink. They started offering a buffet of cold and warm pasta dishes, grilled vegetables, cold cuts, fruit salads... you can see where this quickly became popular! You could pay for your drink and eat as much as you wanted with it.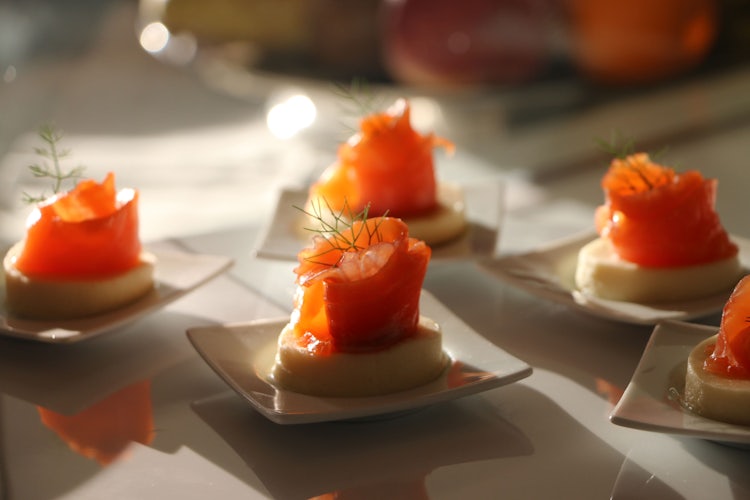 Of course, this meant that most other places soon started offering their own aperitivi, offering more and more food options in those buffets. It has become a cheap way to have a light dinner, since this "aperi-cena" (a combination of the word aperitif with dinner in Italian) is usually less than €10! If you're on a budget, this is one way to consider enjoying the evening meal. Of course, there is now usually a set price for the aperitivo and drinks are charged separately.
So where to go for the best aperitivi in town? Here's my favorite list of the best top 5 places to have a good aperitivo in Florence. These are all in the center of Florence since I imagine many people won't have a car and find it difficult to move around by bus in the evening hours. I can assure you there's plenty of more choices outside of the center.
Moyo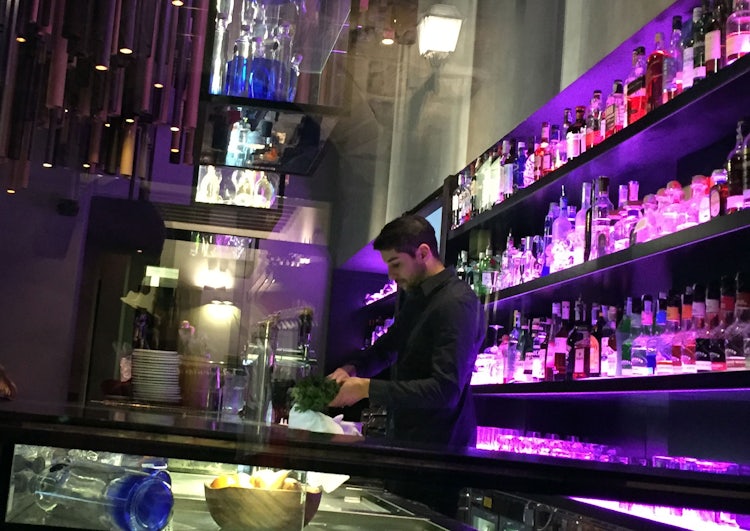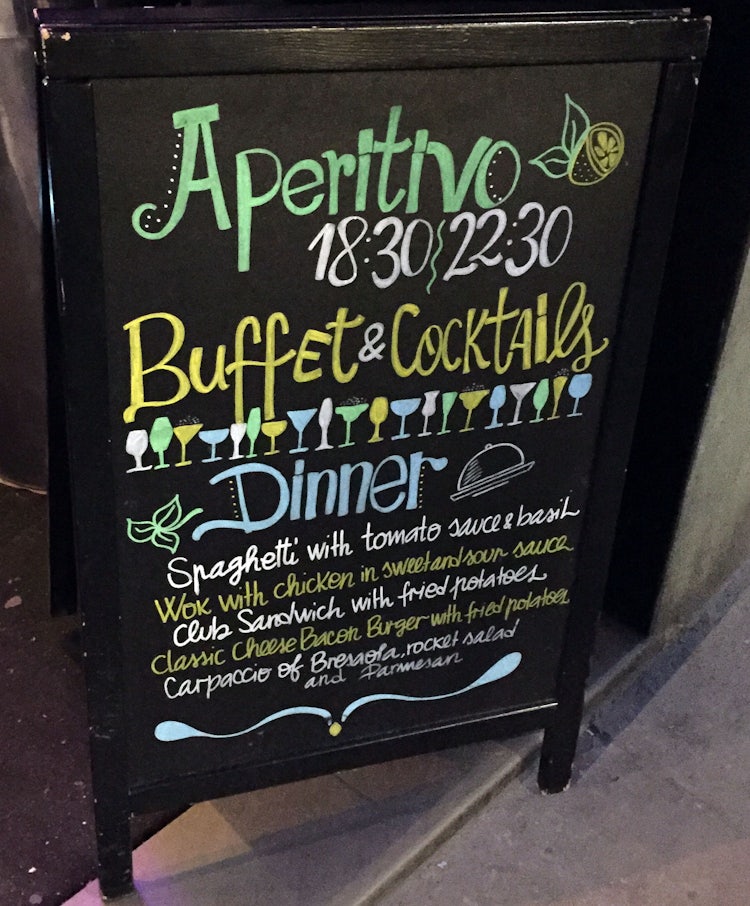 Located close to Piazza Santa Croce not far from Ponte Vecchio, this fashionable place is on one of the most lively streets in Florence, where you'll also find many clubs and bars. Even if it lies in a touristy area, it's well attended even by local Florentines. During the day, it's a normal bar but after 6pm the atmosphere is completely different with loud music, special LED light effects and high heeled girls.
The menu changes throughout the week: for example, on Monday, there's a big selection of pizza and pasta for their aperitivo "all'italiana), on Tuesday they have Tex-Mex, on Thursdays, you can taste a mix of ethnic with Italian as part of "Fusion Night" and every Friday an Ibiza Night theme. You just take the plastic plate and serve yourself from the buffet. You pay only what you order to drink (€ 10 more or less).
Moyo - Via dei Benci, 23/r - Open Monday-Sunday 8am-3am, aperitivo and dinner 6-11pm
Kitsch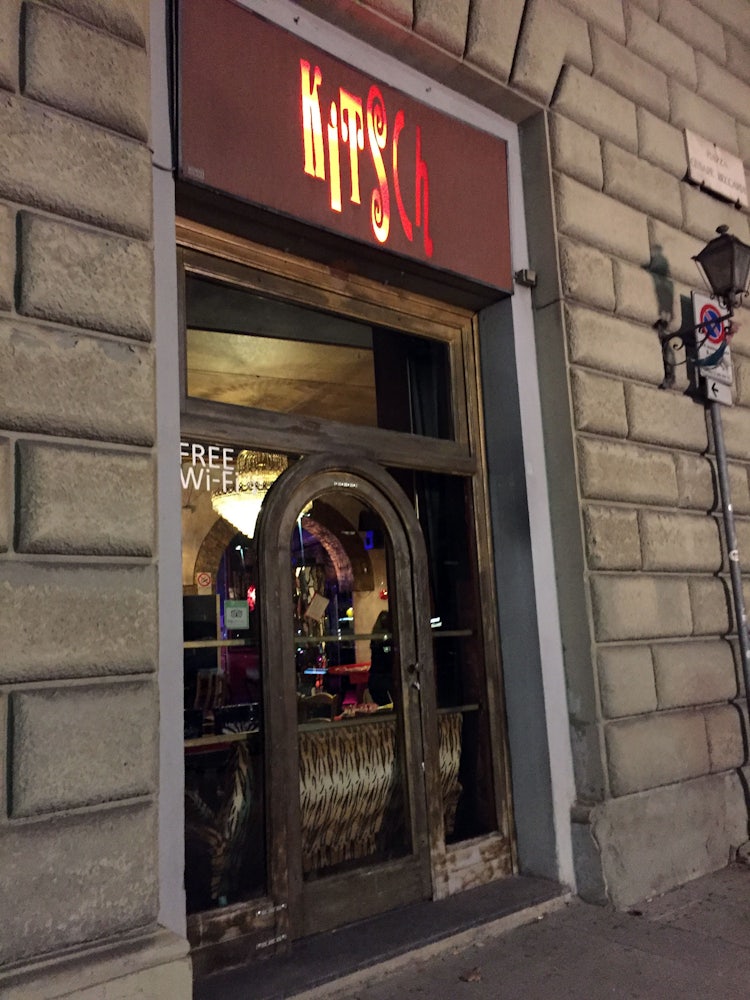 As soon as you enter this club, you'll understand the reason for the name: very peculiar furniture, a mix-match of pieces that go with the name! This is the place to go if you are hungry because the quantity of the food is incredible with many different types of appetizers, cold pasta and vegetables. I recommend you go before 7:30pm to find a seat.
There's also an outdoor seating area, but I prefer to stay inside because the passing cars can make it very noisy outside! It is right in the left corner of the piazza as you arrive from the center along Borgo La Croce, no need to cross the viali.
Apericena is 12€ which includes buffet and one cocktail, most extra cocktails are 5€ each.
Kitsch - Piazza Beccaria, corner with Viale Gramsci - Open Monday-Sunday 6pm-2.30am, apericena from 6 to 10.30pm.

Zoe/Negroni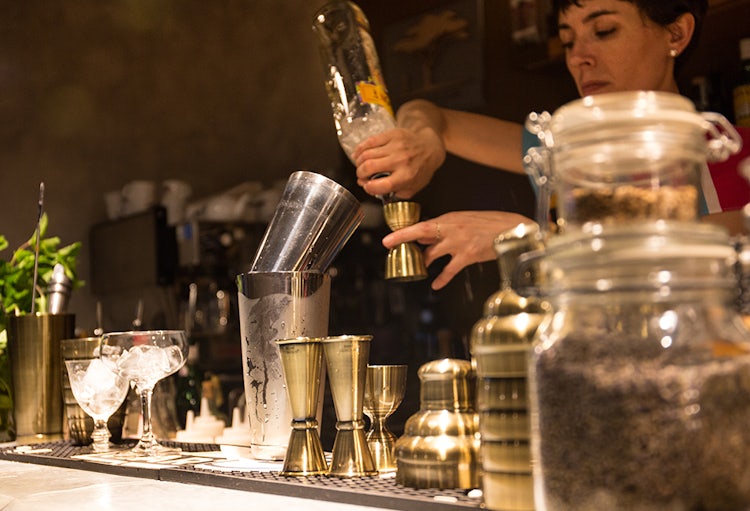 These two clubs are neighbors in "Diladdarno" (which means on the other side of the River Arno) and are well-known by Florentines. They are a sort of institution: everybody living in Florence has been there at least once in his or her life to one or the other.
Sometimes they change the color of the walls or the DJ selection, but they keep the same target of customers which tend to be those that love spending their evenings checking out the styles of others (if you want to know what's trendy in Florence, definitely go here to have a look!)
They serve a good aperitif with good food included although the cost of the cocktail is not as cheap as other places (around €10). Some outdoor seats are available, but people prefer to stand on the street, drinking and smoking and talking, of course!
Zoe Bar, Via dei Renai 13 - Open Sunday-Wednesday 8.30am-1am, Thursday-Saturday 9am-2am
Negroni Cocktail Restaurant, Via dei Renai 17R - Open Monday-Sunday 7.30am-1am, aperitivo from 6.30-8.30pm

BEST SPOT IN THE SUMMER
Hotel rooftop terraces
During the summer, the best place for an aperitif is… on the rooftops of Florence! Many hotels open their private terraces to non-guests. Don't miss the opportunity to admire the Duomo with the Brunelleschi's dome or Giotto's bell tower from a different point of view.
I personally adore the aperitif at the Hotel Minerva in Santa Maria Novella Square: there's a swimming pool on the roof and you can have a drink by the pool. It's a little bit expensive, but the view is worth it. Other hotels with a good panorama and good aperitif are Hotel Laurus and Hotel Baglioni.
Check out more terraces with a view »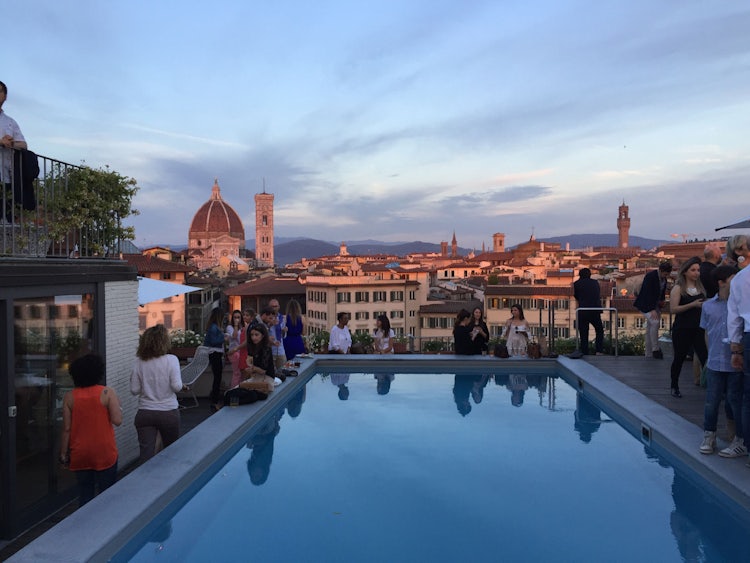 PERFECT DURING WINTER
Il Santino
This is a different type of place that is perfect during the winter or on a rainy day. If you are with your special one and you prefer a cozy place with few tables and a wide selection of wines, cheeses and hams, you should go to Santino. Owned by the same owners of the restaurant a few steps away (Osteria del Santo Bevitore), it's a tiny cave with 3 tables and a small bar. You can order some dishes from the menu (they cost 6-9€ each) and an excellent glass of Italian wine or an artisan beer. Candle lights, silence and the typical smell of the cellar will create the perfect ambiance for your intimate aperitif in Florence!
Il Santino - Via di Santo Spirito, 60R - Open Monday-Sunday 12.30-11pm