Cafès, Chocolate and Tea rooms for a sweet break in the winter season
When temperatures outside begin to fall, the wind is nipping at your nose and chestnuts are roasting on every street corner sometimes all you want to do is snuggle into a warm chair with a steaming cup of your favorite drink. This is that moment when you only need to sit quietly, warm up a bit and maybe eat something tasty that warms your fingers and tickles your taste buds.
What's better than a mug of hot chocolate or a cup of steaming tea to fight the cold temperature?
We have a lot experience in taking gourmet breaks therefore decided to share with our readers some of our favorite places in town! Here are our top cafès, pastry shops, chocolate and tea rooms we think you should try in Florence, especially on a frosty day.
Our Favorite Spots for a Cup of Hot Chocolate or Tea
Cristina's Top 3
1. GILLI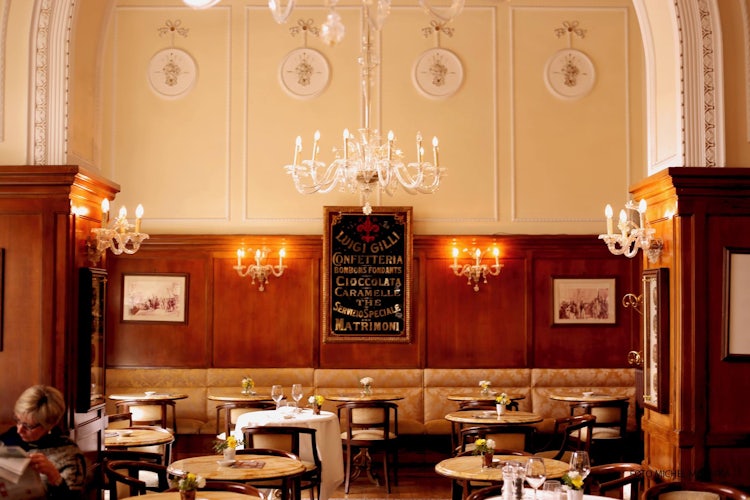 For my three favorite places I can't help but start with one of the historic cafes in Florence, Gilli, overlooking the very central Via Roma/Republic Square. It is one of the literary cafes of the city, where intellectuals, artists and writers gravitated, and, with a bit of imagination, you can see them sitting at one of the tables overlooking the square, intent on talking to each other.
The atmosphere in Gilli has remained almost unchanged over the years and within the room there really seems to take a step back in time to the Belle Epoque. The pastry here is excellent and is another reason why I really like this place. A slice of cake accompanied by a hot chocolate in winter, to be enjoyed sitting at the tables at the Piazza della Repubblica is a small luxury that I evaluate as necessary. I use the term "luxury" because sitting and enjoy something at the table is not exactly cheap, about double what you pay at the counter, but the cost is in my opinion is justified by the type of experience.
Via Roma, 1
2. LA VIA DEL TE'
Many good cafes and pastry shops in Florence use the excellent tea blends by La Via del Te' (The Way of Tea), an Italian company specializing in teas and infusions. Within the city there are three shops, two of which also have a tea room where you can stop to sample their products.
My favorite place is without a doubt the one in via Santo Spirito, in the characteristic Oltrarno district (the other is nearby the Market of Sant'Ambrogio). The boutique is housed in the charming setting of Palazzo Frescobaldi and reflects perfectly its elegance. It is the ideal place for a break with a romantic partner or a couple of friend (tables are rather small) in a beautiful environment that combines taste and style.
La Via del Te' offers a menu of over 240 teas and infusions, as well as an fresh selection of cakes, scones and small sandwiches. The tea room in the Oltrarno also serves salads, quiche, brunch and offers tastings (all accompanied with tea, but there are also sparkling wine and cocktails). To find your way among all the blends of tea ask to the staff, who will give you some good advice regarding the combination of dishes and teas.
Via Santo Spirito, 11 - Oltrarno tea room
Piazza Ghiberti, 22/23r - Sant'Ambrogio tea room
3. HEMINGWAY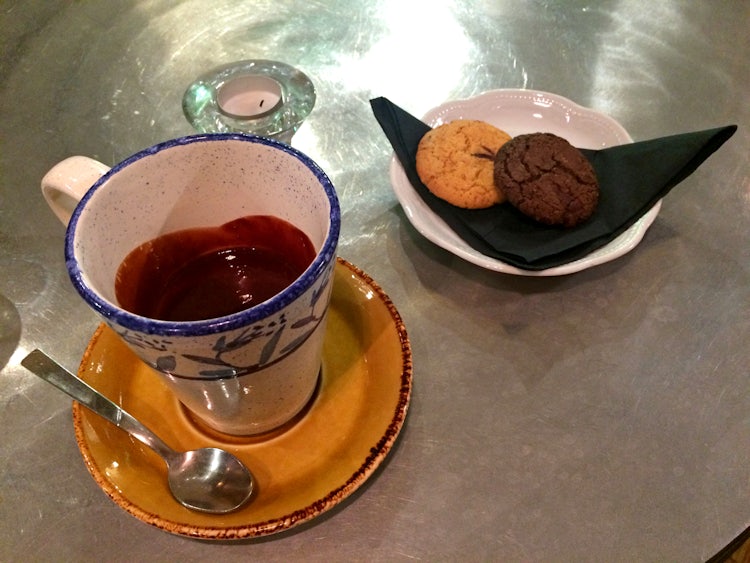 If we talk about a good cup of hot chocolate, the first thing that comes to my mind is the Hemingway, a small chocolate room in the district of San Frediano, a few meters from Piazza del Carmine. Entering what appears to be in a cozy living room rather than in a bar, the warm colors of the walls, the sofas and shelves containing books and magazines.
The Hemingway bar is a clear invitation to sit and stay for a while, chatting and reading, enjoying one of the menu suggestions. Visitors here can try a hot chocolate (milk or dark chocolate, with or without cream and for the sweet tooth, there is also the chocolate fondue). They also have good pastries (chocolates, biscuits, cookies & cakes). Prices are medium-high. The only flaw: being a tight space, sometimes you have to wait a while before entering (and when it's cold, you might not be up for it).
Piazza Piattellina, 9
3 Favorites for Donna
1. LA LOGGIA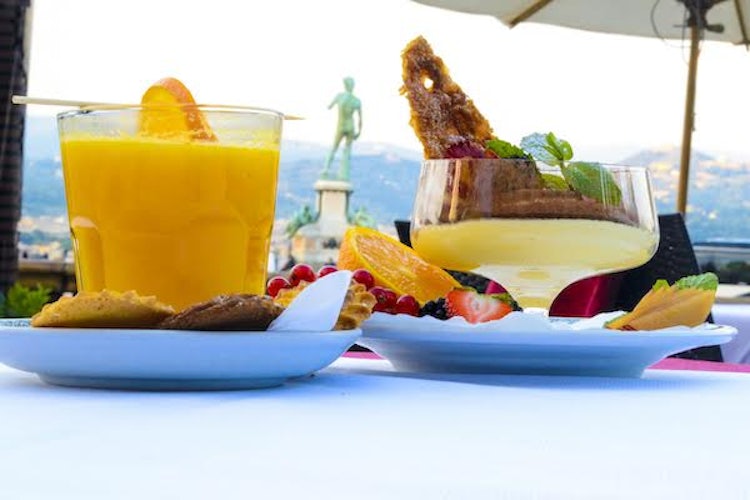 So you climbed all the way to the top and now you want to make the most of the view over Florence from the panoramic Piazzale Michelangelo? I like to head over to the cafeteria/restaurant La Loggia. It is close enough that you can walk just across the street and still see the great views, but far away enough that you find yourself out of the tourist congestion, noise and "busy"-ness.
The setting has its own bit of history, built originally to house the artwork of Michelangelo, you will find there is ample seating: indoors with its lofty ceilings and outdoors with is large panoramic terrace. The menu ranges from a spritzer cocktail, to a creamy Florentine style hot chocolate and includes a wide range savory and sweet delights. It might be on the expensive side, but then you are also paying for the location.
Piazzale Michelangelo, 1 (at the back of the piazzale)

2. RELAIS SANTA CROCE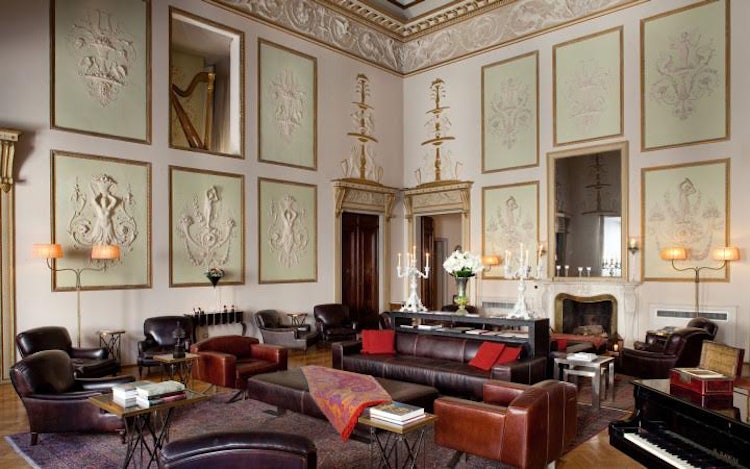 I was first drawn to the Relais Santa Croce for an afternoon tea because of the live music by the esteemed ORT (Tuscan orchestra) but what keeps me coming back is the enchanting setting. The Palazzo, once owned by Marchese Baldinucci (treasurer to the Vatican in the 18th century), houses a charming Music room on the first floor. Not only does it set a spectacular stage for the occasional trio or quartet but it is the home to a baby grand piano which guests are invited to play while relaxing with a tray of canapé, finger sandwiches or typical Tuscan cookies and cakes. I suggest you ask to have a tour of the hotel, especially the window that gives you a glimpse of the architecture of the domed ceiling in the music room... designed by Leonardo da Vinci.
It doesn't offer outdoor seating or even a view of the busy street below, but the interiors are authentic and well maintained giving you an elegant yet cosy setting for your afternoon of leisure.
Via Ghibellina, 87
3. JT CAFFE' - JT BISTROT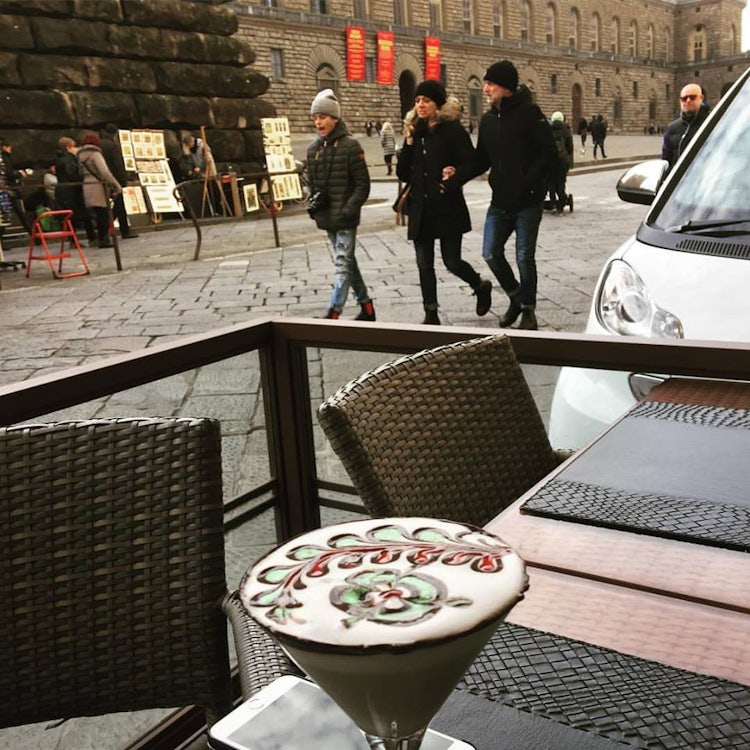 I would have passed this up as just another touristy bar, especially since it is directly in front of Palazzo Pitti and struck me as kind of tourist trap, but a close friend convinced me that I wouldn't find a better selection of savoury delights. And she was right!
When I am on the "other" side of Ponte Vecchio, I always make sure my itinerary is going to take me here for a great coffee and a few minutes just relaxing on the outside terrace... even when there is a bit of a chill in the air. I love to just watch the people milling around the enormous open space in front of the museum. I encourage you to try at least one of their specialty drinks, like the JT Martini Caffè or JT Martini Cappuccino (another one of the reasons I keep going back!)
Piazza Pitti 32-33/r
Lourdes recommends her favorites
1. CHIAROSCURO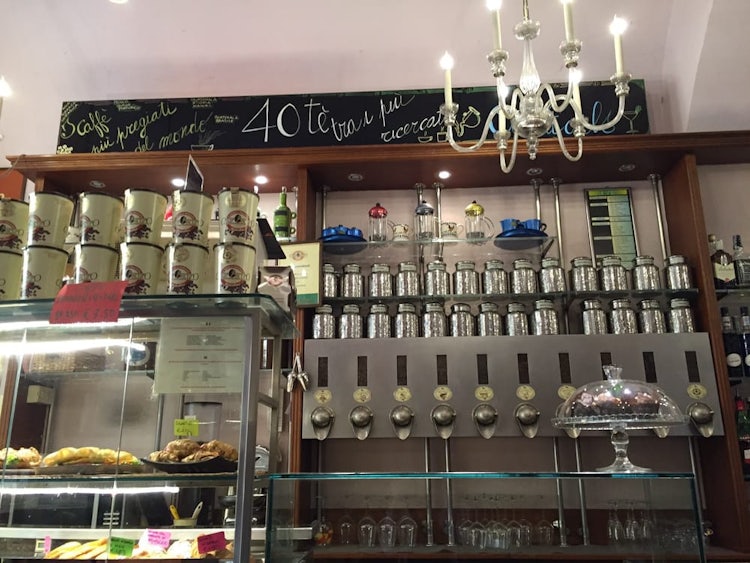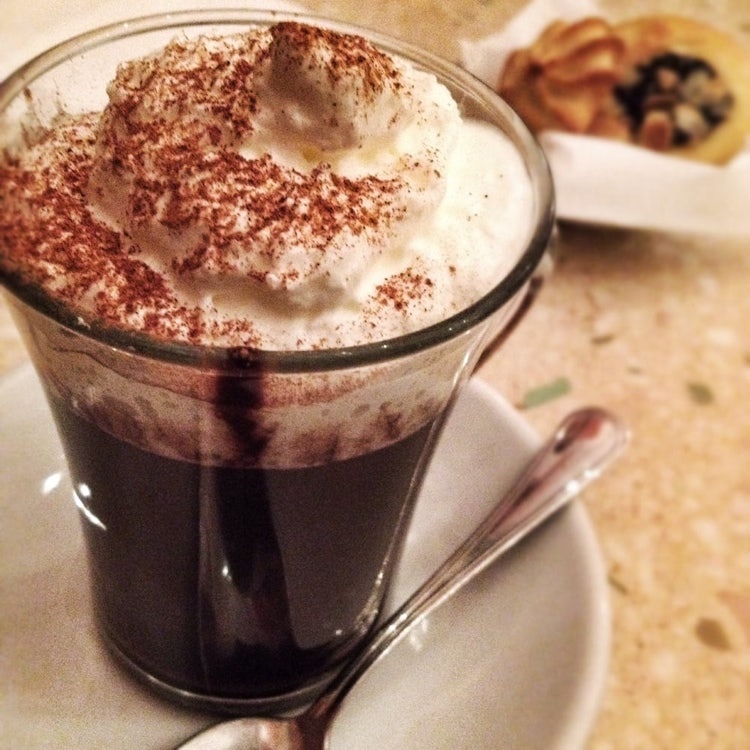 While Chiaroscuro is at its heart a coffee house, with a coffee bean brand such as Mokaflor behind it and thus with blends of coffee from Latin America to Africa (Brazil, Columbia, Mexico, Kenya, Java, to name a few), it is also the perfect place to head to for a cup of thick hot chocolate, pastries and tea. It is absolutely perfect on a cold winter day when you need to get warm fast!
Among the hot chocolate possibilities: mint, cinnamon, cococunt, hazelnut, coffee, orange, caramel, vanilla and Aztec (a little spicy), to name a few. It has a gluten-free, no sugar version as well.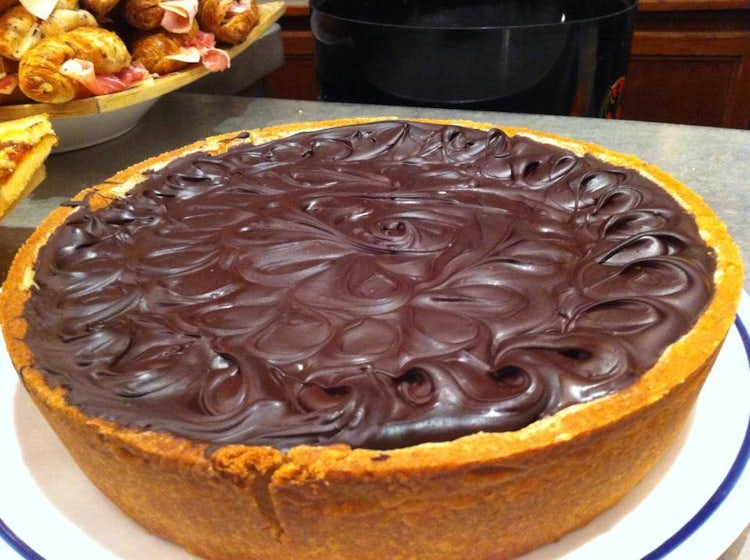 Add a slice of semolina chocolate cake or a muffin on the side and you have the perfect breakfast, mid-morning or afternoon snack break in Florence! If you're looking for flavored coffee such as a vanilla cappuccino or chai latte, this is your place to head to.
It can get really busy but know there is space upstairs as well. It also serves lunch, aperitivo and wine by the glass. It also sells coffee related items, perfect for taking back as gifts.
Via del Corso 36R
Open 7.30am - 9.30pm
2. SAN TEA HOUSE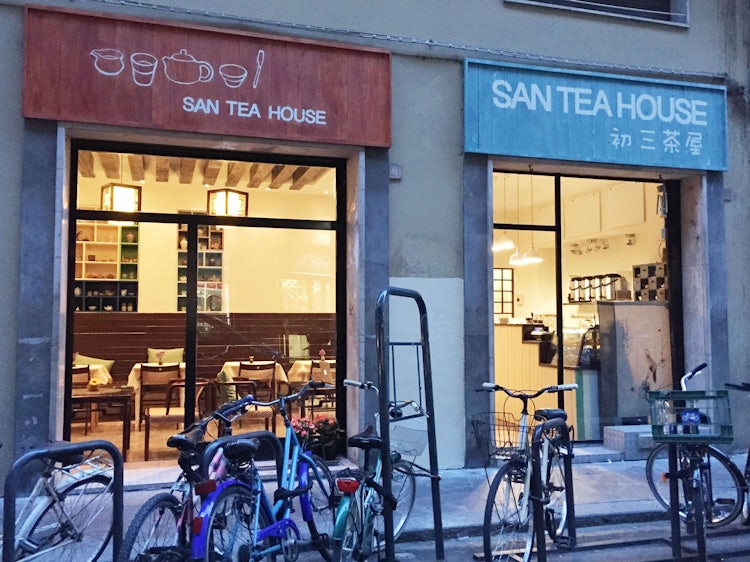 Very bright and airy inside this small Taiwanese tea shop, perfect for anyone who loves bubble or boba tea, hot, warm or cold, with or without milk. They have various tastes of bubble tapioca to put inside your tea, and a few snacks to accompany your break. This is a bit hidden after Ponte Vecchio, to the right on Via dei Barbadori as you head to Piazza Pitti and the location makes it the perfect spot to stop as a break in an afternoon of sightseeing or shopping. Don't worry about speaking English here, as it is the easiest language to use with the Asian servers... which goes to show how authentic the tea house is within Florence (the menu is also in Chinese). It is very affordable, most of the teas are from € 3,50 - 4,00.
Via dei Barbadori 21R
Open Tuesday - Sunday 11.30am-7.30pm (closed Mondays)