Florence's historical center is small and thus perfect for exploring on foot!
Following a suggested itinerary is a great way to pass by specific monuments, experiencing the best of each area to save you time (and energy) while allowing you to discover things you may have never noticed... particularly as Florence is so rich in details, architecture and monuments that you might not know where to look given the many choices!
Here are the three self-guided itinerary routes you can follow, divided geographically by areas of the city:
Traveling on foot, as opposed to a bicycle or bus (most of the center is closed off to cars), provides for a pace that opens your eyes to various hidden treasures that you would have not have seen otherwise. I always love learning about a city and seeing the sights by walking from one place to the next (when they are in a reasonable distance) while making short detours down intriguing streets that catch my attention.
In Florence, this is often!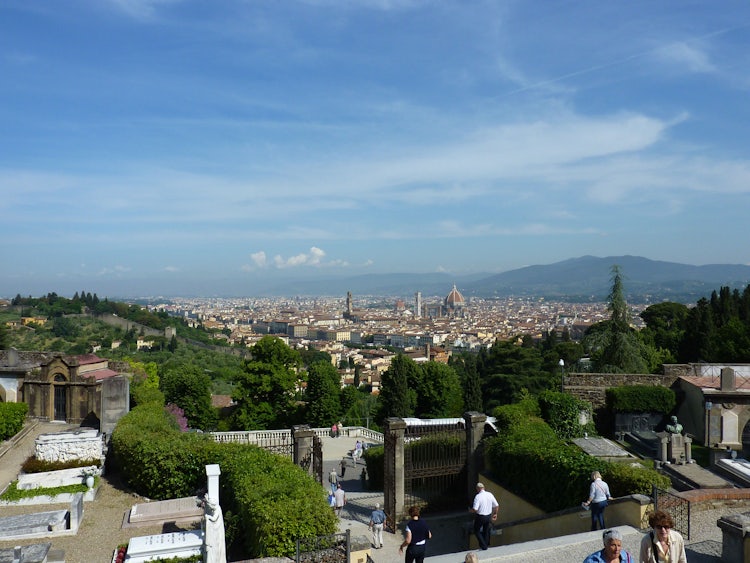 Guided Tours
If you're instead interested in a guided walking tour, take a look at this selection.
I always stumble upon small shops, stores, and unexpected treasures of the city that I would have never seen. And these are exactly the small things that make a city special and beautiful...by simply following one of the proposed walking tours below, you can explore Florence in a fun and active way without missing any of the top sights!
If you have several days to see the city, consider taking the time to visit the inside of some of the main sights and using a whole day's time to complete the tour. I like to get started early when walking in the city center because it is clear of tourist crowds, AND it is much cooler AND the morning light is stunning (great for photos)!
The "Centro Storico" or Historical Center around the Duomo
This walking itinerary allows you to see all of the main sights and some of the smaller hidden places in between what is considered the heart of the historical center. Consider just talking the walk and admiring everything from the outside if you are short on time.
Start in Piazza del Duomo and continue on the right hand side, passing Giotto's bell tower where you will find the Museo dell'Opera del Duomo, where many important and original artifacts and artworks are held such as the original golden doors of the Baptistry. I love this museum because it is usually much less crowded than some of the others but nonetheless holds some of the most important pieces.
You will next want to turn right (when facing the museum) onto Via del Proconsolo and then take your second right onto Via del Corso. To arrive at the Casa Museo di Dante where Dante lived, you will need to take Via del Presto di San Martino and then take your first right and then your next left onto Via Santa Margherita. At the next crossroad, take a left onto Via Dante Alighieri, which will bring you back to Via Proconsolo.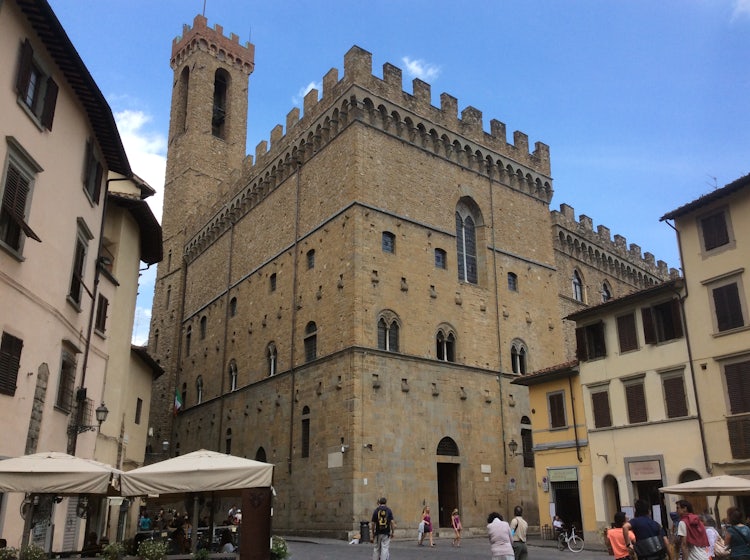 On your left at the corner with Via Ghibellina, you will find yourself in front of Florence's famous sculpture museum, The Bargello.
A few blocks further down, you will want to turn right onto Via dei Gondi, which will take you up to Piazza Signoria, Palazzo Vecchio and The Uffizi, both of which can be truly admired and appreciated just from the outside! When you come to the end of the piazza and you are facing the Rivoire Cafe (which serves the best hot chocolate during the winter months!)
You will want to contine to your right onto Via Calzaiuoli where you will come to the Church of Orsanmichele, best known for its external niches and in particular, The Christ and Saint Thomas by Andrea del Verrocchio, dating back to the second half of the 15th century.
Continue straight and turn right back onto Via del Corso where you will want to take your first left onto Via Sant'Elisabetta, a typical florentina street: narrow, dark and lined with small independently-owned businesses. When you come to the end, you will see Grom, a famous gelateria just down to the left, if you need a small pick-me-up and a detour.
If not, turn right onto Via del Oche, which will run into Via dello Studio. Just to the right you will see a small grocery store Pegna dal 1860, which sells specialty food items and makes for great gifts to bring home and the very well known and historical art supply store, Zecchi Colori e Belle Arti. Taking a left will bring you back up to the Duomo, ending this walking tour of the historic center around the Duomo and Piazza della Signoria.
You can do a similar itineray with a licensed guide with this tour called the Heart of Florence.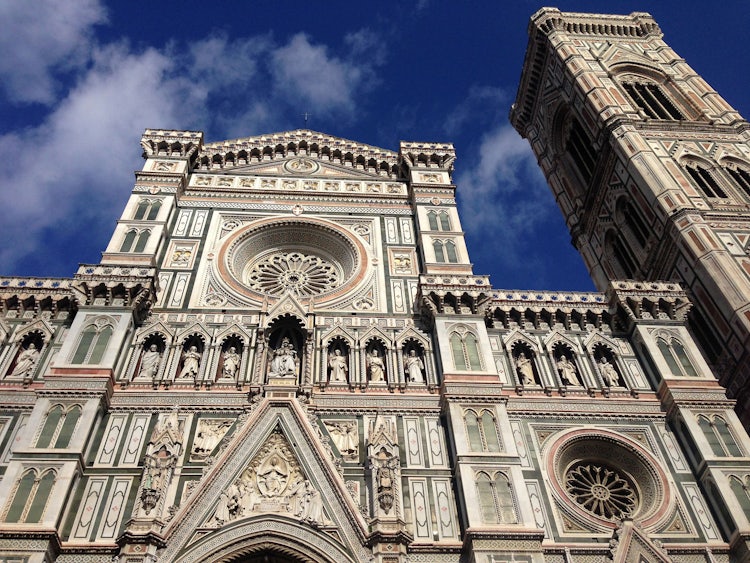 Oltrarno, Literally, the other side of the Arno River
This walk will give you a pretty good idea of what the other side of the river has to offer without going too far off the beaten path and without taking too much time. Start at Ponte Vecchio and continue straight on Via Dè Guicciardini which will lead you all the way to Pitti Palace. Right on your left you will see the Chiesa di San Felicita, a gothic church housing a crucifix attributed to Giotto, frescoes by Pontormo and other works worth seeing - and through which runs the Vasari Corridor!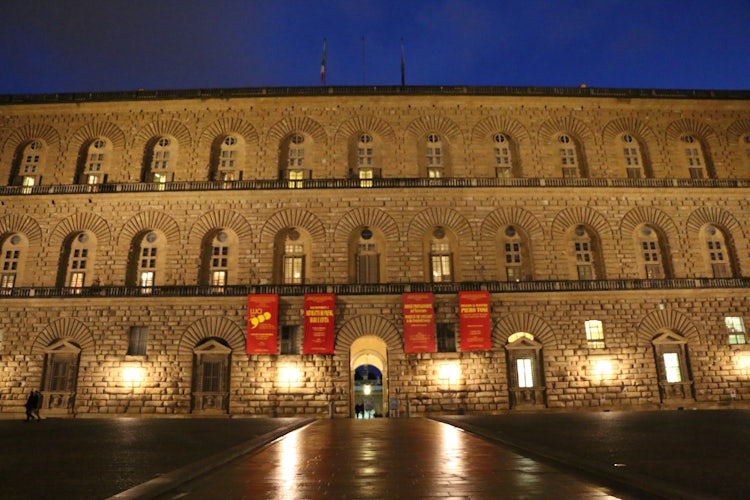 As you continue along, be sure to take some time to stop into the many leather and clothing shops along this street. Upon arriving in the Pitti Palace piazza, you will notice a large open area to your left where you are free to sit down and bask in the sun.
Continue along a bit further until you reach Piazza di S. Felice, where you will notice a small tower. Turn around this to the right onto Via Mazzetta, which will bring you to Santo Spirito, a beautiful, green square which is best known to the locals. Here, you will find several wonderful bars and restaurants such as Volume and Gusta Panino, all of which have seating outside and serve up anything from a brioche and cappuccino to a glass or wine and a pizza. If you are there in the morning, poke around the market and don't miss the Renaissance era Basilica of Santa Maria of Santo Spirito, most famous for the frescos by Botticelli and Filippino Lippi.
At the Church's facade, turn right onto Via de Michelozzi. If you have planned your walk around lunch, you must stop at the Trattoria la Casalinga for lunch, a local favorite serving up reasonably priced Tuscan dishes of all kinds. To finish the walk, head left on Via Maggio, which will take you all the way to Arno and the bridge Santa Trinita. On the way, keep your eyes up and open on the left for the Palazzo di Bianca Cappella, a beautifully decorated building from the 16th century. We finish our walk at the Santa Trinita bridge, where you will also conveniently find the Gelateria Santa Trinita.
Interested in a small group tasting tour through the Oltrarno? Take a look at this flavorful tasting experience tour!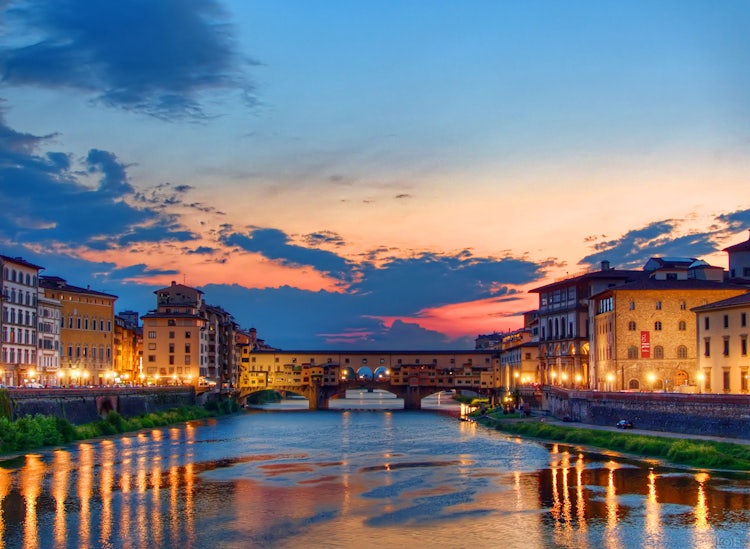 Piazzale Michelangelo and San Miniato
This is a wonderful walk that will simply blow you away by the views and quaint, small streets, typical of Florence. This is, however, a long walk, which can take anywhere from 1 ½ to 2 hours depending on how much you stop and rest but it is well worth the 2 miles just to get off the beaten path, away from the crowds and to see the city from a view you will never forget. (There is also a bus that will take you to the top and you can just walk it down ... just as nice.)
Starting with your back at Ponte Vecchio from Oltrarno, you will want to head left down Via dei Bardi and continue along here for quite some time. You will pass the Bardini Museum on your right, which also allows access to the Bardini Gardens. This road will eventually turn into Via di San Niccolò and will take you all the way to the door of San Niccolò in piazza Giuseppe Poggi, which was once one of the many doors granting access beyond the city walls during Medieval times.
Here you will see staircases and paths leading up behind the old door, which in reality resembles more of a tower than a door. You will want to make your way up these steps, crossing the road and a fountain until you reach the top, where you will greeted by reproduction of Michelangelo's David and the most beautiful view of Florence you have ever seen.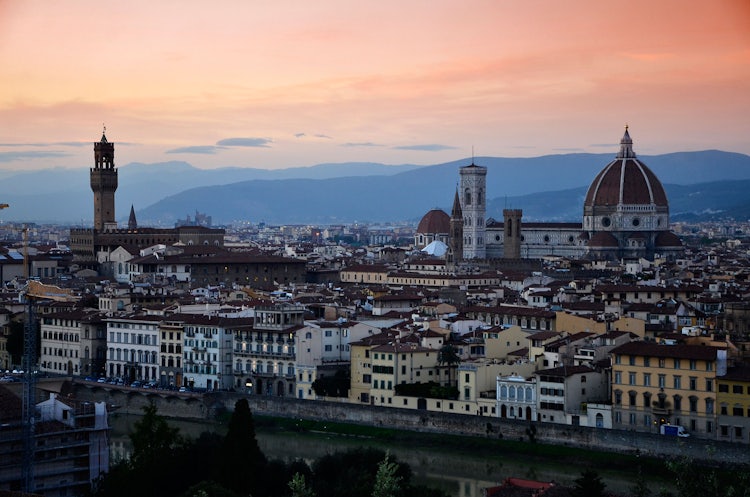 There is a cafe you can sit down at or you can simply admire the view from the steps as you catch your breath and take in the fresh air. You will notice the main road that runs by the piazza - you will want to take Viale Galileo up to San Miniato (to the right with your back at the view). Take the opportunity and use the restroom located on the left, if need be, and continue to the tall staircase leading up to the church, San Miniato al Monte. This church is considered one of the most elaborate and most beautiful examples of Romanesque architecture in the Tuscan region. Take the time to enter and admire the frescoes, sinopia, terra cotta decoration, mosaics, and crypt.
The walk now leads us back down into town by returning back onto the Viale Galileo and taking a left down the steps, which you will find before you reach the piazza again. This is a beautiful walkway that will take you downhill where you will come upon the Rose Garden on your right, which is worth a stop.
You will continue straight, passing Fuori Porta on your left, a wonderful restaurant with outdoor seating best known for their 'crostoni', which are large crostini topped with a variety of combinations from prosciutto, mozzarella and tomato to ham, pecorino and porcini mushrooms. Before entering through the old walls, turn left onto Via Belvedere, one of the most beautiful roads in Florence and home to some of the oldest Florentine families.
Head uphill until you come to the intersection of Costa di San Giorgio, where Porta San Giorgio is, the oldest of the city gates dating back to 1260. Follow this road all the way down back to the Church of Santa Felicità, just past Ponte Vecchio, where you started. In this piazza you will find a wonderful little wine bar called Le Volpi e l'Uva which is a great place to taste a variety of wines and cheeses. You may also consider following this itinerary backwards, as it makes for a different experience, but either way you will be starting with an uphill and finishing with a downhill in the same spot.
If you want to do this tour with a licensed guide, go on this panoramic tour of Florence!