Top Choices for enjoying the Local Cuisine
Eating like "a local" changes every year — especially once visitors to the city of Florence hone in on the top restaurants cited by so many as "the best" and fill the tables! These restaurants are still delicious, but we are always listening to the locals for a few new comments (2019) to keep you ahead of the touristy crowd, especially those with fresh and delicious menus highlighting the local recipes, flavors, and ingredients.
Since eating out is so subjective - it depends on what you like (and what you don't like), how much you want to spend and how dressed up you want to get (though in Florence "getting dressed up" is subjective, you go from the height of trending fashion to simple and comfortable).
Our selection of restaurants touches a bit of everything - places where you can dress down or dress up, budget-friendly and particularly romantic. It's your choice, we just hope to offer a bit of insight into the long list of restaurants.
And if you don't find what you are looking for here, then you might want to try looking at the listings with our partner The Fork, this site lists loads of Florentine restaurants, offering easy online booking and special discounts. You can even book right up to the last minute and get special discounts !
The list below is a combination of places that either come highly recommended by the locals - or that I have personally been to and eaten like a local (and loved it!)
Trattoria la Casalinga
The name practically says it all - casalinga translates into "the housewife", or homemade meals. The area of San Frediano has been well known in Florence as an authentic corner where the locals can hang and feel like they are in control. This little corner of culinary deliciousness is practically in front of the amazing church of Santo Spirito and offers lunch and dinner all week (except on Sundays).
The menu is a who's who list of classical and popular dishes among the locals including antipasti, homemade pasta dishes and main courses that include fish, grilled meat and fresh vegetables. Be prepared for a very casual atmosphere, run by "Mom & Pop" and a busy, busy kitchen!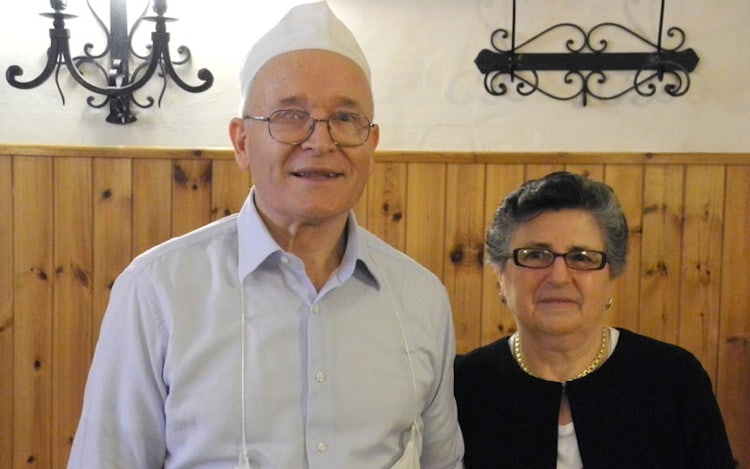 Ristorante Perseus
This restaurant is a member of a group that specializes in valorizing the specialties of the area. The Ristorante Perseus, is just outside of the historical center — but not too far that you can't walk it, if you wanted too, taking you into an area that is still very much residential among the locals.
The consensus is that they specialize in the "bistecca fiorentina" but there is so much more to the menu. When in-season you will find porcini mushrooms and zucchini flowers - and of course, the wine is local and abundant!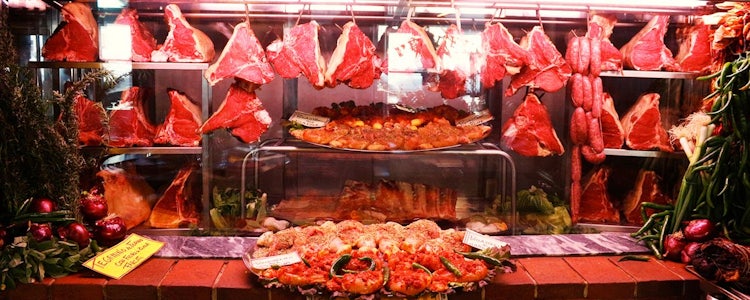 Classic Standbys to Keep Handy
4 Leoni
With both inside and outside dining, this restaurant will give you a very special feel about Florence. Set in a quaint little courtyard just a hop, skip and a jump away from Palazzo Pitti, it is a happening area. Get there early and splurge on a spritzer at one of the local bars. You will need to reserve at the restaurant (unless you get lucky). Its the fun and quirky menu featuring local specialties that makes it one of my personal favorites.
I know when on vacation it is hard to say where you will be and at what time...but make a reservation, I bet you will love the results. I have eaten here several times and I love the way they keep the classic recipes on the menu for the locals.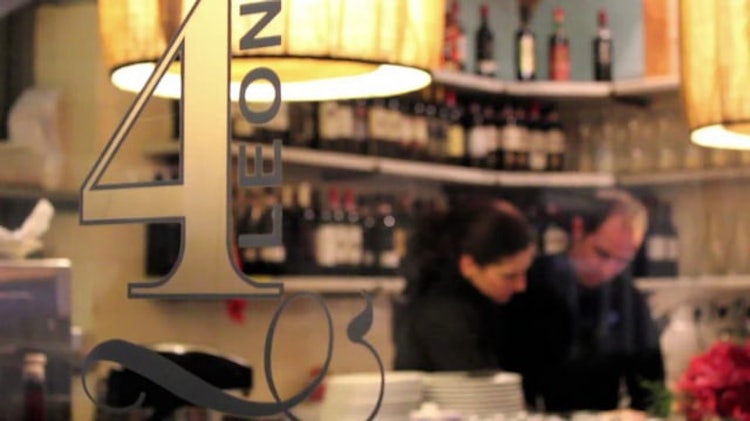 Trattoria Zazà
An icon in the Florentine restaurant world. Located close to the train station and Mercato Centrale, even the locals don't mind fighting the tourist for a seat. They offer a combination of pizza and local dishes - all served fast, hot and delicious.
Zazà offers both inside (air conditioning) and outside seating in a square that is open to (mostly) the walking kind of traffic. It is picturesque, a bit loud and sometimes even rowdy — but always good.
Piazza del Vino
Click here to check reviews & book online
Address: Via della Torretta, 8
Definitely a bit outside of the city center — so you will probably want a taxi. But if you are looking for something a little more low keyed, geared for the locals who enjoy wine and regional fare, then this is one of the places that you should put on your "to dine list." Carved out of a warehouse, the decor is open and rustic.
The wine collection literally lines the walls and the menu is a fun combination of classical dishes from all around Italy. My choice was the pistachio crusted tuna from Sicily...melt in your mouth delicious. Check out their website for happy hours and wine tastings with a theme and sometimes you can find offers on Groupon.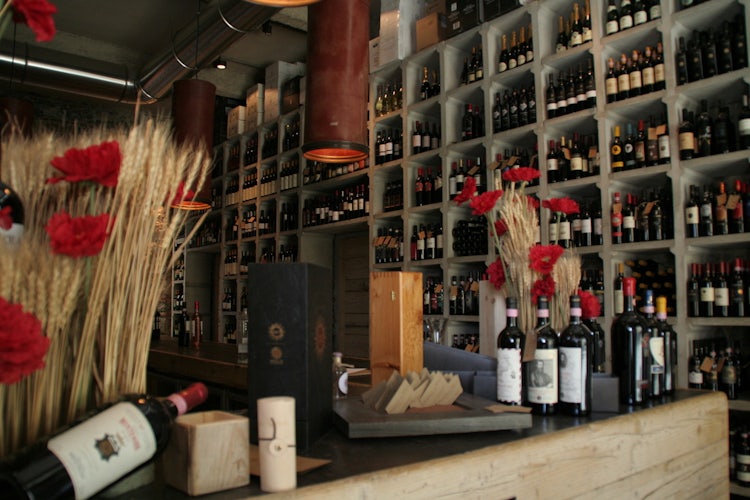 Trattoria Vittoria
I missed my chance to go here with the "girls night out" but, no worries they proceeded to fill me in on all the delicious dishes I missed out on.... I would be crying in my wine if it weren't for the fact they promised me, we will be going back soon.
The decor is nothing to write home about but the dishes of seafood are spectacular, fresh and unforgettable. Especially fun, sometimes they just decide to bring you a sampler of their bontà...who can say no to that!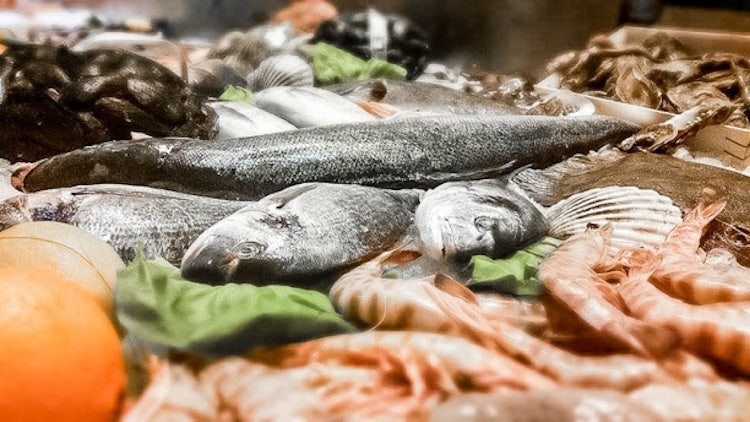 Trattoria Cammillo
Address: Borgo S. Jacopo, 57/r,
Highly recommended by the locals for the high quality of the meats & vegetables as well as, the authentic local recipes. This restaurant has been apart of the Florentine landscape since 1945 - three generations have been at the helm, preserving a family-like atmosphere where the service is friendly, warm and welcoming. It is a trattoria and the decor is reminiscent of times gone by, price is a little upscale but the food receives rave reviews and in my opinion, that is what really counts.
Ristorante Latini
For those who are looking forward to savoring the famous Bistecca Fiorentina, this is definitely a restaurant to keep in consideration. The boast a long and active presence in Florence and for many - especially the locals - it is considered an integral part of the landscape - and they also boast long lines, so reserve!
A classic Tuscan restaurant with a bit of touristic fanfare in the decor, it offers a classical menu that will tempt your taste buds. The newest addition is the wine cellar, a romantic setting in the cantina, with a modern decor and famous...and more important delicious… vineyards from all over.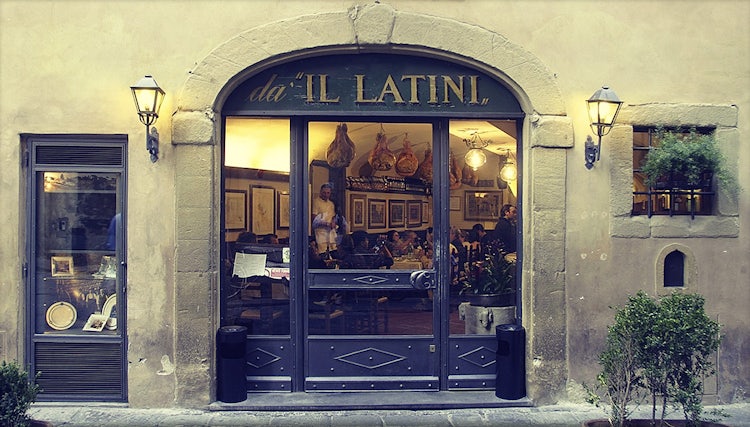 l'Ortone
Address: Piazza Lorenzo Ghiberti, 87-red, 50122
Click here for special discounts, check reviews & book online
---
My latest find. I showed up for happy hour because they were advertising jazz night. (I love a bit of live jazz, a beer in hand - or a glass of local bubbly — and a relaxing atmosphere). They offer outdoor and indoor seating for happy hour, and the restaurant has a modern yet country feel to it. The menu had me extremely happy — featuring classical dishes, cooked with criteria and sometimes bit of fantasy.
Located right behind the Sant'Ambrogio market it is an easy walk. It attracts a mixed crowd of locals, tourists and college students. So if you are looking for some local color, authentic menu and honest prices, then definitely stop by.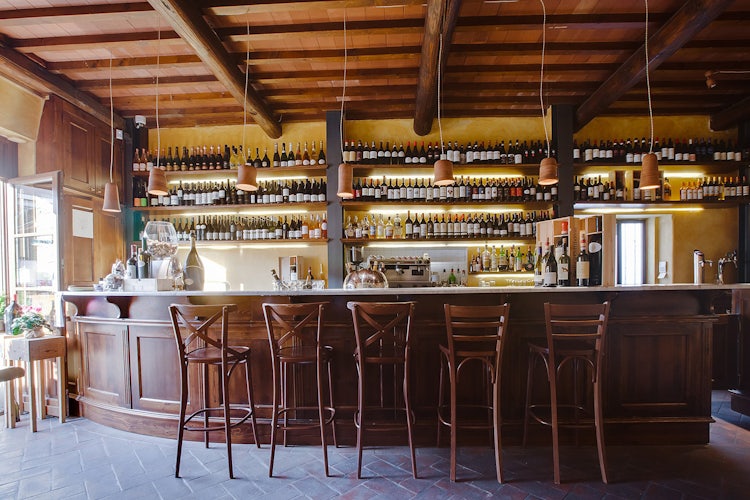 Cantinetta Antinori
The restaurant is located inside the elegant 15th-century palazzo that serves as the administrative offices for the Antinori winemaking family in the city center of Florence. The food is upscale versions of traditional Tuscan favorites that change with the seasons, such as country pâté with truffles served on bread and crayfish and prawn salad with shaved raw artichokes on the menu.
And of course, a great selection of wine...but only Antinori wines are available. If you don't make it to the restaurant in the city - check out their cantina near San Casciano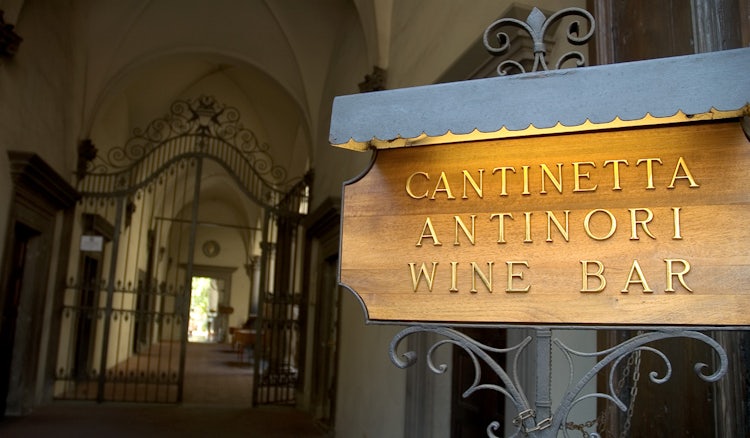 Mercato centrale
Not really a restaurant, but more a culinary field trip. The setting has been recently restored to preserve its antique beauty. A stroll (at all hours) will have you basking in the perfumes and colors of the Florentine menu. Read our article about the Mercato.
Pizza
Some may ask why in the world eat a pizza, when there are so many great things to savor in Florence? Because — a pizza is one of those great things to savor. Check out our article about Pizzerias in Florence to see where the locals go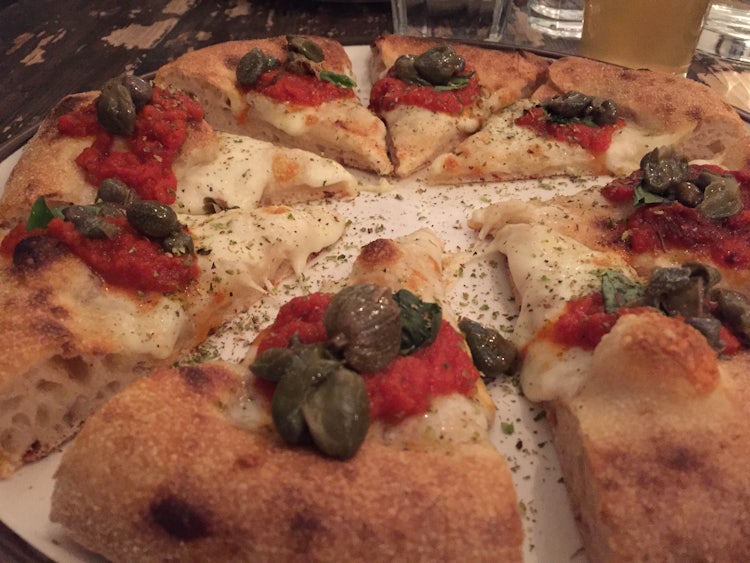 Bistecca Fiorentina
If you are looking to stick to tradition then you will be looking to enjoy one of the more popular dishes for the locals, the Italians, and the tourists. This thick juicy steak is called the "T-bone" in English and includes the soft succulent meat of the filet mignon and the New York Strip with its classic defining strip of fat down the side. Thicker than thick, it is cooked on a live flame and it is huge. Check out this article for our top choices of where to eat this wonder.
Gelato
We would never want to discourage you from ordering a "dolce" when at a restaurant...however if nothing really catches your eye you can always rely on a great gelato to fill that hole. Read here to find our favorite gelaterias. Besides...we all know that gelato is a meal in itself ;-)